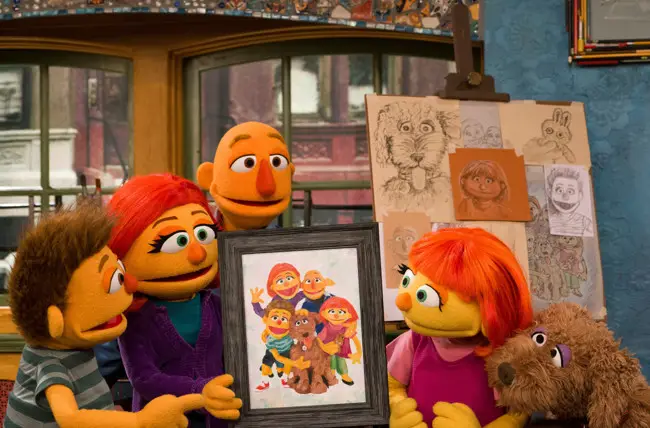 Sesame Street Unveils Julia's Family in Honor of Autism Awareness Month
New videos, materials, and a new episode aim to show how families affected by autism tackle common experiences and challenges of growing up.
Get kid-friendly activities sent to you!
Get the Best Family Activities
Sent to You Weekly!
Sesame Street will round out this collection of Julia-focused materials with a digital interactive activity and an episode in which Elmo, Abby Cadabby, and Alan help Julia feel less scared about getting a haircut by playing 'hair salon' and pretending to be hair stylists. The segment was created in response to a need families have expressed for materials tackling common experiences that can pose challenges for children with autism. Finally, Sesame Street will release articles and activities for families and service providers, which will include tips on creating family traditions, strategies to help children cope with bullying, and information on how animals, such as Julia's dog, can enrich a child's life and help decrease stress.
Julia will also be featured in a new campaign with Autism Speaks and The Ad Council to promote the importance of early screening. Ad agency BBDO NY and Pinterest were also part of the collaboration, and BBDO's sister agency, Dieste, made it possible for materials to be distributed in Spanish. Julia's campaign and resources at ScreenForAutism.org and DeteccionDeAutismo.org will be available in two languages. They aim to increase public awareness around the importance of early autism screening, diagnosis if necessary, and intervention.
"We are committed to creating a more inclusive world for people with autism, and that starts with early screening and timely intervention so that people with autism can live their fullest lives. There is considerable work to be done in overcoming obstacles that may delay a diagnosis – the first step toward improved future outcomes," said Autism Speaks President and CEO Angela Geiger. "With this new campaign, we hope to give families the tools they need to identify early signs, feel empowered to get their children screened and seek support if they need it."
Main Image: Julia and her family. Photo Credit Sesame Workshop / Richard Termine