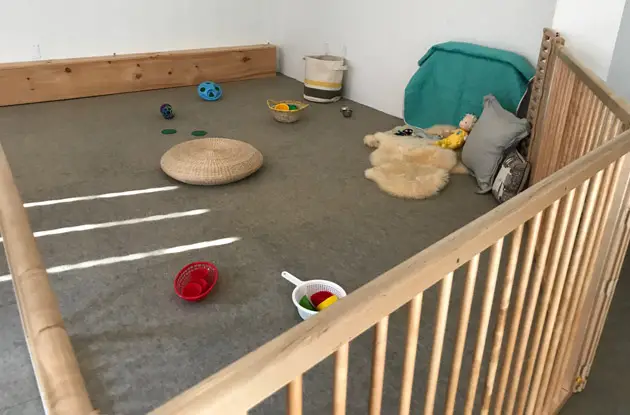 The Benefits of Creating a 'Yes' Space for Your Young Child
How to create a 'yes' space for your infant, crawler, or toddler to have a safe play environment
Get kid-friendly activities sent to you!
Get the Best Family Activities
Sent to You Weekly!
How to Create a "Yes" Space
Setting up the Area for a Safe-Play Environment
The most important aspect of a safe play environment is it needs to be gated off in some way, according to Myers. "In order to make a space one hundred-percent safe, [it needs] to have a way that you can close it off from the rest of the environment, but know that your child can be safely in that space and not risk coming out of it when you aren't expecting," she says. A pack and play is enough space for an infant until she begins rolling over and needing more space for movement, while a "fenced in" area of a family room or a separate room with baby gates will work for crawlers and toddlers.
"Over the years, I've found that parents are sometimes resistant to this because they don't like the look of gates or they feel like it's imprisoning their child," Solomon says. She recalls a time a friend called for advice. "Her son was always at her feet crawling after her, and she said, 'I'm afraid I'm going to step on him. I give him the run of the whole house, why does he always have to be with me?'," Solomon says. She replied that the whole house was overwhelming to the child and he didn't feel secure. She advised her friend put up a gate or corral, put a few toys in the enclosed area, and spend some time with the child in the enclosure to endear him to the space. "And so she did, and it made a big difference for both of them. Some parents don't understand that what looks like a prison to us, to the child provides a sense of security," Solomon says.
Dr. Herwitz adds that ideally the enclosed space should be in an area where the child can hear and see what's going on around her so she doesn't feel isolated from the rest of the house, and where the parent can easily hear and see what's going on with the child.
The enclosed area should also be clean, there shouldn't be furniture the child can climb or standing lamps that could fall over, and if there are low shelves in the area that they are bolted to the wall. Solomon also suggests parents crawl around on the ground to look at the space from the child's point of view to see if there is any potential danger.
RELATED: Why Kids Do Weird Things

Toys Recommended for a Safe-Play Environment
In terms of play objects to have in the space, Gerber taught that passive toys make for active babies. When a toy lights up and makes sounds, the child doesn't have to do much to play with it, but when a play object is open-ended (aka passive), the child uses his imagination to activate it. Keep in mind that some play objects might not be obvious to adults. Solomon, for example, had a basket of caps from glass milk bottles in a class. "One toddler picked up two of them, put one on each ear, and was wandering around the room for twenty minutes pretending they were a headset and he was Buzz Lightyear," she says. "When he was done with them, another child picked one up and she used it as a cup, pretending to drink. That's what I mean about the toys being open-ended."
For 2- to 3-month-olds, the first plaything is their hands. After they've discovered their hands, infants are ready for soft play objects, such as a soft cotton napkin, a little silicone bowl, a soft ball, and other soft objects that are easy to grasp and not too heavy, as the child is still integrating her reflexes and might accidentally hit herself with the object.
As the child gets older, more objects should be introduced into the environment. "Some of them might be soft, some might be a little more firm, but then there are also things in the child's environment that don't change shape or properties, if that makes sense," Myers says. "So you might have little silicone bowls, but then you would also maybe have a little wooden pinch bowl, or maybe a little metal condiment bowl. You would have objects that repeat on the same concept but are different materials and have different properties so the child can see how their actions change or don't change with materials."
Myers suggests some materials stay the same as the child gets older because he'll play with them in an increasingly sophisticated way, while also introducing new, more advanced objects.
Dr. Herwitz recommends play objects have a balance between dramatic play (dolls and items that can be used for dress up), fine motor skills (baskets and bags into which objects can be sorted), and gross motor skills (things that are safe for toddlers to climb on).

Recommended Time for a Child to Spend in a Safe-Play Environment
The best time to put a child in the safe play environment is when she is well-rested, fed, clean, has all her basic needs met, and has had some time with the parents. Time spent in the space should also increase with age, according to Dr. Herwitz, as an infant won't be able to play on his own for as long as a toddler could.
While ideally your child would have a "yes" space from infancy through the time she has learned the limits and rules of the home environment as a whole, Myers says it's never too late to create a "yes" space for a young child.
Main image: This example of a fenced off "yes" space for a mobile infant or young toddler includes a small cozy corner, a firm cushion for climbing, and a variety of easy-to-find play objects such as a colander, woven basket, silicone bowls, and metal cups.
Courtesy Anna Ruth Myers, RIE® Associate