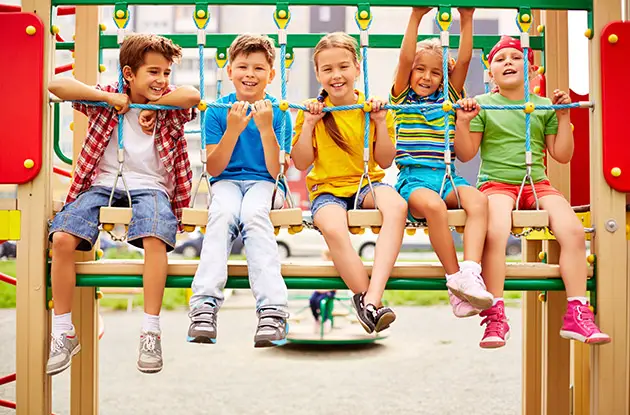 5 Tips to Help Kids Be Kind and Compassionate from PBS Kids
You and the kids can use these tips to help celebrate National Neighbor Day on September 28.
Get can't-miss family activities sent to you!
Get the Best Kid-Friendly Activities
Sent to You Weekly!
4. Teach inclusive language.
"For some kids, finding playmates is as simple as standing near a group and saying, 'Can I play?'" Hurley says. "For many kids, however, joining groups at play isn't so easy. Sliding in and out of groups is a fairly advanced social skill, and young children don't necessarily know how to get involved in a group that's already formed."
You can teach your children to be inclusive by scanning the playground for kids who don't seem to have a group or might feel left out. Your kid can bring others into the group by saying:
Do you want to sit with us for lunch?
Do you like kickball? You can join our team!
Do you want to play tag with us?
We always need extra players.
Are you looking for a game to play? Play with us!
Once kids get into the habit of being inclusive, they'll keep doing it! You should also use inclusive language in the house to reinforce these ideas.
5. Encourage acts of kindness.
Kids don't always receive the positive reinforcement and feedback they need when they do something right, Hurley says. Parents should make sure they give positive feedback when kids are kind and compassionate.
"Notice the kind things your kids do, like Daniel Tiger, at home, at school and in the community," Hurley says. "Tell them how proud you are when they make sure the same child isn't always picked last or include other kids during a day at the park." A little can go a long way when it comes to teaching your kids how to be inclusive and compassionate!