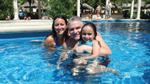 Long Island Dad on Mission to Make Swim Time Safer for Kids
One Long Island dad is making it his mission to teach children about pool and swimming safety through the Long Island Drowning Prevention Task Force.

Shop Destination Maternity and Support March of Dimes
Destination Maternity stores nationwide, including Destination Maternity, Motherhood Maternity, and A Pea in the Pod, and Jessica Simpson are supporting March of Dimes to help raise money for the nonprofit that aims to promote stronger, healthier babies.

Featured Health Listings for 5/23/2013
Selecting a health care professional for your child can be nerve wracking. Below you can be introduced to doctors -- pediatricians and family practitioners, dentists, and specialists who care for children. There are also speech pathologists, chiropractors, occupational therapists, psychologists and more who care for kids. These doctors, dentists and professionals practice in New York City including Manhattan, Brooklyn and Queens. Others have offices in Westchester, Rockland, Fairfield Counties, and Long Island, both Nassau and Suffolk Counties. If you can't find one here, look for hundreds of more health care professionals on nymetroparents.com.

Find Great Weekend Activities - Click Here
Other Resource Categories: After School Activities | Birthday Parties | Camp Guide | Education | Health | Outings | Parenting Services | Shopping