---

X Games for Kids
by Amber Greviskes - July 01, 2011

If your kids catch "extreme sports" fever after watching the X Games, don't worry. Skateboarding and BMX racing can be fun, safe sports for children that teach valuable life skills.
---

The Rise of Ga-Ga
by Amber Greviskes - June 15, 2011

Ga-ga, a summer camp game similar to dodgeball, has become a popular activity at kids' birthday parties and family gatherings.
---

Retro Sports for Kids
by Amber Greviskes - June 15, 2011

From dodgeball to obstacle courses, classic sports from our own childhoods are making a comeback. Find out why these old-fashioned games are great for family gatherings and kids' parties.
---
---

Understanding Rett Syndrome
by Amber Greviskes - June 14, 2011

Rett Syndrome is a rare and life-altering brain disorder that almost exclusively affects girls. Intense therapy is required to manage the disorder, but recent research presents reasons to hope a cure is possible.
---
---
---
---
---
Healthy Weight Loss Checklist for Kids
by Amber Greviskes - March 11, 2011

Parents should follow these eight guidelines to determine if their child needs to lose weight and help them achieve a healthy body mass index.
---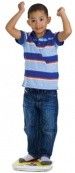 How to Help Your Child Achieve and Maintain a Healthy Weight
by Amber Greviskes - March 11, 2011

Supportive parents are key to helping children overcome struggles with weight and body image issues. Read one local child's success story and learn how you can help your child adopt healthy habits and ultimately achieve a healthy weight.
---
Lax Facts: The Rise of Youth Lacrosse
by Amber Greviskes - March 10, 2011

A sport that's been growing steadily in popularity over the past few years, especially in the New York metro area, youth lacrosse has a wide appeal and boasts many benefits for children.
---

The Rise of Lacrosse on Long Island
by Amber Greviskes - March 10, 2011

Lacrosse is just starting to become popular in most of the New York metro area, but for Long Island residents, lacrosse has been a way of life for many years. Find out why and how you can get your children involved in this growing sport.
---

Strength Training for Kids: Is It Safe?
by Amber Greviskes - February 16, 2011

Once hotly debated, strength training for kids is now considered safe and even essential to children's health, according to the latest research.
---
---
---
---
---
It's (Just?) a Game: How to Put the Fun Back into Youth Sports
by Amber Greviskes - October 25, 2010

Ah, the pressures — of training, of always trying to win. Don't let them get in the way of what youth sports are really all about. Consult our advice from experts in the field on how parents can be supportive without going overboard.
---
---

How to Bond with Your Non-Athletic Child
by Amber Greviskes - September 29, 2010

When your hopes of raising a mini Derek Jeter are dashed by a child's noninterest in sports, you can still find ways to bond through athletics.
---
---
---
---
Siblings of Children with Special Needs Have Unique Needs Themselves
by Amber Greviskes - June 15, 2010

Brothers and sisters of kids with special needs have their own set of needs - an important fact for parents to address in order to raise a healthy family. Here, a Long Island family tells their story, and experts in the field share their insights and advice.
---