Adoption Programs
FOR OVER 100 YEARS, SPENCE-CHAPIN HAS BEEN committed to the idea that all children deserve a permanent home. In that time, we have placed over 20,000 children with loving families.

The decision to adopt is highly personal. It represents a large commitment of time, energy and finances.

Spence-Chapin's team of professional, experienced social workers recognize the challenges of this undertaking and will be there for you to provide guidance, education and emotional support throughout the process. We can demystify the process, work with you at whatever pace you would like, and insure the highest standards of ethical practice.
omestic Adoption
SPENCE-CHAPIN'S DOMESTIC ADOPTION PROGRAM
goes back to the early 1900s when the independent Spence and Chapin nurseries began placing orphaned infants with permanent families. With a century's worth of experience, Spence-Chapin provides the comfort and expertise that prospective adoptive parents appreciate. Throughout our history, Spence-Chapin has been a progressive advocate on behalf of all children. Our African-American adoption program, started in the 1940s, is one of the most respected programs of its kind. Check out information about our adoption programs by viewing our downloadable Adoption Program Chart which identifies each program's particulars in summary.

Today, Spence-Chapin works with prospective adoptive couples and singles from many different backgrounds. The babies we place reflect the diversity of the adoptive families we work with, and of the New York community at large. Increasingly, our adoptive parents realize the value of maintaining some degree of regular communication with their child's birth parents. It is our belief that open adoption is deeply beneficial to all parties: birth parents, adoptive parents and the adopted child.
Learn More


PROGRAM UPDATE
Currently, our domestic adoption program is over capacity, with a large number of families ready for a placement and waiting for a match, and a large number of families who are on a wait-list to begin their home study process.

For families who are interested in working with an attorney for a private domestic adoption we are able to assist your process with our high-quality parent preparation and home study services offered through our Partnership Program. If choosing an attorney, we recommend starting your search through the American Academy of Adoption Attorneys (www.adoptionattorneys.org).

For families who might like to consider International Adoption, we welcome you to register for any upcoming information meeting or contact us for more information.


DOMESTIC INFORMATION MEETINGS
Participation in Spence-Chapin's Domestic Adoption program starts with attendance at an information meeting. Currently, because we are over capacity in our domestic adoption program, we are not offering information meetings.
Adoption Partnership
The Spence-Chapin Adoption Partnership is a program for families wanting to take advantage of Spence-Chapin's services while also working with additional adoption service providers, i.e. adoption attorney or agency. The Adoption Partnership offers a selection of pre- and post-adoption services to parents who are adopting domestically and internationally including home study, post-placement services, and expectant parent counseling. This program allows families to benefit from our extensive adoption expertise.
Service Options
Spence-Chapin's Adoption Partnership team provides a range of services to New York and New Jersey families.

Options for families adopting domestically include:
Home study services
Expectant parent counseling
Adoption Counseling
Interim care for infants
Child placement services
Post-placement supervision
Options for families adopting internationally include:
Home study and parent preparation services
Adoption counseling
Post Adoption Reporting
Your family can receive counseling at any stage of the adoption process with one of the Spence-Chapin clinical social workers. Often families seek Spence-Chapin's support prior to beginning the adoption process to explore their family's expectations about becoming an adoptive family.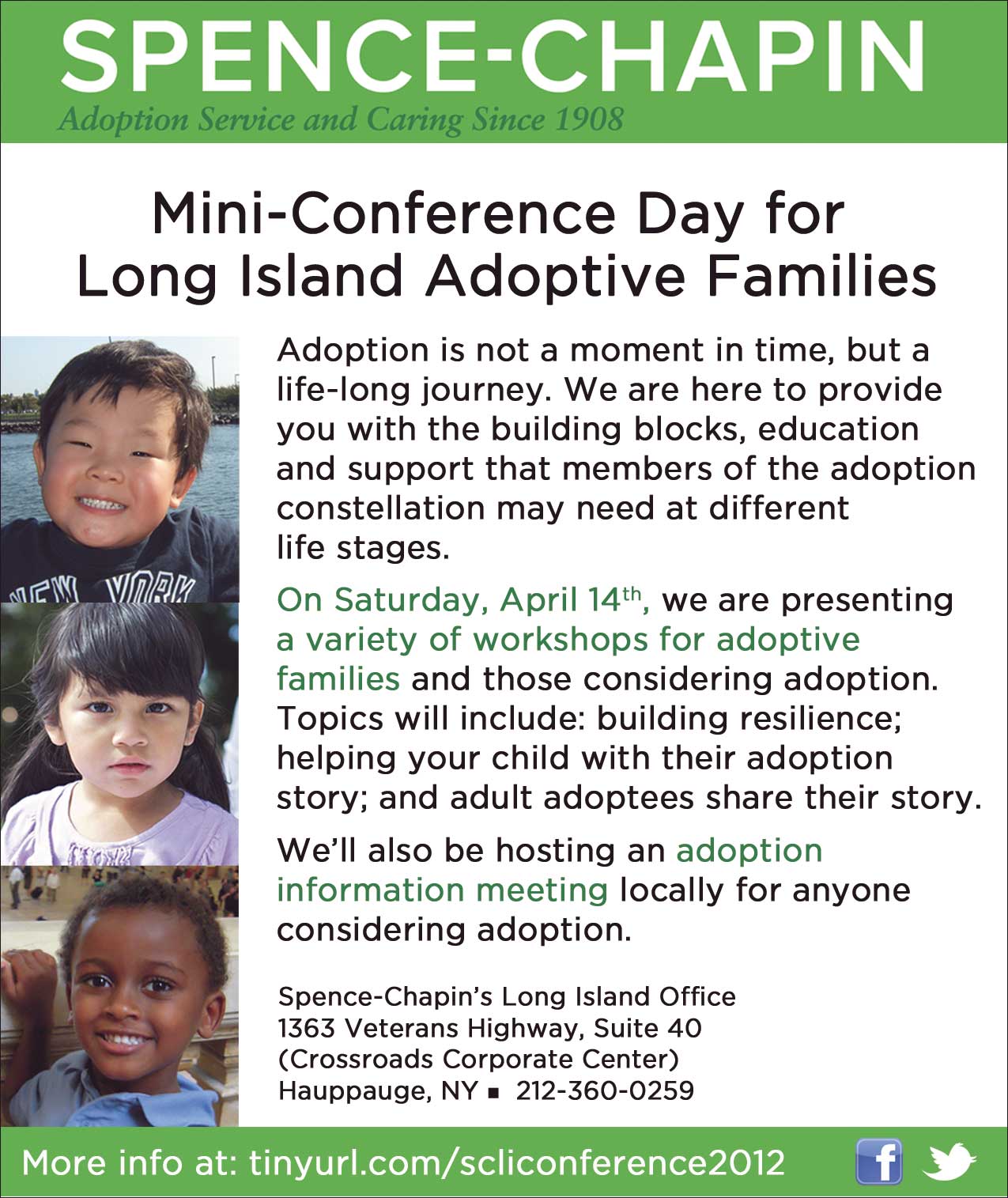 Want to learn more about this business? Send them a direct inquiry.
Be a good fellow parent and share this with a friend who would be interested
Read More on NYMetroParents.com:
Tips for Child-Proofing Your Home
Whether moving into a new home or simply re-organizing furniture in various rooms of your house, take note of these important child-proofing tips in mind to keep your children safe.

Summer Activities in Westchester County, NY
Do you need great summer activities for kids in Westchester County, NY? Use our guide to find kids classes, Westchester summer camps, summer programs, activities near Westchester County, and family excursions close by. Summer activities in Westchester are at your fingertips.

Brooklyn Congregation Donates 65,000 Meals to Hurricane Sandy Victims
Congregation Beth Elohim in Park Slope has donated and delivered more than 65,000 meals to victims of Hurricane Sandy since the storm struck late last October.

Westchester Children's Museum Gala Raises Close to $200,000
The Westchester Children's Museum gala at The Ritz-Carlton Westchester in White Plains raises nearly $200,000 with the help of more than 350 museum supporters, including county executive Rob Astorino who showed his public support for the WCM for the first time.

4 Ways to Make Dad Feel Extra-Special on Father's Day
This Father's Day, teach the kids to show just how special dad is to the family with these five tips that will help dad feel extra-special.

The Best of the Rest of the Web: Summer Camps, Father's Day, and Adoption
From the NYMetroParents June summer activities issue, a selection of thought-provoking, laugh-inducing, and just plain interesting facts and quotes from the web and the world of parenting.

Greenpoint Child Care Center Adds Infant and Toddler Program
ABC Child Center, which has been providing child care for 20 years, is opening an infant and toddler specific center in June in Greenpoint. The Brooklyn center is open Monday-Friday, 8am-6pm, will full- and half-day care available for toddlers. The home-away-from-home environment offers one-on-one and group activities to promote critical and creative thinking, socialization, and motor skills.

The 3 Rules of Healthy Eating in the Summer
Summer is filled with BBQs, street and county fairs, and ball games, where unhealthy foods abound. Here, a registered dietician lays out three easy rules to help you and your family choose the healthiest food options at these events and beyond.

Survey Reveals Most Adults Think Psychiatric Disorders in Children are Underdiagnosed
A survey released today by Parents magazine and the Child Mind Institute shows how the tragedy in Newtown, CT has influenced public opinion on children's mental health issues. The results show that more than half of adults think psychiatric disorders in children are underdiagnosed.

Three Little Piggies Debut at Queens Zoo
Queens Zoo welcomed three rare domestic pigs, mulefoot hogs, to its grounds in May.