Jane's Jewels: Designer Jane Bohan Holds Sample Sale
Back to the Blog... | Post Feedback | Author Bio | Printer-Friendly
I have always loved (and appreciated) the jewelry designs of Jane Bohan and periodically I have featured her work in the pages of Promenade magazine. She is well known for her stackable rings, many of which are beautifully incised, featuring exquisite intaglio carving or etching, giving the shanks and settings remarkable texture and dimension. Her necklaces are usually elegant statement pieces, and her earrings are always feminine and provide the just-right touch for any outfit.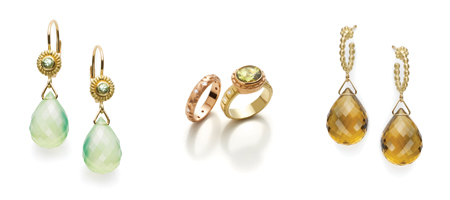 Luckily for us, all her bijoux are about to go on sale in her annual Holiday Jewelry Sale, for two weekends, December 6th through the 8th and the 14th through the 15th. She is promising huge savings on everything, with at least 50% off retail pricing. Prices at the sale start as low as $150 and escalate up to $2,500, significantly lower than her normal tariffs.
The sale is taking place at 611 Broadway (corner Houston Street), Suite 840. Hours: hursday the 6th, Friday the 7th, and Friday the 14th, from noon to 7 p.m.; Saturday the 8th and Saturday the 15th, from 11 a.m. to 5 p.m. Cash and credit cards accepted. Additional info: 212-529-6090 and info@janebohan.com.
Posted on December 04, 2012 - by

---
Reader Feedback - Be the first to kick-start this discussion...



---
About the Author: About the Author: Ruth J. Katz is a well-known shopping and service writer based in New York City. She has written about shopping for 25 years for New York magazine; covered the topic on-air at Fox-TV for several years as the Home Services expert; and had her own show on both the USA and Lifetime Cable networks. Katz wrote extensively for The New York Times as well, and contributed periodically to the New York Daily News. She is a passionate shopper, always looking for not merely a good buy, but the best buy, ferreting out a "steal" or discovering up-and-coming designers. She has written five books and is a former contributing editor to Hearst's Redbook, Classic Home, and Colonial Homes; she is currently a Contributing Editor of New York Home, Golf Connoisseur, The Modern Estate, and Promenade magazines. She is also the former Shopping Director for Davler Media's Manhattan Living.

Recent Entries: