Behind the Scenes: Theatre Blog
Browse by Category: Awards | Reviews | Off-Broadway | Broadway | Special Performances | First Look | Hollywood on Stage | Festivals | Openings & Previews
View More Blogs...
About the Author: City Guide Theatre Editor Griffin Miller moved to New York to pursue an acting/writing career in the 1980s after graduating magna cum laude from Case Western Reserve University in Cleveland, Ohio. Since then, she has written for The New York Times, For the Bride, Hotels, and a number of other publications, mostly in the areas of travel and performance arts. She currently is the theatre and spa editor for Promenade Magazine as well as theatre editor for all NYMetroParents publications. An active member of The New York Travel Writers Association, she is also a playwright and award-winning collage artist. In addition, she sits on the board of The Lewis Carroll Society of North America. Griffin is married to Richard Sandomir, Sports Media reporter for The New York Times.


---
Neil Patrick Harris Returning to Host the Tony Awards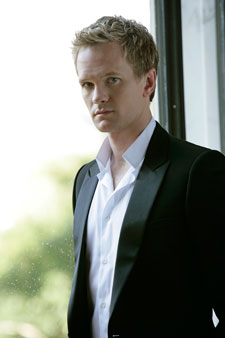 Thank heavens the suspense is over. I don't know about you, but waiting for the final heads up on who will host the 67th Annual Tony Awards on June 9th was keeping me up all night (and not in a good way). But halleluiah! and tada! we have a winner -- and he's a proven winner. Emmy Award-winning actor Neil Patrick Harris will be helming Broadway's biggest night for the fourth time, his past Tony triumphs being the 63rd, 65th & 66th editions.
Thankfully, the former Dr. Doogie is a sharp improviser who knows how to work sarcasm, irony, and the ultimate theatre crowd.
"I'm very excited to be back hosting the Tony Awards at the legendary Radio City Music Hall. It'll be more impressive than ever - if my math is correct, it will be 267 times bigger than last year," said Harris. "Oh, wait. No, that can't... hold on... carry the one... I'm awful at math. But rest assured, the show will rock!"
As for me, I say, "Kudos on your adept choice Broadway League and American Theatre Wing. I can finally sleep soundly knowing Neil will be in in the driver's seat!
Posted on Thursday, May 09, 2013 @ 10:59 AM | 0 replies Start the Discussion
---
Orphans Closing Early; Lucky Guy & Macbeth Extended
Some last minute changes on the pre-Tony Awards landscape (and there will no doubt be more before the glitz and glamour of June 9th rolls into Radio City Music Hall).
It was announced yesterday that Orphans -- currently playing at the Gerald Schoenfeld Theatre, will be closing on May 19th, more than a month before its originally scheduled closing date of June 30th. Up for two Tonys – Best Revival of a Play and Best Performance by an Actor in a Leading Role in a Play (Tom Sturridge) -- one would think it would have added rather than subtracted performances, especially since Sturridge and his costars Alec Baldwin and Ben Foster have created memorable characters caught up in a bizarrely compelling storyline. Oh well – see it while you can.
On the plus side, two show have already extended their runs: Nora Ephron's Lucky Guy starring Tom Hanks (having already recouped its investment and all its expected Tony nominations) will now run through July 3rd. Meanwhile Macbeth with Alan Cumming has extended through July 14th – despite its Leading Actor Tony snub.
Posted on Tuesday, May 07, 2013 @ 11:45 AM | 0 replies Start the Discussion
---
Jekyll & Hyde the Musical to Close May 12
With Queen's lyric "and another one bites the dust" pumping through my cerebral cortex, I bring news of the second casualty of this year's Tony nominations (the first being The Testament of Mary starring Fiona Shaw): Jekyll & Hyde the Musical, helmed by pop stars Constantine Maroulis and Deborah Cox, will close after its 7pm Sunday, May 12th performance.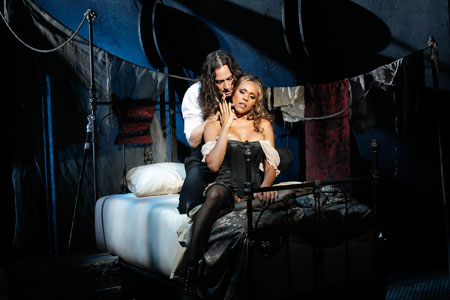 Having played 15 previews and 30 regular performances at the Marquis Theatre, this first revival of pop composer Frank Wildhorn's most successful musical was originally scheduled for a limited run concluding June 30th. However, failing to chalk up any Tony nominations clearly cut short the life span for J&H, a show that came to Broadway following a 25-week tour launch across the U.S.

For myself, I rather got into the show's Steampunk ambience, believing the mixed-to-really-really-bad reviews that met the NYC opening were born more of critical-by-rote Wildhorn-bashing than the actual quality of the show and its cast. Promotionally, I felt, and still feel, it has a built-in audience with the current followers of Victoriana thrillers and potboilers, not to mention fans of the Twilight films and their offshoots. I'd buy the album. Hopefully it will hit the road again – maybe follow in the original's international footsteps – who knows?
Posted on Friday, May 03, 2013 @ 01:30 PM | 0 replies Start the Discussion
---
Tony, Tony, Tony -67th Nomination Ceremony (Made at 8:30am ET, April 30, 2013)
Here they are, my theatre loving friends – hot off the Tony Awards® Announcement podium and direct from the lips of Tony winner Sutton Foster and stage/screen actor Jesse Tyler Ferguson.
Since I haven't as yet seen all the nominees, I'll hold my predictions for later. Still I must say I was pleased that Laurie Metcalf was nominated for her lead actress turn in The Other Place and that Rob McClure made the cut for his terrific Charlie Chaplin in Chaplin.
That said, in the WHAT WERE THEY THINKING department when Alan Cumming in Macbeth, Boyd Gaines in An Enemy of the People, Seth Numrich in Golden Boy and Jessica Hecht in The Assembled Parties did not receive nominations? But then I have problems with some of the nominated/not-nominated shows, too. As Jim Parsons (who also didn't get a nomination for playing Elwood P. Dodd in Harvey) would say on The Big Bang Theory, "bazinga" on all of us.
P.S. The first fatality of the Tony nominations has been announced: The Testament of Mary, the solo drama starring Fiona Shaw in the title role. (Miss Shaw failed to receive a nomination for her performance, as did the script by Colm Tóibín and direction by Deborah Warner.)

From the press release:
Nominations for the 2013 American Theatre Wing's Tony Awards®
Presented by The Broadway League and the American Theatre Wing
Best Play
The Assembled Parties
Author: Richard Greenberg
Producers: Manhattan Theatre Club, Lynne Meadow, Barry Grove
Lucky Guy
Author: Nora Ephron
Producers: Colin Callender, Roy Furman, Arielle Tepper Madover, Roger & William Berlind, Stacey Mindich, Robert Cole & Frederick Zollo, David Mirvish, Daryl Roth, James D. Stern/Douglas L. Meyer, Scott & Brian Zeilinger, Sonia Friedman Productions, The Shubert Organization
The Testament of Mary
Author: Colm Toíbín
Producers: Scott Rudin, Stuart Thompson, Jon B. Platt, Roger Berlind, Broadway Across America, Scott M. Delman, Jean Doumanian, Roy Furman, Stephanie P. McClelland, Sonia Friedman Productions/Tulchin Bartner Productions, The Araca Group, Heni Koenigsberg, Daryl Roth, Eli Bush
Vanya and Sonia and Masha and Spike
Author: Christopher Durang
Producers: Joey Parnes, Larry Hirschhorn, Joan Raffe & Jhett Tolentino, Martin Platt & David Elliott, Pat Flicker Addiss, Catherine Adler, John O'Boyle, Joshua Goodman, Jamie deRoy/Richard Winkler, Cricket Hooper Jiranek/Michael Palitz, Mark S. Golub & David S. Golub, Radio Mouse Entertainment, ShadowCatcher Entertainment, Mary Cossette/Barbara Manocherian, Megan Savage/Meredith Lynsey Schade, Hugh Hysell/Richard Jordan, Cheryl Wiesenfeld/Ron Simons, S.D. Wagner, John Johnson, MacCarter Theatre Center, Lincoln Center Theater
Best Musical
Bring It On: The Musical
Producers: Universal Pictures Stage Productions/Glenn Ross, Beacon Communications/Armyan Bernstein & Charlie Lyons, Kristin Caskey & Mike Isaacson
A Christmas Story, The Musical
Producers: Gerald Goehring, Roy Miller, Michael F. Mitri, Pat Flicker Addiss, Peter Billingsley, Timothy Laczynski, Mariano Tolentino, Jr., Louise H. Beard, Michael Filerman, Scott Hart, Alison Eckert, Bob Bartner, Michael Jenkins, Angela Milonas, Bradford W. Smith
Kinky Boots
Producers: Daryl Roth, Hal Luftig, James L. Nederlander, Terry Allen Kramer, Independent Presenters Network, CJ E&M, Jayne Baron Sherman, Just for Laughs Theatricals/Judith Ann Abrams, Yasuhiro Kawana, Jane Bergère, Allan S. Gordon & Adam S. Gordon, Ken Davenport, Hunter Arnold, Lucy & Phil Suarez, Bryan Bantry, Ron Fierstein & Dorsey Regal, Jim Kierstead/Gregory Rae, BB Group/Christina Papagjika, Michael DeSantis/Patrick Baugh, Brian Smith/Tom & Connie Walsh, Warren Trepp, Jujamcyn Theaters
Matilda The Musical
Producers: The Royal Shakespeare Company and The Dodgers
Best Revival of a Play
Golden Boy
Producers: Lincoln Center Theater, André Bishop, Bernard Gersten
Orphans
Producers: Frederick Zollo, Robert Cole, The Shubert Organization, Orin Wolf, Lucky VIII, Scott M. Delman, James P. MacGilvray, StylesFour Productions
The Trip to Bountiful
Producers: Nelle Nugent, Kevin Liles, Paula Marie Black, David R. Weinreb, Stephen C. Byrd, Alia M. Jones, Kenneth Teaton, Carole L. Haber/Philip Geier, Wendy Federman/Carl Moellenberg/Ricardo Hornos, Fifty Church Street Productions/Hallie Foote/Tyson and Kimberly Chandler, Joseph Sirola, Howard and Janet Kagan/Charles Salameno, Sharon A. Carr/Patricia R. Klausner, Raymond Gaspard/Andréa M. Price, Willette Murphy Klausner/Reginald M. Browne
Who's Afraid of Virginia Woolf?
Producers: Jeffrey Richards, Jerry Frankel, Susan Quint Gallin, Mary Lu Roffe, Kit Seidel, Amy Danis & Mark Johannes, Patty Baker, Mark S. Golub & David S. Golub, Richard Gross, Jam Theatricals, Cheryl Lachowicz, Michael Palitz, Dramatic Forces/Angelina Fiordellisi, Luigi & Rose Caiola, Ken Greiner, Kathleen K. Johnson, Kirmser Ponturo Fund, Will Trice, GFour Productions, Steppenwolf Theatre Company
Best Revival of a Musical
Annie
Producers: Arielle Tepper Madover, Roger Horchow, Sally Horchow, Roger Berlind, Roy Furman, Debbie Bisno, Stacey Mindich, James M. Nederlander, Jane Bergère/Daryl Roth, Eva Price/Christina Papagjika
The Mystery of Edwin Drood
Producers: Roundabout Theatre Company, Todd Haimes, Harold Wolpert, Julia C. Levy
Pippin
Producers: Barry and Fran Weissler, Howard and Janet Kagan, Lisa Matlin, Kyodo Tokyo, A&A Gordon/Brunish Trinchero, Tom Smedes/Peter Stern, Broadway Across America, Independent Presenters Network, Norton Herrick, Allen Spivak, Rebecca Gold, Joshua Goodman, Stephen E. McManus, David Robbins/Bryan S. Weingarten, Philip Hagemann/Murray Rosenthal, Jim Kierstead/Carlos Arana/Myla Lerner, Hugh Hayes/Jamie Cesa/Jonathan Reinis, Sharon A. Carr/Patricia R. Klausner, Ben Feldman, Square 1 Theatrics, Wendy Federman/Carl Moellenberg, Bruce Robert Harris/Jack W. Batman, Infinity Theatre Company/Michael Rubenstein, Michael A. Alden/Dale Badway/Ken Mahoney, American Repertory Theater
Rodgers + Hammerstein's Cinderella
Producers: Robyn Goodman, Jill Furman, Stephen Kocis, Edward Walson, Venetian Glass Productions, The Araca Group, Luigi Caiola & Rose Caiola, Roy Furman, Walt Grossman, Peter May/Sanford Robertson, Glass Slipper Productions LLC/Eric Schmidt, Ted Liebowitz/James Spry, Blanket Fort Productions, Center Theatre Group
Best Book of a Musical
A Christmas Story, The Musical
Joseph Robinette
Kinky Boots
Harvey Fierstein
Matilda The Musical
Dennis Kelly
Rodgers + Hammerstein's Cinderella
Douglas Carter Beane

Best Original Score (Music and/or Lyrics) Written for the Theatre
A Christmas Story, The Musical
Music and Lyrics: Benj Pasek and Justin Paul
Hands on a Hardbody
Music: Trey Anastasio and Amanda Green
Lyrics: Amanda Green
Kinky Boots
Music & Lyrics: Cyndi Lauper
Matilda The Musical
Music & Lyrics: Tim Minchin

Best Performance by an Actor in a Leading Role in a Play
Tom Hanks, Lucky Guy
Nathan Lane, The Nance
Tracy Letts, Who's Afraid of Virginia Woolf?
David Hyde Pierce, Vanya and Sonia and Masha and Spike
Tom Sturridge, Orphans

Best Performance by an Actress in a Leading Role in a Play
Laurie Metcalf, The Other Place
Amy Morton, Who's Afraid of Virginia Woolf?
Kristine Nielsen, Vanya and Sonia and Masha and Spike
Holland Taylor, Ann
Cicely Tyson, The Trip to Bountiful

Best Performance by an Actor in a Leading Role in a Musical
Bertie Carvel, Matilda The Musical
Santino Fontana, Rodgers + Hammerstein's Cinderella
Rob McClure, Chaplin
Billy Porter, Kinky Boots
Stark Sands, Kinky Boots

Best Performance by an Actress in a Leading Role in a Musical
Stephanie J. Block, The Mystery of Edwin Drood
Carolee Carmello, Scandalous
Valisia LeKae, Motown The Musical
Patina Miller, Pippin
Laura Osnes, Rodgers + Hammerstein's Cinderella

Best Performance by an Actor in a Featured Role in a Play
Danny Burstein, Golden Boy
Richard Kind, The Big Knife
Billy Magnussen, Vanya and Sonia and Masha and Spike
Tony Shalhoub, Golden Boy
Courtney B. Vance, Lucky Guy

Best Performance by an Actress in a Featured Role in a Play
Carrie Coon, Who's Afraid of Virginia Woolf?
Shalita Grant, Vanya and Sonia and Masha and Spike
Judith Ivey, The Heiress
Judith Light, The Assembled Parties
Condola Rashad, The Trip to Bountiful

Best Performance by an Actor in a Featured Role in a Musical
Charl Brown, Motown The Musical
Keith Carradine, Hands on a Hardbody
Will Chase, The Mystery of Edwin Drood
Gabriel Ebert, Matilda The Musical
Terrence Mann, Pippin

Best Performance by an Actress in a Featured Role in a Musical
Annaleigh Ashford, Kinky Boots
Victoria Clark, Rodgers + Hammerstein's Cinderella
Andrea Martin, Pippin
Keala Settle, Hands on a Hardbody
Lauren Ward, Matilda The Musical

Best Scenic Design of a Play
John Lee Beatty, The Nance
Santo Loquasto, The Assembled Parties
David Rockwell, Lucky Guy
Michael Yeargan, Golden Boy

Best Scenic Design of a Musical
Rob Howell, Matilda The Musical
Anna Louizos, The Mystery of Edwin Drood
Scott Pask, Pippin
David Rockwell, Kinky Boots

Best Costume Design of a Play
Soutra Gilmour, Cyrano de Bergerac
Ann Roth, The Nance
Albert Wolsky, The Heiress
Catherine Zuber, Golden Boy

Best Costume Design of a Musical
Gregg Barnes, Kinky Boots
Rob Howell, Matilda The Musical
Dominique Lemieux, Pippin
William Ivey Long, Rodgers + Hammerstein's Cinderella
Best Lighting Design of a Play
Jules Fisher & Peggy Eisenhauer, Lucky Guy
Donald Holder, Golden Boy
Jennifer Tipton, The Testament of Mary
Japhy Weideman, The Nance

Best Lighting Design of a Musical
Kenneth Posner, Kinky Boots
Kenneth Posner, Pippin
Kenneth Posner, Rodgers + Hammerstein's Cinderella
Hugh Vanstone, Matilda The Musical

Best Sound Design of a Play
John Gromada, The Trip to Bountiful
Mel Mercier, The Testament of Mary
Leon Rothenberg, The Nance
Peter John Still and Marc Salzberg, Golden Boy

Best Sound Design of a Musical
Jonathan Deans & Garth Helm, Pippin
Peter Hylenski, Motown The Musical
John Shivers, Kinky Boots
Nevin Steinberg, Rodgers + Hammerstein's Cinderella

Best Direction of a Play
Pam MacKinnon, Who's Afraid of Virginia Woolf?
Nicholas Martin, Vanya and Sonia and Masha and Spike
Bartlett Sher, Golden Boy
George C. Wolfe, Lucky Guy

Best Direction of a Musical
Scott Ellis, The Mystery of Edwin Drood
Jerry Mitchell, Kinky Boots
Diane Paulus, Pippin
Matthew Warchus, Matilda The Musical
Best Choreography
Andy Blankenbuehler, Bring It On: The Musical
Peter Darling, Matilda The Musical
Jerry Mitchell, Kinky Boots
Chet Walker, Pippin

Best Orchestrations
Chris Nightingale, Matilda The Musical
Stephen Oremus, Kinky Boots
Ethan Popp & Bryan Crook, Motown The Musical
Danny Troob, Rodgers + Hammerstein's Cinderella
Recipients of Awards and Honors in Non-competitive Categories
Special Tony Award for Lifetime Achievement in the Theatre
Bernard Gersten
Paul Libin
Ming Cho Lee
Regional Theatre Award
Huntington Theatre Company, Boston, MA
Isabelle Stevenson Award
Larry Kramer
Tony Honor for Excellence in the Theatre
Career Transition For Dancers
William Craver
Peter Lawrence
The Lost Colony
The four actresses who created the title role of Matilda The Musical on Broadway - Sophia Gennusa, Oona Laurence, Bailey Ryon and Milly Shapiro
Tony Nominations by Production
Kinky Boots - 13
Matilda The Musical - 12
Pippin - 10
Rodgers + Hammerstein's Cinderella - 9
Golden Boy - 8
Lucky Guy - 6
Vanya and Sonia and Masha and Spike - 6
The Mystery of Edwin Drood - 5
The Nance - 5
Who's Afraid of Virginia Woolf? - 5
Motown The Musical - 4
The Trip to Bountiful - 4
The Assembled Parties - 3
A Christmas Story, The Musical - 3
Hands on a Hardbody - 3
The Testament of Mary - 3
Bring It On: The Musical - 2
The Heiress - 2
Orphans - 2
Ann - 1
Annie - 1
The Big Knife - 1
Chaplin - 1
Cyrano de Bergerac - 1
The Other Place - 1
Scandalous - 1
For more info, etc. visit tonyawards.com
Posted on Tuesday, April 30, 2013 @ 10:24 AM | 0 replies Start the Discussion
---
Broadway News: Tiffany's Closing; Ann Discounts
Two important bits of Broadway info have crossed my desk over the last couple of days. Worth taking note of:
#1: Come this Sunday (4/21), the second casualty of the new season will bow out: Breakfast at Tiffany's. Despite high hopes for this latest take on Truman Capote's celebrated novel, the Richard Greenberg adaptation, directed by Sean Mathias, pretty much tanked in the wake of bad reviews and not-so-great word of mouth. It didn't help that Emilia Clarke, so impressive in HBO's Game of Thrones, failed to entice as Holly Golightly.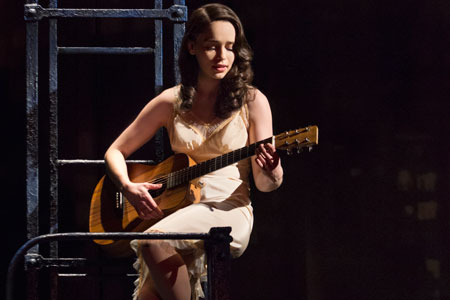 FYI, the first new show to drive off the Broadway lot was the original musical Hands on a Hardbody. It departed last Saturday night, after failing to attract enough of an audience to keep it afloat against some heavy-duty competition from productions like Kinky Boots and Matilda. Too bad since Hardbody was both entertaining and moving and boasted terrific performance by Hunter Foster and Keith Carradine.
#2: It seems the promotional wizards behind Ann, the Holland Taylor tour de force (she wrote the scripts and stars as former Texas governor Ann Richards), are ensuring the road to Lincoln Center's Vivian Beaumont Theater will be "well coupled" on Wednesday nights when "you can bring the man in your life for free to see Ann."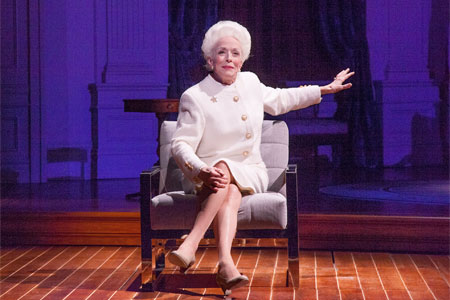 Having seen and loved the show I assure you this is a bargain you should not pass up. Taylor is a compelling presence and a veritable whirlwind in this briskly paced homage to the Lone Star State's outspoken, smart, funny and amazingly coiffed former Governor. (I give it four and a half "Yee-haws!")
To take advantage of this offer (good for 8 pm Wednesday performances through August 18th, "Use political man-date code: ANNBYM1 when you purchase your tickets by phone, online or in person. [Tickets range from $75 - $125 and can purchased at the Vivian Beaumont Theater box office, online at lct.org or through Telecharge.com (212-239-6200).
Posted on Tuesday, April 16, 2013 @ 04:22 PM | 0 replies Start the Discussion
---
For Elaine Stritch: A Final Adieu at Her Signature Venue
As the sassy, brassy octogenarian inches towards nonagenarian-ism (she'll hit the big nine-o February 2nd, 2015), she's heading home to her birth state of Michigan, passing her gilded perch at the Carlyle Hotel/Café Carlyle to entertainers other than herself. Ces't dommage!!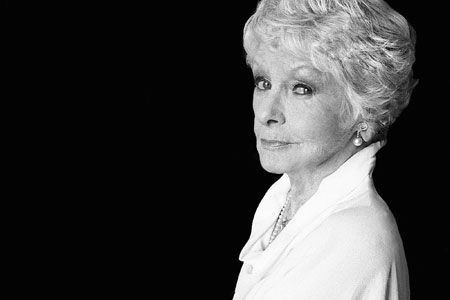 Still, she's heading out with a final flourish in a one-week swansong entitled Elaine Stritch at the Carlyle: Movin' Over and Out, a "freeform evening of story and song." Accompanied by Rob Bowman, her longtime musical collaborator, at the piano, Ms. Stritch will run her final lap Tuesday, April 2nd through Saturday, April 6th at 8:45pm at the Café Carlyle (a mega magnet for legendary performers like Stritch, Bobby Short, Barbara Cook, and Woody Allen). There is a $125 cover charge per person and $85 bar seating per person.
So if you're up for a truly iconic moment in the annals of Carlyle Hotel history, visit thecarlyle.com and if they're sold out (as well they may be), get on the waiting list -- no kidding, this phenom will not be repeated!
Photo: Nathalie-Vande-Walle.

Posted on Wednesday, March 27, 2013 @ 04:34 PM | 0 replies Start the Discussion
---
New Reviews: Cinderella, Ann & Vanya and Sonia
The bounty of Broadway shows set to premiere over the next several weeks has officially launched. So far, only a handful have been tossed into the Critics' Circle for reviews but there are many, many more to come. And of the three I've seen -- categories being The Good, The Bad, The So-So and The-I-Don't-Know-Yet -- things are pretty, pretty promising.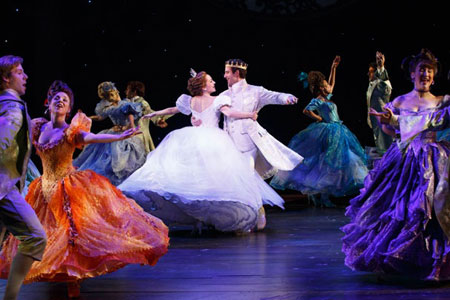 As long as there are little girls who long to be princesses and young lads who appreciate a good battle with a monster/tree, this show is more or less critic proof (mixed reviews veering to the positive side). I found it quite wonderful, albeit a tad long for its demographic. Still, the kids held their own in the attention-span department, so who am I to judge? My only real caveat was the Fairy Godmother's costume, which boasts a massively wide pannier (no doubt to accommodate the wires required to elevate her) and fairy antennae that resemble skinny silver bunny ears. All the other costumes, sets, etc. were glorious, however, and the performances -- from Cinderella and Prince Topher to the Racoon and Fox (who morphed into a footman and carriage driver) -- were enchanting.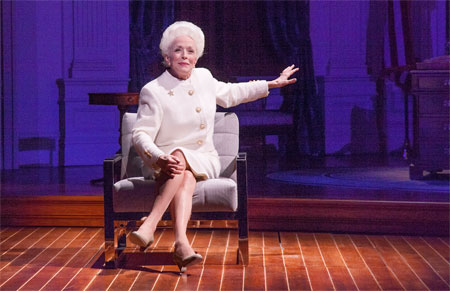 Photo: Ave Bonar

Holland Taylor as former Texas Governor Ann Richards gives a tour de force -- emphasis on force -- performance in this one-woman winner at Lincoln Center's Vivian Beaumont Theatre. And you don't have to be a political junkie to remain glued to her freewheeling embodiment of the big-haired, outspoken Richards. Did I mention Taylor (Two and a Half Men) also wrote the script? Bonus: Tony winner Julie White (The Little Dog Laughed) plays Richards' unseen-but-heard assistant (pre-recorded, but still a first-rate touch).
Vanya and Sonia and Masha and Spike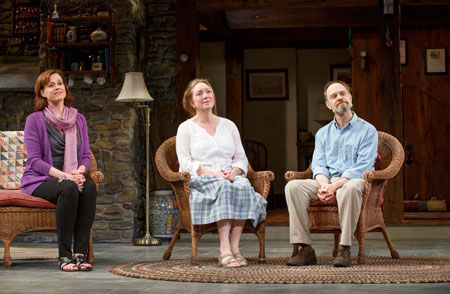 Sigourney Weaver, Kristine Nielsen, and David Hyde Pierce. Photo: Carol Rosegg
It had me at Christopher Durang, one of my longtime favorite playwrights, who feeds my gluttonous desire to consume a bouillabaisse of literacy, satire, silliness and unrepentant smarty-pants-itude. It doesn't hurt that the play -- an Off-Broadway upgrade -- stars David Hyde Pierce as Vanya (Act II tirade worth the price of admission), Sigourney Weaver (parodying every famous cougar (real and fictional) to ever hit Hollywood) as Masha, and Kristine Nielsen as Sonia (don't get me started on her channeling of Maggie Smith), whose scene-stealing brilliance is the stuff of theatrical legends.
In summary, my first three official viewings of the new season land feet first in the "plus" column. Tonight will be my fourth: Breakfast at Tiffany's (not-so-swell according to Ben Brantley at the Times this morning, but he and I don't necessarily see eye to eye). I'll keep you posted.
Posted on Thursday, March 21, 2013 @ 03:51 PM | 0 replies Start the Discussion
---
Final Weekend for As You Like It at the New Victory
For the final weekend of As You Like It at the New Victory Theatre on 42nd Street, I urge you to take advantage of this joyful new production to introduce your Generation Texters to the joys of comedic Shakespearean romance without the safety net of updated rhetoric (although it has been trimmed judiciously in terms of length and racy double entendre – including the epilogue).
But that only helps ensure that kids as young as eight will be able to both get it and get into it without too much coaching. The dialogue is also helped along by Dan Rothenberg's savvy direction and a brilliantly cast group of 20- and 30-something actors who do a dandy job of bringing home the rebellious/precocious/smitten young love theme to their target audience: everyone.
Even jaded I, someone who has seen this particular Shakespeare more than any other of his plays (and was first runner-up for the breeches role of Rosalind in college), was charmed by the 1920s costumes and use of turn-of-the-19th-century Victrolas that even managed to seem relevant in the Forest of Arden where most of the play's escapades unfold.
Four more performances only at the New Vic (209 W. 42nd Street) – Tonight at 7; Saturday at 2 & 7 and Sunday at 3 – so reserve your tickets now at newvictory.org!
Posted on Friday, March 08, 2013 @ 03:16 PM | 0 replies Start the Discussion
---
Bill Pullman to Join the Cast of The Other Place
Seems like breaking news on & about the Great White Way is in the stars as much as freezing temps are in the weather reports. The latest scuttlebutt concerns Sharr White's brilliantly acted, directed & designed drama The Other Place, running at MTC's Samuel J. Friedman Theatre.

According to an announcement released today, Daniel Stern, who gives a achingly moving performance as Ian, Juliana's (Laurie Metcalf) husband, will be leaving the production a month early "due to family matters in California." His final performance will take place on Sunday, February 3rd.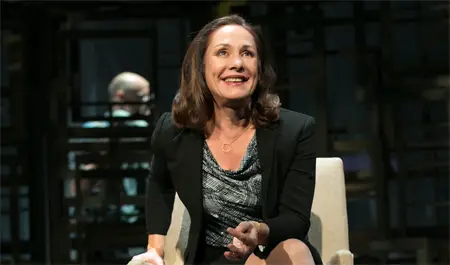 Laurie Metcalf in The Other Place. Photo: Joan Marcus.
Stepping in for Stern is Bill Pullman, whose NYC stage work includes Edward Albee's The Goat, or Who Is Sylvia? (Drama Desk Award nomination) and Peter & Jerry. His last Broadway appearance was opposite Julia Stiles in David Mamet's Oleanna.

Having seen & loved the play -- it's way up on my favorites list already with no chance of losing stature thanks to Metcalf's fearless layered performance as a woman locked into a mystery she can't seem to escape -- I cannot think of another actor more suited than Pullman to take over this particular role.

Pullman's first performance is Tuesday, February 5th and I will definitely try to catch his take on the role before The Other Place ends its extended limited run on March 3rd. Rarely do I have such a compelling reason to revisit a production this amazing.
Posted on Friday, January 25, 2013 @ 02:26 PM | 0 replies Start the Discussion
---
St. James Theatre Closed for the Weekend as Barry Manilow Recuperates
The grumbling you hear from under wool scarves, turtlenecks and giant winter coats outside theatres during the current frigid snap thankfully ends as soon as audiences cozy up to the performance warmth radiating from the stages themselves.
This, of course is all too literal cold comfort for Barry Manilow fans this week seeing as the pop megastar is postponing tonight's Manilow on Broadway opening – as well as all upcoming weekend performances -- due to a nasty case of bronchitis. (His first cancelled performance was his final preview last night, 1/23.)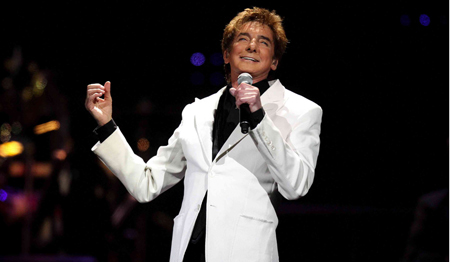 A statement released from the show reads:
"On doctors' orders, Manilow on Broadway has been forced to reschedule tonight's opening night along with the remainder of this weekend's performances. Manilow on Broadway will resume performances on Tuesday, January 29. It turns out the only thing worse than hell and high water is bronchitis. Barry is deeply sorry to disappoint his fans and is doing everything he can to ensure a speedy recovery."
The performance derailment has resulted in a second extension of the show, originally set to close on February 23rd, will run at least until March 2nd, according to the rescheduled dates below:

Thursday, January 24, 2013, has been moved to Thursday, February 28, 2013 @ 8pm; Friday, January 25, 2013, has been moved to Friday, March 1, 2013 @ 8pm; and Saturday, January 26, 2013, will be rescheduled to Saturday, March 2, 2013 @ 8pm.
Posted on Thursday, January 24, 2013 @ 02:13 PM | 0 replies Start the Discussion
---
A Sneak Peek at What's on Broadway This Spring
Busy, busy, news, news, news as the upcoming Spring Season nudges aside the carnage left when winter's giant Broadway ax lopped seven shows off the theatrical grid this past Sunday. (Another seven will have split by the end of February.)
Oh, the humanity!
And just when you think, "what the heck, March is when gobs of new productions begin preview performances," word trickles in that Mary Poppins - six years old and in the black -- is packing up her carpetbag and clearing out on March 3rd -- to make room for a new Disney property - Aladdin, based on the 1992 animated movie. (This info coming not from Disney directly, but from a scoop dealt to the New York Post yesterday.) Still, I wouldn't tell the wee ones about the new musical just yet: word has it the New Amsterdam Theatre, where all this coming and going is happening, will be doing some extensive re-hauling to accommodate the flying carpets and such that make up Aladdin. Translation: Don't expect it to open before spring 2014.
Still, much to talk about as new spring contenders reach my inbox at warp speed.
• Tony winner Bette Midler is set to replant her Broadway roots (after a 30-year absence) in I'LL EAT YOU LAST: A Chat with Sue Mengers. Midler - in a solo turn - plays the powerhouse Hollywood superagent (talk about idyllic casting) in this new play by Tony winner John Logan (Red), directed by Tony winner Joe Mantello (Assassins). A slam-dunk? Bet on it. [Opening night is set for April 24th with previews TBA.]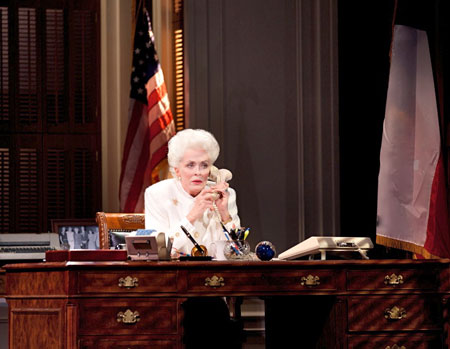 • In keeping with the one-woman show theme blossoming this spring (Holland Taylor (above) begins previews for her single-character play Ann about Texas Ann Richards on February 18th), it was announced today that Fiona Shaw will begin performances in The Testament of Mary on March 26th (Opening Night is April 22nd) for a limited engagement through June 16th. Shaw, known to fans of the Harry Potter films for her on-screen portrayal of Harry's aunt, Petunia Durdsley, embodies the mother of Jesus in this tour de force set after the Crucifixion, in which she tells her own story, "the one which has not been heard." The play, written by Colm Tóibín, is directed by Deborah Warner, Shaw's long-time collaborator who also directed the Irish-born actress in her last Broadway appearance as Medea.
• On the casting front, breaking news includes the addition of company members Mark Blum, Sam Robards and Jeremy Shamos (one of the stars of Glengarry Glen Ross, closing 1/20) to MTC's world premiere of Tony winner Richard Greenberg's (Take Me Out) new play The Assembled Parties. They join previously announced stars Judith Light and Jessica Hecht. [Previews 3/19; opens 4/17]
• Other breaking casting news: Joining super hot Bobby Cannavale (also fresh from Glengarry and starring in HBO's Boardwalk Empire) in Clifford Odets' The Big Knife are Marin Ireland (reasons to be pretty), Billy Eugene Jones (Passing Strange), Richard Kind (Spin City); Adam Rapp (Through the Yellow Hour); Ana Reeder (Top Girls); and Reg Rogers (The Royal Family). [Previews 3/22; opens 4/16]
• And finally, the announcement of two well-known actors joining Tom Hanks making his Broadway debut in Nora Ephron's Lucky Guy: Maura Tierney (ER, Newsradio; The Good Wife) and Courtney B. Vance (Fences; Law & Order: Criminal Intent; The Closer).
Posted on Tuesday, January 08, 2013 @ 06:08 PM | 0 replies Start the Discussion
---
Evita to Close January 26
When it was announced in late November that the stars of Evita would be exiting the Marriott Marquis Theatre in mid-January, it was just a matter of time before the closing notice would be posted – despite the promise of "new stars to be announced shortly." Well, today's the day: Evita will play its last performance on January 26, 2013.
"Our extensive search for a new cast presented the significant challenges of not only replacing a high-caliber trio of stars but also synchronizing the schedules of potential replacements with that of the production," said producer Hal Luftig. "Despite going down the road with a variety of artists, the planets have simply not aligned for us to engage the right talent at the right time. Therefore, we have made the decision to end this incredible journey on a high note on January 26 with our original stars intact."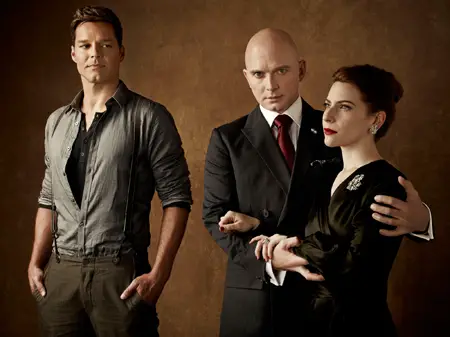 Added fellow producer Scott Sanders, "The style, grace and vision brought to this legendary musical by the cast, musicians and creative team exceeded our wildest expectations. We were thrilled by the diversity of the audiences that have filled the Marquis every evening and look forward to sharing this beautiful production with even larger audiences across the country beginning next fall."
Ricky Martin as Che has been designated the show's celebrity lifeline since it debuted in the spring of this year to mixed reviews. The diminutive Elena Roger in the title role suffered multiple slings, arrows and put-downs when held up to a mirror with Patti LuPone staring back at her, while Michael Cerveris, praised for his performance on the whole, was sadly dismissed for the secondary status of his character.
As for the massive Marquis Theatre, expect the next mondo musical to take up residence to be announced shortly. The beat goes on.
Posted on Wednesday, December 12, 2012 @ 10:16 AM | 0 replies Start the Discussion
---
Broadway Roundup: Chaplin, The Anarchist, Scandalous
I won't come right out and say it has been a week of shockers, but news seeping out from beneath Broadway's gilded curtains has been intriguing, to say the least. Two closings: Chaplin, which will end its run on January 6th, and The Anarchist, which just posted a closing date of December 16th. And this season's Scandalous: The Life and Trials of Aimee Semple McPherson, a musical by Kathie Lee Gifford that has been on the box office critical list (15% houses) ever since it hit Broadway this fall, has announced it will wrap up its run on December 9th.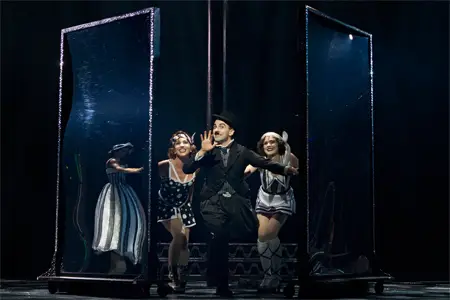 As someone who's been urging theatregoers to check out Chaplin – which, despite mixed reviews, is a gem of a production and a brilliant showcase for Rob McClure, who plays the title character – this comes as a depressing harbinger of Broadway's rollercoaster trajectory of what sells and what doesn't. Was it doomed due to lack of celebrity trimmings? Quite possibly, but not necessarily, as shows like Once and Book of Mormon have proved most recently. Who knows – Broadway is a crap shoot even for musicals that tend to seduce tourists much more than straight plays.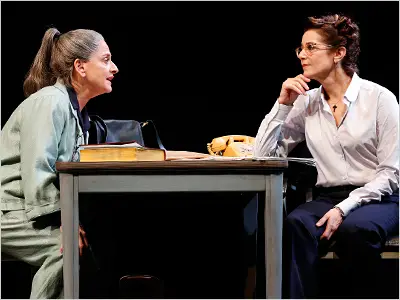 As for The Anarchist – which I'm set to see tomorrow night – clearly the reviews derailed the new Mamet play even though theatre great Patti LuPone stars alongside filmdom's Debra Winger in her Broadway debut. The reasoning supposedly being that when she's not singing, LuPone's audience draw is a lot more fragile than it should be. Too bad – her dramatic work is always sublimely compelling. And while I can't speak for Winger as yet, come on: she's been out of the entertainment limelight for quite some time… curiosity alone should provoke a visit, critics be damned.
Posted on Wednesday, December 05, 2012 @ 10:57 AM | 0 replies Start the Discussion
---
Off-Broadway Shows Not to Be Missed Before the Holidays
Before launching our theatre-loving selves into what holiday promos tout as the happiest, jolliest, family-est and funnest time of the year, I suggest we embrace a handful of supremely swell shows that will departing NYC's Off-Broadway stages before the 12 days of Christmas countdown begins.

Here's my list of the nearly departed (check it twice if you're skeptical), highlighting shows that should be seen, revisited and applauded before they bring down their final curtains over the next two weeks.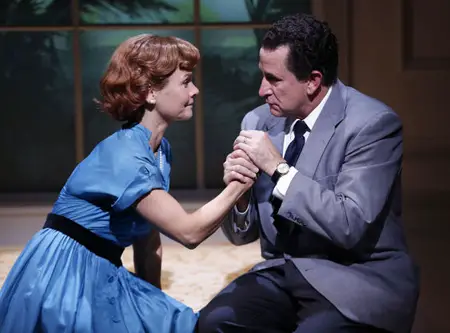 Checkers – This star-saturated mini-masterpiece at the Vineyard Theatre features Anthony LaPaglia as Richard Nixon and Katherine Erbe (Law & Order: Criminal Intent) as Pat Nixon in this dramatic look at the controversial ex-President's history leading up to his famous "Checkers" speech. Absolutely compelling. Through Sunday, December 2nd only. vineyardtheatre.org

The Exonerated – a beyond powerful evening of theatre in the actual words of the erroneously convicted, and subsequently vindicated, presented in a heartbreakingly simple staging by a revolving cast of visionaries. The last few days feature actors Kathleen Chalfant, William Marshall, Chris Sarandon & Roger Waters with Trudie Styler replacing Ms. Chalfant for the show's final, December 2nd performance. cultureproject.org

The Pearl Theatre Company's gleefully naughty production of Figaro, culled from Beaumarchais's Le Mariage de Figaro courtesy of its wily and witty adaptor, Charles Morey. With rave reviews (including a thumbs up "Tart and Funny" from the New York Times), Figaro is set to close on Sunday, December 2nd. pearltheatre.org

Sorry's multi-extensions at the Public Theater are in final count-down mode. Featuring a New York theatre-lover's dream ensemble that includes Maryann Plunkett, Laila Robins, Jay O Sanders and J. Smith-Cameron in their third appearance in playwright Richard Nelson's play series about the Apple family of Rhinebeck, New York [the first two, also Public Theater productions, were That Hopey Changey Thing and Sweet and Sad]. Last performance will be December 2nd. publictheater.org

The Accidental Pervert – The 13th Street Repertory Theatre's long-running solo show, lovingly called TAP by those in the know, has become a cult favorite among the downtown crowd, thanks to comedian Andy Goffman's hilarious star turn as he traces his porn obsession back to when he was 11. Look for puns and personal asides if you're lucky enough to catch one of the last performances. Closing Saturday, December 8. theaccidentalpervert.com
Ivanov - Ethan Hawke in the title role and a splendid supporting cast (including Joely Richardson) take this Chekhovian work and send it skyrocketing under the direction of Austin Pendleton. Need I say more? Bowing out on December 9th. classicstage.org
Posted on Thursday, November 29, 2012 @ 04:08 PM | 0 replies Start the Discussion
---
The Exonerated Returns Plus More Off Broadway News
Amidst Broadway openings, Off-Broadway premieres, nightclub acts and benefits, celebrities are spreading their creative gifts all over Manhattan's theatrical galaxy during October and November. Even with hay fever -- not the dandy Noel Coward play, but the dear-God-please-put-me-out-of-this-fall-allergy-misery –- my fascination is amped. If your share my sense of "how cool is this star bounty" I urge you to read on for my collection of star-studded stuff.
NOW PLAYING:
One of the most striking pieces of theatre I've ever encountered (I saw the first cast of this first-rate Off-Broadway revival that included Stockard Channing, Bryan Dennehy, Delroy Lindo and Chris Sarandon), The Exonerated will, I promise, haunt you long after you've left the Culture Project. Just extended through December and presented in a reading format directed by Bob Balaban, this spellbinding work, based on the real stories of individuals who were innocent yet sat on death row for years before being set free, features several permanent cast members along with guest stars. Future readings (and do check the website under "tickets" for upcoming casts) will feature Steve Earle, Joe Morton, Martin Short & Trudie Styler, Christine Lahti, Frank Whaley, Marg Helgenberger and a return of Chris Sarandon, with other notable actors TBA (hopefully including additional extensions).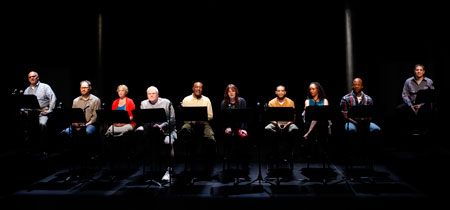 Personal note: If you get a chance to see a performance featuring Mr. Sarandon, grab it… he is amazing in every sense of the word. cultureproject.org
From OCTOBER 17th:
Off-Broadway's Classic Stage Company is definitely riding the highbrow express with their new production of Anton Chekhov's rarely-produced work Ivanov starring Ethan Hawke in the title role – aka "the Russian Hamlet." Directed by Austin Pendleton, the cast also includes the multi-genre actress Joely Richardson, known to TV fans for her roles in Nip/Tuck and The Tudors. classicstage.org
OCTOBER 22nd:
Playwrights Horizons serves up its annual one-night only event STORIES ON 5 STORIES: Poetic Justice featuring, among others, Christine Lahti (pictured), Campbell Scott and Marylouise Burke performing seven of the company's alumni writers, including Tony Award nominee and two-time Pulitzer Prize finalist Jon Robin Baitz (The Substance of Fire), Tony Award and Pulitzer Prize winner Bruce Norris (Clybourne Park) and Tony Award nominee and two-time Pulitzer Prize finalist Sarah Ruhl (Dead Man's Cell Phone).
Each play will be performed in a different, unconventional space throughout all five stories of Playwrights Horizons' home at 416 West 42nd Street, with the box office take going to Playwrights Horizons' developmental programs and productions.
Ticket prices are:
· $350 "Chief Justice" – Ticket includes the exclusive pre-show dinner at 6pm with select playwrights, board members and artistic staff; the performance; and the post-show party with participating artists. ($270 is tax-deductible)
· $200 "Jury Foreman" – Ticket includes the performance and the post-show party with participating artists. ($180 is tax-deductible).
Reservations for this limited 200-person event can be made by visiting playwrightshorizons.org.
******
A personal favorite -- CELEBRITY AUTOBIOGRAPHY: THE NEXT CHAPTER -- the hilarious collective of "literary" reading that pops up sporadically at the Triad, enters its fourth season tonight with a cast that includes Tony Danza, Luann De Lesseps, Marsha Mason, Eugene Pack, Dayle Reyfel, Julian Sands, and Alan Zweibel.
Autobiographies on tap this season (another reading is scheduled for 11/8 with Tony, Alan, Eugene, Dave and Mario Cantone, Rachel Dratch, Tovah Felshuh, Janeane Garofalo, Janeane Garofalo) include selections from books by Justin Bieber, "The Situation," Madonna, Tiger Woods, Susan Lucci, David Hasselhoff, Geraldo Rivera, Melissa Gilbert, Patti LuPone, Kenny Loggins, Destiny's Child, The Jonas Brothers, Zsa Zsa Gabor, Diana Ross, David Cassidy, Britney Spears, Arnold Schwarzenegger, Eminem, and Vanna White. Good times! celebrityautobiography.com

OCTOBER 24th:
Perfectly Marvelous: The Songs of Cabaret with Anne Hathaway and Friends. Yep, you read that right: Anne Hathaway is headlining this "Evening to Celebrate and Support Revitalization of Public Theater's Downtown Home at Astor Place."
Tickets to this fund-raiser will be in short supply so act fast (or be a Public Theatre VIP… really). Price: $300 or $100 for obstruct view seats. Dinner and drink service from the new Joe's Pub Partners features eclectic fare from Chef Andrew Carmellini and is included in the ticket price. publictheater.org.
NOVEMBER 5th: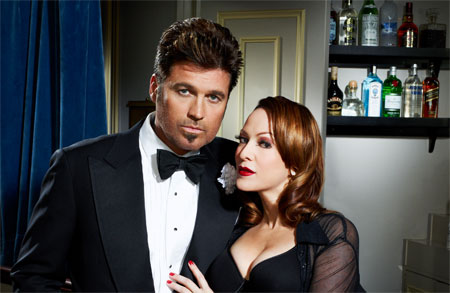 Good news for Billy Ray Cyrus fans: the singer, songwriter, actor and multi-platinum recording artist will be stepping into the role of "that silver-tongued prince of the courtroom," the sleek and sexy criminal lawyer Billy Flynn in the long-running revival of Chicago at Broadway's Ambassador Theatre.
And although he will only be "Razzle Dazzling" audiences for a limited seven-week engagement (through December 23rd), Cyrus will no doubt be a draw and half during his Broadway debut. Advice: reserve your tickets now to avoid a potential "achy breaky heart."
NOVEMBER 9th:
After last year's skimpy roster of holiday shows, 2012 roars in with a bunch of options including the return of Elf, based on the Will Ferrell film (but with concessions to the stage musical format). The cool news here is this new mounting includes Wayne Knight ("Newman!" from Seinfeld) as Santa. Not the biggest role in the show by any means but come on! -- Wayne Knight -- how fun/must-see is he!
Posted on Monday, October 15, 2012 @ 11:53 AM | 0 replies Start the Discussion
---
Checking in on the Off Broadway Stages
Mark Your Calendars...
...so you don't miss Oscar nominee Douglas McGrath's new play, Checkers, starring Anthony LaPaglia as Richard Nixon and Kathryn Erbe as Pat Nixon. FYI: This past Sunday (i.e. the 23rd, in case you're reading this in the future) marked the 60th anniversary Nixon's historic "Checkers" speech, which Chuck Todd, on his 9/20 broadcast of his "Daily Rundown" show on MSNBC observed "...helped reshape modern politics and usher in the era of TV as the vehicle for political messaging..."
Emmy winner LaPaglia was last seen on Broadway in the recent revival of Lend Me A Tenor directed by Stanley Tucci, while Erb is best know for playing Detective Eames on Law & Order: Criminal Intent.
In the stuff-you-might-like-to-know-about-now-and-in-the-future department, i begin with How to Be a New Yorker, a show that offers a crash course (as well as lunch or dinner) to avid Manhattanite wannabees in search of that perfect combination of "been-there-done-that" attitude New York residents like project while navigating the ins and outs of the city. In short, this popular new comedy -- written and performed by Margaret Copeland and Kevin James Doyle -- has already added three evening performances to its iniital two matinee schedule. [I guess getting one's Big Apple sassy on is a bigger draw than initially expected!]
Check it out for the comedic rush, leave firmly grounded in NYC savvy. Now playing at Sofia's Downstairs Theatre in the heart of Broadway. Details can be found at
How2BaNewYorker.com
. HINT: Get a jump on fellow theatregoers by wearing black (Gotham's official cutting edge color) whenever the mood strikes!
Meanwhile, in the "you've got less than a week to make it happen" slot,
David Garrison
and
Jenn Harris
-- the twosome who originated the roles of Hannibal Lecter and Clarice Starling in the blissfully demented Off-Broadway sellout,
Silence! The Musical
-- will be exiting the cast on Sunday, September 30th. And while I'm certain their replacements will be fabulous, you might want to see these two deft pros in action before they leave the shows current (new!) digs at The Elektra Theatre (
42nd St. & 8th Ave.
):
SilenceTheMusical.com
.
Posted on Thursday, September 27, 2012 @ 05:42 PM | 0 replies Start the Discussion
---
Applause for Chaplin on Broadway
For all New York intents and purposes the New York Times is usually the theatrical arbiter of thumbs up or down, with Ben Brantley's reviews designating make or break for a Broadway debut. I emphasize the keyword USUALLY (the biggest derailing of his opinion being Wicked, which continues to ride – after nine years – the coveted 100% sellout train).
Admittedly, in most cases, I am in awe of Brantley's insight, knowledge and rhetoric -- and I'd say I agree with his reviews a good 95% of the time. But Lysistrata Jones? Give me a break, Ben. (Thankfully, audiences saw through the satirically cute-but-parchment-thin musical he praised to the hilt.)
Brantley's most recent target for the evisceration guillotine is Chaplin the Musical – a poignant biopic musical by Christopher Curtis and Thomas Meehan. Conceptually awesome (unlike Ben, I loved the design, utilizing black-and-white sets, costumes & projections) and featuring a iconic breakthrough performance by Rob McClure in the title role and a supremely well-cast/talented supporting company, Chaplin is satisfying on just about every level.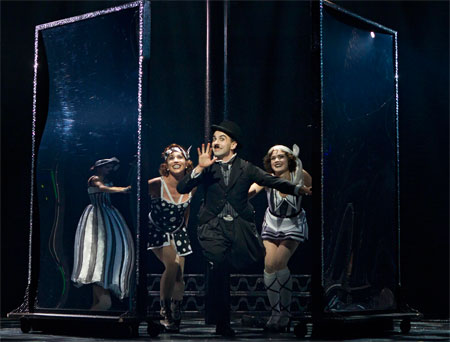 Is it selective in its historical elements? Yes. For example, there's no mention of United Artists; so no guest appearances by Mary Pickford or Douglas Fairbanks, Jr. But then who wants to sit through four hours laced with a corral of cameos and pointless minutiae?
Could the music be a tad more diverse? Sure, but theatregoers around me praised the score as is (actually, they loved everything and the standing ovation at the end was a spontaneous and loving tribute).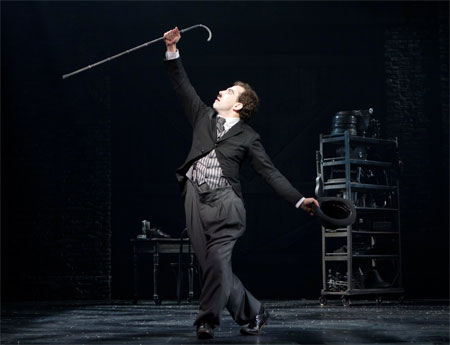 Is Chaplin perky, sidesplitting or gilded by pyrotechnics? No (the hero does have a challenging backstory, after all)... but the script's humor is deft, smart and on point and Charlie does get to walk a tightrope in a harness (translation: the Little Tramp gets a smattering of flying in, not Spider-Man-sized, but hey, he doesn't battle comic book villains either – just gossip maven Hedda Hopper).
Plus the techno people that managed to transpose McClure and cohorts onto vintage celluloid – and pluck some dandy archival footage of Hitler from the vault – are genius. And did I mention Warren Carlyle's wonderfully inventive direction and choreography? More genius.
In summary, ignore The Times and go see Chaplin. I have spoken.
Photos: Joan Marcus
Posted on Thursday, September 13, 2012 @ 10:33 AM | 0 replies Start the Discussion
---
Blue Man Group Contest & Off Broadway's 20at20 Deal
With the okey-dokey to begin fall in earnest (thank you, Labor Day), I like to play catch up with the New York stage scene – particularly a couple of "must look into" items for fun-seekers and the cost-conscious.

Blue Man Group is celebrating its digital release of five versions of "Shake Your Euphemism" by sponsoring a national contest in which fans are encouraged to share their favorite "fanny" euphemism for a chance to win a trip for two to the gala opening night of the new Blue Man Group production at the Monte Carlo Resort and Casino in Las Vegas on November 14, 2012. The winner will also have their winning euphemism added to the finale song in the Monte Carlo production.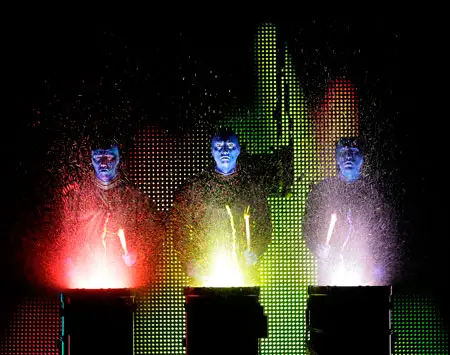 FYI: "Shake Your Euphemism" is an off-the-wall (and most popular) song incorporating a laundry list of alternative words for the human bottom that is featured in all Blue Man Group productions worldwide. The contest, currently underway through September 16th, requests that anyone – regardless of age -- submit their favorite (playful!) backside term to be added to the song. Entries must be family-friendly and will be judged by their originality and distinction from any part of the current song.
Simply submit your faves by a) dropping off an entry form into a contest box at a Blue Man Group Theatre [in New York that would be Astor Place Theatre, 434 Lafayette Street); b) visiting blueman.com, facebook.com/bluemangroup; or c) mailing your form to: National Contest c/o Blue Man Group, 599 Broadway, 6th Floor, NY, NY 10012.
So get up off your euphemism and get writing – who knows, your next booty shaking stop may be Vegas!
Currently underway through September 23rd: Off Broadway Alliance's 20at20 deal: Twenty minutes prior to curtain more then 30 of Off-Broadway's best plays and musicals -- including three winners of the Off Broadway Alliance Awards: SILENCE! The Musical, Stinkykids The Musical, and NEWSical The Musical – are up for grabs at a mere $20 per ticket at their respective box offices 20 minutes before curtain. CONDITIONS: All ticket sales are cash only. BONUS: See any seven of the participating 20at20 shows and receive a voucher for free dinner for two at an area restaurant. For details – and a complete list of participating shows (new this season and long-running classics), visit 20at20.com.
Posted on Tuesday, September 11, 2012 @ 12:06 PM | 0 replies Start the Discussion
---
54 Below - Broadway's Sizzling New Nightclub
Ahhh, the sweet smell of success wafting from 54 Below, the Theatre District's sizzling new nightclub whose debut weeks dealt from the top of the Broadway deck (Patti LuPone) while at the same time tapping into its quirkier midsection, i.e. Jackie Hoffman (riding the Broadway slipstream with an avid -- make that rabid -- cult following and a resume that includes Grandma Addams, a sassy Xanadu goddess and a coveted catalog of past Hanukkah specials).

But I digress. With its intimate/living room ambiance, menu by executive chef Andre J. Marrero, and ultra-eclectic roster of performers and performances (i.e., something for any and everyone) 54 Below hit the scene as a niche unto itself. This past weekend alone Faith Prince and Jason Graae teamed up for The Prince & The Show Boy; Sing, Harlem, Sing! served up a gospel/R&B brunch; and Backstage – 54 Below's no-cover-charge/$15-minimum-food-and-drink cocktail party/songfest let loose with Chandra Lee Schwartz (Wicked's current Glinda) and downtown diva Bridget Everett. [NOTE: Although over this past weekend Backstage popped up Sunday at 5, its regular time slot will be every Tuesday night at 10:30 pm.]
Tonight (8/27), the entertainment slate includes Tony nominee Maurice Hines and his original show backed by the all-female band The DIVA Orchestra, Tap'in Through Life, at 7 pm and a concert by Tony winner Tonya Pinkins (Caroline of Change; Jelly's Last Jam) at 9:30 pm. Meanwhile, the Auguist 28th's line up is musical director Brad Simmons (Lysistrata Jones) and actor/playwright Paul Oakley Stoval (Immediate; Clear) in The Next Best Thing to Love at 8:30, followed at 9:30 by The Green Room with A Catered Affair's composer, John Bucchino, "at the piano playing an array of standards, classics and maybe an original tune or two…."
As for the future… September brings musical stars Marin Mazzie, Eden Espinosa, Barbara Carroll, Ann Hampton Callaway, Linda Lavin with Billy Stritch and a return engagement from La LuPone… to name a few. Check out 54below.com for their complete calendar and cover charges (which do vary).
Posted on Monday, August 27, 2012 @ 12:23 PM | 0 replies Start the Discussion
---
Ghost the Musical to Close on August 18
The producers of Ghost The Musical announced today that the show will play its final performance on Broadway on Saturday, August 18th. When it closes, the show -- which opened last April 23rd -- will have played 39 previews and 136 regular performances. FYI: Over half a million people have seen Ghost The Musical in London and on Broadway. (Get your tickets here.)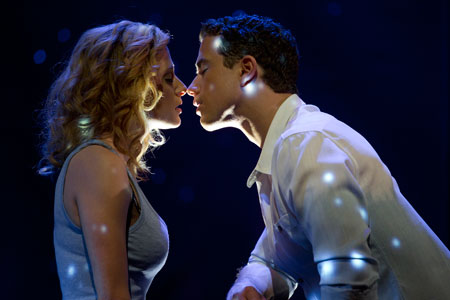 As for the show's future, a U.S. national touring production will launch this fall and internationally, tours of Ghost will open Korea, Germany, Sweden, Hungary, Japan, China and Australia. Additional global productions are currently in development.
Posted on Tuesday, July 24, 2012 @ 03:05 PM | 0 replies Start the Discussion
---