City Shopping
Browse by Category: Mother's Day | Gifts | Eat, Drink, and Be Merry | Jewelry | Sporting Goods | Sales/Sample Sales | Women's Shoes | Art | Home Furnishings | Home Accessories | Accessories | Beauty: Spa & Bath | Luxury Goods | Getting Organized | Fun Stuff | Women's Clothing | Furs | Gloves, Hats, Scarves | Leather Goods | Tabletop | Beauty: Makeup & Skin Care | Linens | Men's Clothing | Useful Info | Beauty: Fragrance | Store Openings | Handbags & Totes | Beauty: Medical | Bridal | Fix It | New in NYC | Kitchen | Favorite Finds | Services | Lingerie | Men's Shoes | Stationery/Writing Instruments | Computers/Electronics | Kids' Stuff | Ties | Fur Maintenance & Repair | Hat Repair | Home Cleaning & Repairs
View More Blogs...

About the Author: About the Author: Ruth J. Katz is a well-known shopping and service writer based in New York City. She has written about shopping for 25 years for New York magazine; covered the topic on-air at Fox-TV for several years as the Home Services expert; and had her own show on both the USA and Lifetime Cable networks. Katz wrote extensively for The New York Times as well, and contributed periodically to the New York Daily News. She is a passionate shopper, always looking for not merely a good buy, but the best buy, ferreting out a "steal" or discovering up-and-coming designers. She has written five books and is a former contributing editor to Hearst's Redbook, Classic Home, and Colonial Homes; she is currently a Contributing Editor of New York Home, Golf Connoisseur, The Modern Estate, and Promenade magazines. She is also the former Shopping Director for Davler Media's Manhattan Living.


---
Turn Back the Aging Clock: StriVectin's Newest Magic!
It started in 2002 as a wonder cream to persuade stretch marks to disappear. That was StriVectin-SD, and within no time flat, it sold over 6 million units worldwide. A miracle in a tube, indeed, and probably the single product that helped create the cosmeceutical craze. From that one product, the StriVectin Company has developed a multi-faceted line, with over a dozen effective, in-demand products introduced in the past four years alone. Today, the company markets a clinically-proven, scientifically-developed skincare line that offers comprehensive anti-aging solutions for people who would prefer to use a little dab of magic rather than search in vain for Ponce de Leon's Fountain of Youth.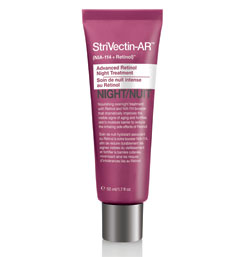 Newest to the StriVectin family is January's introduction of StriVectin-AR Advanced Retinol Night Treatment. A midnight multi-tasker, it combines the company's proprietary NIA-114 molecule and retinol (think: the ever popular retin A and its cousins), which is the gold standard in the anti-aging arena. This product relentlessly fights major signs of aging, helping to reduce the appearance of deep-set wrinkles and fine lines, hydrating and deeply nourishing skin, improving skin firmness and texture, and balancing out skin tones.

The company did a 12-week, independent, placebo-controlled, double-blind clinical trial against a placebo formula that did not contain the NIA-114...and the studies proved that the StriVectin-AR had impressive results after four weeks:
100% improvement in skin texture
88% improvement in skin clarity and radiance
79% had an improvement in skin firmness
8412% had an improvement in fine lines
After this 12-week trial, it was obvious that these were impressive results. For me, after the first of the year, I gave the StriVectin-AR an eight-week test and I can only say I am getting compliments on my skin—and I was actually asked on the street the other day by a dear friend whether I "had had work done." Hmmmm.....that is enough to convert me to a StriVectin devotee for life. (No, indeed, I did not have work done! Well, if having the carpet steamed counts as work, then I guess I did have work done, but it was the carpet, not my face!)

My results were enough to convince me to investigate more of the StriVectin product line, and now my 24-hour routine consists of the newly reformulated StriVectin-SD for daytime use and the StriVectin-SD Eye Concentrate at night...and voila! That is my new regime that I am currently in love with. If you feel like exploring the StriVectin products yourself, there are the StriVectin-AR lines, the -SD, -TL, -EV, and -SH lines, as well, that are worthy of your attention.

All these StriVectin lines consist of products that range from neck creams and cleansers to serums and more. The StriVectin-AR (50 ml / 1.7 oz) that I mentioned is $109.00; the StriVectin-SD Intensive Concentrate (150 ml / 5.0 oz), $139.00; StriVectin-SD Eye Concentrate for Wrinkles (30 ml / 1.0 oz), $65.00.
Posted on Tuesday, March 19, 2013 @ 03:20 PM | 0 replies Start the Discussion
---
Nabil Hayari's Delicious Perfumes
Fabricator of dreams, magician with fabric, Nabil Hayari was catapulted at an early age to the upper reaches of the Parisian fashion world. The couturier was captivated from an early age by textiles, clothing, and design. After attending one of France's prestigious fashion schools, he caught the eye of the École de la Chambre Syndicale de la Haute Couture Parisienne, and soon became the creative director at a fashion house in Paris' Golden Triangle, the area around Rue François Ier, Rue Pierre Charron, Rue Marbœuf, and, of course, the legendary Avenue Montaigne. Tucked into this rarefied neighborhood is a banquet of designer clothing, glittering accessories, dazzling jewelry, fragrant perfumes -- and shops and ateliers among the most celebrated in the world -- Givenchy, Louis Vuitton, Rochas, Dior, Celine, and Chanel, to name but a few.
By 2009, this wunderkind of wearables decided to open his own house and within a short time was dressing the likes of Nicole Kidman, Beyoncé, Pink, and Kylie Minogue.
His tools are lace, chiffon, shimmering beads, luminescent crystals, luscious satin, and undulating silk, and with them he creates sensational one-of-a-kind entrance gowns. It didn't take long 'til he made the leap to the world of scent, and in 2010 he introduced his signature fragrance, Only for Her. Today he has three scentsational perfumes, Goldy, Broderie, and the first, Only for Her, which is seductive, dynamic, and sparkling, with an essence of grapefruit, Egyptian jasmine e, peony, and magnolia. Goldy reflects a warm, powdery, and woody glow. White jasmine, orange blossom, and sandalwood permeate. And the lovely Broderie (embroidery, in French, underscoring the designer's love of his rich palette of textiles) is naturally inspired by the delicate fabrics Hayari works with. The scent is elegant, feminine, and sensual. There is lily and gardenia, amber, and patchouli, all of which combine to create a heady scent. The fragrances sell for $145 for a 1.7 oz bottle and are available at C. O. Bigelow apothecary in New York City.
And as an added incentive for you to check out Hayari's amazing fragrances, you have five more days to get to Bigelow and make a bid on one of Hyari's couture dresses. A Valentine's Day scarlet confection, the, the gown is a one‐of‐a‐kind exclusive frock. C. O. Bigelow will feature the flame-red gown in its window until the end of this week, and as an added incentive for passersby to bid on the gown, Hayari has pledged 100% of the proceeds to the American Heart Association. The one-shoulder, silk-satin entrance‐maker frock is designed in bold poppy and features a layer of chiffon and embroidered Chantilly lace that is generously accented with Swarovski crystals. The retail price for the gown is $11,500; minimum bid $3,500.
Posted on Tuesday, March 05, 2013 @ 02:35 PM | 0 replies Start the Discussion
---
Crackerjack Union Jacks! Fun Accessories with British Flair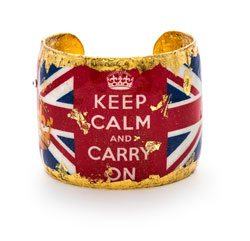 I was having a fuzzy, warm feeling about all things British (which is always an easy frame of mind for me to slide into) when I wrote about the fabulous Hollywood costume exhibit the Victoria & Albert Museum at the end of year. (And if you were in London at the time, then I hope you got to see it—it was truly spectacular.) With Great Britain firmly on my mind, I reminded myself that I had taken pictures at a trade show of the fun and lively jewelry of Barbara Ross-Innamorati of Evocateur, and decided it would be the next blog...but then Fate interfered in the form of shoulder surgery, which put an immediate end to typing for a while.
But, as they say, "We're back!" The recovering appendage is finally agreeable to typing, so we can now share Barbara's stunning bracelets. This jeweler has an interesting background and came to jewelry-making through the proverbial back-door, from the London School of Economics (LOL). Well, not exactly. But she did attend the renowned school, and while in the UK, she saw an exhibit of gold-worshipper Gustav Klimt and the images, resplendent with all that luscious, rich gold stayed with her for years. "Since that time, I have been passionate about and fascinated with gold leaf -- the way it can transform even the most ordinary of objects into something extraordinary, almost magical."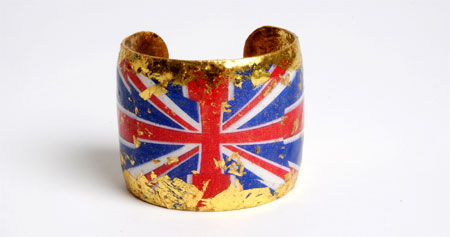 After dumping corporate America (corporate finance/investment banking/mergers and acquisitions, she notes), she was hunting for the just-right jewelry to wear with an ensemble and couldn't find what she wanted...and that need led to her experimentation with the gold leaf she so loved, and so, for 18 months, she doggedly pursued how to make the kind of jewelry she'd want. Et voila! Evocateur, her company, was born.
Today she sells a gorgeous line that includes some of my favorites, her British-inspired jewelry. Apparently I am not the only one with favorites from her line; her pieces also tickle the fancy of countless buyers from around the globe, as she sells not only to well over 100 outlets in the States, but also to such far-flung destinations around the world as Russia, Portugal, Panama, and even tiny Cyprus.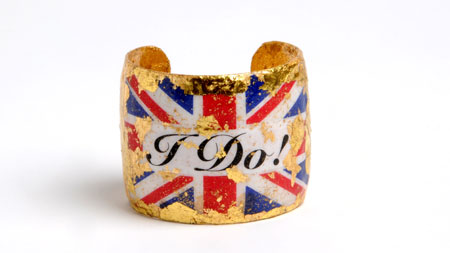 All her pieces are made in America, in her workshop in Connecticut. She continues to produce head-turning jewelry, heavily laden with that delicate, burnished gold, in 22kt. A more exotic collection, Humphrey's Safari, was inspired by a trip to Africa and named for her guide. (A portion of the proceeds from that collection goes to support a school in rural Zimbabwe.) Most cuffs range from about $220 (for the narrower, less elaborate ones) to about $340, for the wider, more involved ones.
Before signing off on things British, I must send you to the site Unique Vintage, which sells the most eclectic things you'll ever find on one Web site: a baby pacifier with a funny mustache attached to it; prom dresses and evening clothes; a pizza cutter; a stamper for imprinting toast, with a picture of the Eiffel Tower, called (rather cleverly) "French Toast Stamper"; luggage tags; swim suits; and Lord only knows what else you'll find!

It's an odd and interesting agglomeration of goods, but among the sundry offerings are a few things British and they are adorable: There is the little flask, convenient for a sporting event or just plain old travel ($26); a charming felted-wool handbag, with the Union Jack and a heart on it ($99). And, of course, there is an umbrella ($14.50) with the famous British flag on it. I have no clue what else you'll find if you jump around the site, but I guarantee an interesting time perusing it. Prices are reasonable, and it's a great site to plumb for novelty gifts, as well.
Posted on Tuesday, February 19, 2013 @ 03:11 PM | 0 replies Start the Discussion
---
Dining in Style and for a Good Price: Fashion Plates to Wear and Eat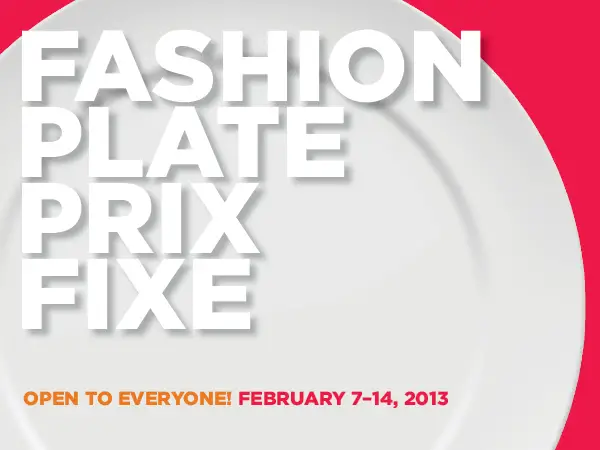 Starting this week, coinciding with Gotham's famed Mercedes-Benz Fashion Week, 28 ever-so-chic Upper West Side restaurants are stepping up to the plate (virtually) and are offering their "Fashion Plate" deals on meals. The Lincoln Square Business Improvement District's successful dining promotion, "Fashion Plate" is back this year, and there is a wide range of eateries participating, some with jaw-dropping, over-the-top menus -- places you've always wanted to try, but were hesitant. The event runs from the 7th to the 14th for Fashion Week. The promotion expands each season with American Table Café & Bar, Andanada 141, and Arpeggio Food & Wine being three of the latest additions to the list of participating restaurants.
Also new this season, a few of the participants are offering drink specials such as $5 Blackberry Bellinis at 'wichcraft (at David Rubenstein Atrium). There are also deals for Fashion Week staff, at other, more affordable eateries where the crews working Fashion Week can get a delicious take-out meal to be eaten on the fly, with a deep discount. (That program is called Crew Cuts and it's for the staffs of Fashion Week, who survive for eight days on breathing mere air and eating take-out.) But Fashion Plate restaurants are open to all.
"The Lincoln Square community loves playing host to visitors from around the city and the world -- and our restaurants are always eager to offer special deals. Whether you have tickets to watch the runway shows, Fashion Plate is a fun and tasty way to celebrate," noted Monica Blum, president of the Lincoln Square Business Improvement District, which has spearheaded this program since its inception.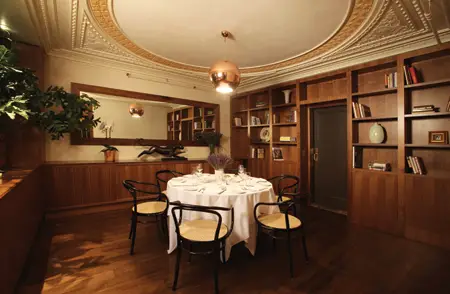 Fashion Plate Prix Fixe is open to all (just get yourself a reservation first, so you can be assured you get into your favorite places) for lunch, dinner, and brunches during Fashion Week. Some of New York City's newest hotspots, including Boulud Sud and The Leopard (in the old Café des Artistes spot; pictured above) are participating. Twenty-eight restaurants are offering outstanding menu options, for example: Upper West Side staple Atlantic Grill's three-course prix-fixe lunch and dinner for $25.00 and $38.00 respectively; A Voce's $33.00 three-course prix fixe lunch; The Smith is hosting a $27 three-course lunch and complimentary sparkling morning punch with any breakfast entree; and a special two-course, modern Italian brunch is being offered at Lincoln Ristorante (pictured below left) for $35. (For a complete list of participating restaurants, please see below.)
The Lincoln Square BID is also excited to bring back Lincoln Square Crew Cuts, designed to offer speedy and affordable dining/take-out options for the busy crews working on Fashion Week events. Discounts, such as 10% off breakfast, lunch and dinner, is being offered at 18 eateries in the Lincoln Square area, including Lincoln Square mainstays Alan's Market Place, Breadsoul and Lincoln Cafés, Melissa's Gourmet Deli, 'wichcraft, Old John's Luncheonette, P.J. Clarke's at Lincoln Square and others from January17 through February 25, 2013.
This is the fourth year and sixth season the Lincoln Square BID is supporting the event. The non-profit business improvement district also promotes the area's diverse business, educational opportunities, and cultural offerings through annual events such as the annual Winter's Eve celebration, which is Gotham's largest holiday festival; Summer Concert Series at Richard Tucker Park; Tourist Information Ambassador Program, among others. Lincoln Square BID's neighborhood area runs from Columbus Circle to 70th Street between Amsterdam and Central Park West.
Here is the complete list for the Fashion Plate participants:
A Voce
10 Columbus Circle
Time Warner Center, 3rd Floor
212.823.2523 / www.avocerestaurant.com
Three Course Prix Fixe Lunch: $33
(Monday–Friday only)
American Table Café & Bar (at Alice Tully Hall Lobby)
1941 Broadway at 65th Street
212.671.4200 / www.americantablecafeandbar.com
Two Course Prix Fixe Lunch, Dinner or Weekend Brunch Plus Snack: $20.00
Specialty Cocktail: $10
Andanada 141
141 West 69th Street between Broadway & Columbus Avenue
646.692.8762 / www.andanada141.com
Three Course Prix Fixe Dinner or Weekend Brunch: $38.00
Late Night Special Sangria or Wine: $7 (Excluding Valentine's Day)
Arpeggio Food & Wine (at Avery Fisher Hall)
Columbus Avenue at 64th Street
212.874.7000 / www.arpeggiofoodandwine.com
Three Course Prix Fixe Dinner: $45 (Excluding Valentine's Day)
Atlantic Grill
49 West 64th Street between Broadway & Central Park West
212.787.4663 / www.atlanticgrill.com
Three Course Prix Fixe Lunch: $25
Three Course Prix Fixe Dinner: $38
Haute Fashion Cocktail – Raspberry Vodka with cranberry juice and lemon juice: $14
(Monday-Friday only; excluding Valentine's Day)
Bar Boulud
1900 Broadway between 63rd & 64th Streets
212.595.0303 / www.barboulud.com
Three Course Prix Fixe Lunch: $29
(Monday-Friday only; excluding Valentine's Day)
Bouchon Bakery
10 Columbus Circle
Time Warner Center, 3rd Floor
212.823.9366 / www.bouchonbakery.com
Two Course Prix Fixe Lunch, Dinner or Weekend Brunch: $25
Three Course Prix Fixe Lunch, Dinner or Weekend Brunch: $29
Half Price Bottles of Wine
Boulud Sud
20 West 64th Street between Broadway & Central Park West
212.595.1313 / www.bouludsud.com
Three Course Prix Fixe Lunch: $29
(Monday-Friday only; excluding Valentine's Day)
Café Fiorello
1900 Broadway between 63rd & 64th Streets
212.595.5330 / www.cafefiorello.com
Three Course Prix Fixe Lunch: $27.95
Café Luxembourg
200 West 70th Street between West End & Amsterdam Avenues
212.873.7411 / www.cafeluxembourg.com
Three Item Breakfast : $14
Three Course Prix Fixe Lunch: $29
Ed's Chowder House
44 West 63rd Street between Broadway & Columbus Avenue
212.956.1288 / www.chinagrillmgt.com
Three Course Prix Fixe Lunch or Weekend Brunch: $25
Three Course Prix Fixe Dinner: $35 (Excluding Valentine's Day)
Gabriel's Bar & Restaurant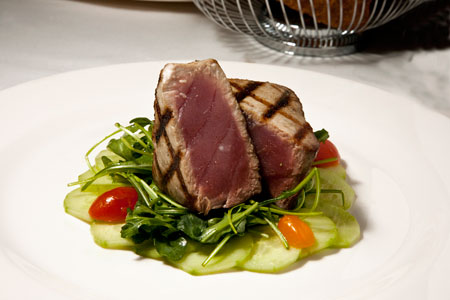 11 West 60th Street between Broadway & Columbus Avenue
212.956.4600 / www.gabrielsbarandrest.com
Three Course Prix Fixe Lunch: $25
(Excluding Valentine's Day)
Jalapeño
187 Columbus Avenue between 68th & 69th Streets
212.877.7800 / www.jalapenonyc.com
Two Course Prix Fixe Lunch or Dinner: $19.95
Three Course Prix Fixe Lunch or Dinner: $21.95
La Boite En Bois
75 West 68th Street between Columbus Avenue & Central Park West
212.874.2705 / www.laboitenyc.com
Three Course Prix Fixe Lunch: $26.50
Lansky's
235 Columbus Avenue between 70th & 71st Streets
212.787.0400 / www.lanskysnyc.com
Two Course Prix Fixe Lunch or Dinner: $19.95
Three Course Prix Fixe Lunch or Dinner: $21.95
The Leopard at des Artistes
1 West 67th Street between Columbus Ave & Central Park West
212.787.8767 / www.theleopardnyc.com
Three Course Prix Fixe Dinner: $38 (Excluding Valentine's Day)
Weekend Brunch: $25
Lincoln Ristorante
142 West 65th Street between Broadway & Amsterdam Avenue
212.359.6500 / www.lincolnristorante.com
Two Course Prix Fixe Lunch or Weekend Brunch: $35
(Wednesday-Sunday only)
Loi
208 West 70th Street between Amsterdam & West End Avenues
212.875.8600 / www.loirestaurant.com
Three Course Prix Fixe Dinner: $40 (Excluding Valentine's Day)
Luce Restaurant & Enoteca
2014 Broadway between 68th & 69th Streets
212.724.1400 / www.lucenyc.com
Two Course Prix Fixe Lunch: $19
Nanoosh
2012 Broadway between 68th & 69th Streets
212.362.7922 / www.nanoosh.com
Three Course Prix Fixe Lunch or Dinner: $14.95
Nick & Toni's Café
100 West 67th Street between Broadway & Columbus Avenue
212.496.4000 / www.nickandtoniscafe.com
Three Course Prix Fixe Dinner: $35 (Excluding Valentine's Day)
Nougatine at Jean-Georges
1 Central Park West at Trump International Hotel & Tower
212.299.3900 / www.jean-georges.com
Three Course Prix Fixe Lunch: $32 (Monday –Sunday only)
Three Course Prix Fixe Dinner: $38 (Sunday–Friday only) (Excluding Valentine's Day)
Porter House New York
10 Columbus Circle
Time Warner Center, 4th Floor
212.823.9500 / www.porterhousenewyork.com
Three Course Prix Fixe Lunch: $25
Rosa Mexicano
61 Columbus Avenue at 62nd Street
212.977.7700 / www.rosamexicano.com
Three Course Prix Fixe Lunch: $25
Three Course Prix Fixe Dinner: $38
Add a Rosalita 'Skinny' Margarita: $3.50 (Excludes Valentine's Day)
Sapphire Indian Cuisine
1845 Broadway between 60th & 61st Streets
212.245.4444 / www.sapphireny.com
Prix Fixe Lunch Buffet: $15.95
Shun Lee West
43 West 65th Street between Columbus Avenue & Central Park West
212.595.8895 / www.shunleewest.com
Three Course Prix Fixe Lunch: $25
The Smith
1900 Broadway between 63rd & 64th Streets
212.496.5700 / www.thesmithnyc.com
Three Course Prix Fixe Lunch: $27
Complimentary Sparkling Morning Punch with any Breakfast Entree (Monday–Friday only)
'wichcraft (at David Rubenstein Atrium)
61 West 62nd Street between Broadway & Columbus Avenue
212.780.0577 / www.wichcraftnyc.com
Blackberry Bellini: $5
Posted on Saturday, February 09, 2013 @ 09:49 AM | 0 replies Start the Discussion
---
Hollywood on the Thames: The Victoria & Albert's Hollywood Costume Exhibit
These are the stuff that dreams—or celluloid fantasies—are made of, to paraphrase Shakespeare: John Travolta's white disco suit from Saturday Night Fever... Judy Garand's blue-and-white-checked gingham pinafore-dress from, of course, The Wizard of Oz... Audrey Hepburn's sensational little black dress from Breakfast at Tiffany's...Vivien Leigh's green "drapery gown" from Gone with the Wind.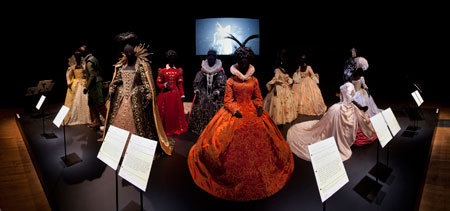 ©V&A images
Clothes make the man, they say, and in cinema, clothes help sculpt the character. "On every film, the clothes are half the battle in creating the character," notes Meryl Streep—a woman cable of transforming herself into personnae from every continent (or Mars, if need be); from every walk of life (high brown, low brow, no brow); from any age, at any age. And as she readily acknowledges, clothes aid her transformation. Just how wardrobe supports any actor in becoming a character will be patently clear if you visit the stunning, skillfully mounted exhibit, Hollywood Costume, currently at the V & A, and on view through January 27th.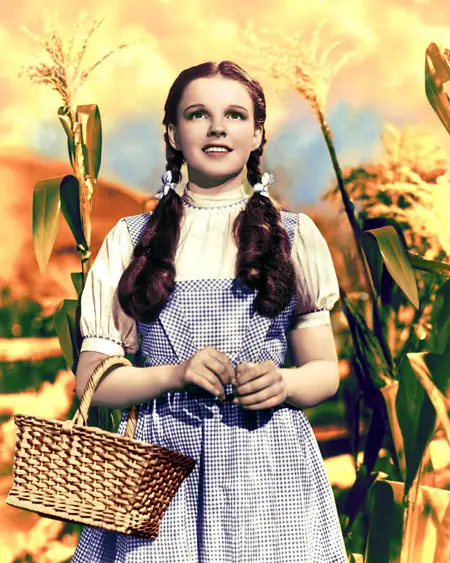 The Wizard of Oz, 1939. Credit: MGM/The Kobal Collection

This is the museum's major, late-fall exhibit and it gathers together over 130 of the most memorable, iconic costumes created for unforgettable cinematic characters from over a century of filmmaking. The exhibit explores the central role of costume design – from the glamorous to the most subtle – as an essential tool of cinematic storytelling. It illuminates the costume designer's creative process from script to screen and reveals the collaborative dialogue that leads to the invention of authentic people within the story. The exhibition also examines the changing social and technological context in which costume designers have worked over the last century, with the items on display spanning silent-film era to the present period, when costumes can even be computer-generated and "captured" for wearing.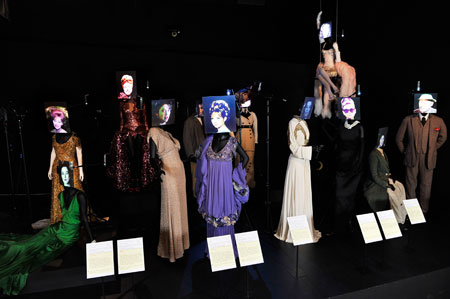 ©V&A images
The costumes on view are united by their single purpose—to serve the story, and tell it in another dimension. To this end, the exhibit's curators, Deborah Nadoolman Landis, a Hollywood costume designer, and Sir Christopher Frayling, guest curator, use montages, film clips, and projections; most appropriately, ensembles are showcased, not in an isolated museum format, but in their original context, in front of a blow-up still of the actor/actress wearing the outfit in the film. Additionally, to make the presentation even more authentic-looking, the explanatory panels are written as film script pages, and there are dialogue pages from the movie in which the garment appeared, as well, all helping to bring the textiles to life.
The exhibition has involved sourcing, identifying, and securing objects from all across the world over the course of five years. The costume collectors who have loaned pieces for the exhibition range from major motion picture studios, wardrobe houses, public museums and archives, to private individuals/collectors. The exhibit is cleverly organized into three "acts," creatively staged with cinematic paraphernalia and equipment. In Act One, the costumes are somewhat deconstructed, with an emphasis on the design process behind the scenes. So, for example, Harrison Ford's Indiana Jones' rough-and-ready outfit is projected on a large screen behind the actual costume, and piece by piece, item by item, the curators divulge the costumers' secrets, thebehind-the-scenes tricks of the trade—for example, how the leather is aged, or the trousers dirtied, why a certain fabric is chosen, or how a particular stitch is executed so it replicates the period, and so on, all in the effort to render the ensemble as authentically as possible.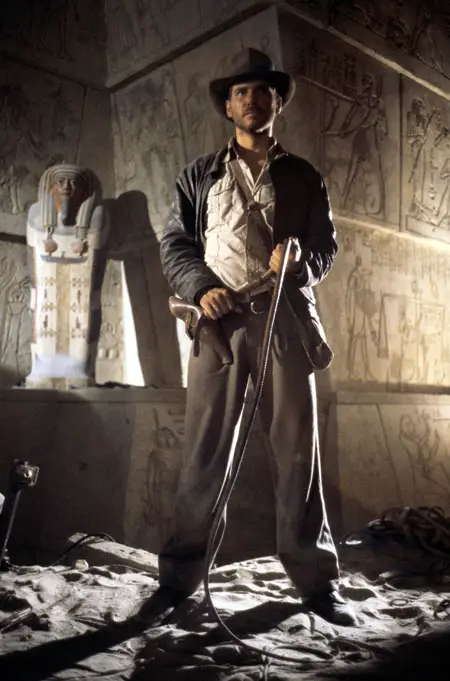 Raiders of the Lost Ark (1981). Credit: Lucasfilm/Paramount/The Kobal Collection
There are clothes instantly recognizable as being "costumes," such as the imperial robes designed by James Acheson for The Last Emperor (1987) alongside others that are supposed to be "real street clothes" (where the street is the mountains) like those from Brokeback Mountain (2005), in which designer Marit Allen's creations for Jack Twist (Jake Gyllenhaal) and Ennis Del Mar (Heath Ledger) may seem invisible against the backdrop, as they are so perfectly suited to their milieu. The steps of the costume designer's research process are explored in case studies that include Fight Club (Michael Kaplan, 1999), Addams Family Values (Theoni V. Aldrege, 1993), and Indiana Jones: Raiders of the Lost Ark (Deborah Nadoolman, 1981).
The development process is revealed using designs and sketches, photographs illustrating costume fittings, budget breakdowns, and script pages to show dialogue that discloses character-defining clues. Act One concludes with a dissection of designer Alexandra Byrne's Elizabeth: The Golden Age (2007) surrounded by a royal court of characters.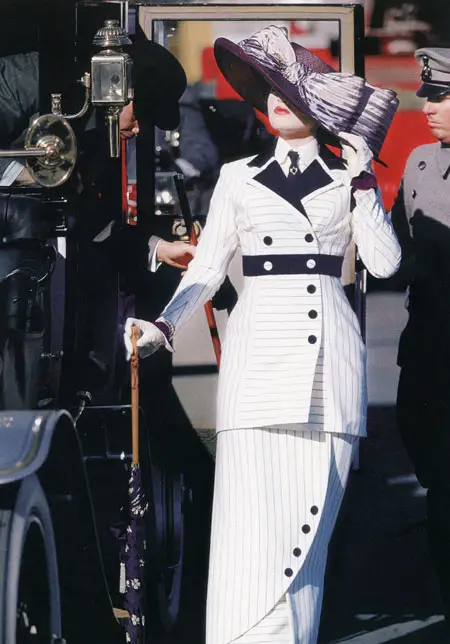 Titanic (1997). Credit: 20th Century Fox/Paramount/The Kobal Collection

Act Two: Dialogue examines the intimate creative collaboration among great filmmakers, actors, and costume designers. Using archival film footage as well as the audio from specially-commissioned interviews, this section explores four key director/designer pairings: Alfred Hitchcock and Edith Head who worked together on 11 films including The Birds (1963); Tim Burton and Colleen Atwood whose nine films together have spanned Edward Scissorhands (1990) to Alice in Wonderland (2010); Martin Scorsese and Sandy Powell who have teamed up on films from Gangs of New York (2002) to the recent Hugo (2011); and Mike Nichols and Ann Roth who have worked together for almost 30 years on films ranging from Silkwood (1983) to Closer (2004). This section is mounted in such a way, that viewers can actually sit down to listen to the complete audio interview, while almost being a part of the action or process. This section concludes with a striking presentation of countless garments worn by the transformative actors Meryl Streep and Robert DeNiro. In specially commissioned interviews, both actors discuss the importance of costume in developing and playing a range of their characters. Five costumes from each of their most famous roles are on view.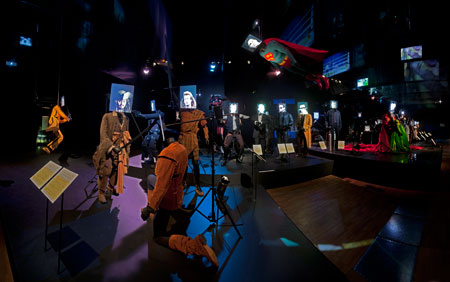 ©V&A images
In the last section, Act Three: Finale the best-known costumes from cinematic history are presented—featuring Hollywood heroes, femme fatales, comic-book superstars, to high-tech creations. Some of the memorable silhouettes featured here include the celebrated white cocktail dress worn by Marilyn Monroe in The Seven Year Itch, the unforgettable green silk-charmeuse, slinky frock worn by Keira Knightley as Cecilia Tallis in Atonement (2007), and a parade of James Bond's tuxedoes.
Ticket Information: Advance booking is advised, as this is a popular exhibit, with a £14 fee. www.vam.ac.uk/hollywoodcostume; 020 7907 7073.
Posted on Monday, December 31, 2012 @ 08:33 AM | 8 replies View/Post Feedback
---
Jane's Jewels: Designer Jane Bohan Holds Sample Sale
I have always loved (and appreciated) the jewelry designs of Jane Bohan and periodically I have featured her work in the pages of Promenade magazine. She is well known for her stackable rings, many of which are beautifully incised, featuring exquisite intaglio carving or etching, giving the shanks and settings remarkable texture and dimension. Her necklaces are usually elegant statement pieces, and her earrings are always feminine and provide the just-right touch for any outfit.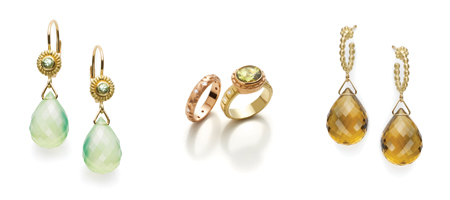 Luckily for us, all her bijoux are about to go on sale in her annual Holiday Jewelry Sale, for two weekends, December 6th through the 8th and the 14th through the 15th. She is promising huge savings on everything, with at least 50% off retail pricing. Prices at the sale start as low as $150 and escalate up to $2,500, significantly lower than her normal tariffs.
The sale is taking place at 611 Broadway (corner Houston Street), Suite 840. Hours: hursday the 6th, Friday the 7th, and Friday the 14th, from noon to 7 p.m.; Saturday the 8th and Saturday the 15th, from 11 a.m. to 5 p.m. Cash and credit cards accepted. Additional info: 212-529-6090 and info@janebohan.com.
Posted on Tuesday, December 04, 2012 @ 03:50 PM | 0 replies Start the Discussion
---
Things Are Popping in the Meatpacking District: The POP-Up Jewelry Gallery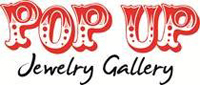 The holiday shopping season is now officially in full swing, and to help you pinpoint that just-right jewelry gift (and who wouldn't want a little sparkly something?), a charming pop-up jewelry gallery, aptly named POP Up Jewelry Gallery, has opened at 30 Gansevoort Street (between Hudson and Greenwich Streets). Open through December 31, the shop has a giant "pop-up" sign in the window...in bright Hollywood-style lights. It's cozy, spotless, and all-white inside, the better canvas for ferreting out sparkly jewels.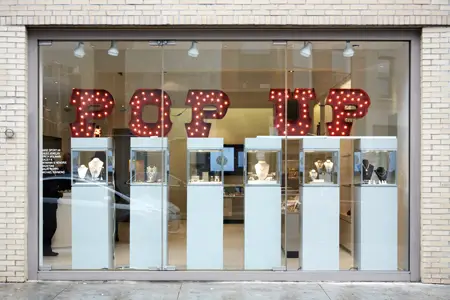 POP Up Jewelry Gallery located at 30 Gansevoort Street in the Meatpacking District features 8 fine jewelry designers for a limited time (until December 31st) including: Anne Sportun Fine Jewellery, Caleo, Heimann & Hendrix, Erica Molinari, Kacey K, MAD by Madstone and Madstone, Mauri Pioppo Fine Jewelry, Michael Raymond Designs
And of course, the timing could not be more perfect since forty percent of all fine jewelry is sold in the last quarter of the year. Unlike most pop-up shops which create an ultimate frenzy for impulse shoppers, this gallery has already been open for two months, establishing a mini-foothold in the ultra-trendy Meatpacking District, and attracting the typical weekend shoppers and the nabe regulars.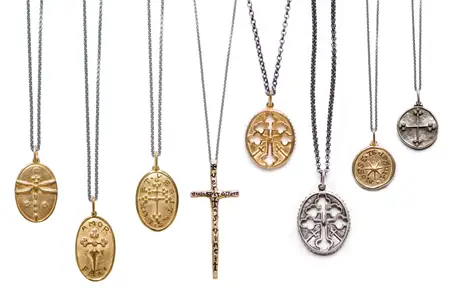 Erica Molinari - Sterling silver double sided charms with oxidized silver chains; 14 karat gold double sided charms with oxidized silver chains; 14 karat gold cross pendants with oxidized silver chains; Suggested retail prices range from $250 to $2,000
The salon is the brainchild jewelry-partners-in-crime, designer Kerri Halpern of MadStone Jewlery and Mad by MadStone and Diana Heimann of Heimann & Hendrix. The partners conceptualized, opened, and will manage the pop-up for the duration of the holiday season. The other designers on board include Anne Sportun Fine Jewellery, Caleo, Erica Molinari (above), Kacey K, Mauri Pioppo Fine Jewelry, and Michael Raymond Designs. Each designer showcases his/her bijoux in a separate case and the feel of the emporium is more gallery than shop.
Jewelry prices range from the highly affordable ($150) to the aspirational ($20,000), with a wide panoply of styles and tastes represented within that broad spectrum. While the majority of the jewelry in the shop is for women, there are also some designers specializing in menswear, with cufflinks, chunky chains, cool logo pins, and the link. There are also fine men's watches with a great deal of style and pizzazz from Jorg Gray. Additionally, there are some other items, such as special coffee table books, which are also available for sale.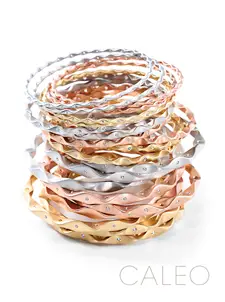 Jewelry from Caleo is actually from a husband-and-wife team, she an architect, and he, a sculptor. Working with elegant moonstones and hematite, they create lovely and delicate chains (and some more substantial ones for men) and talismans. Halpern's two lines range from about $200 to $18,000 and feature some fanciful pieces. She describes herself as a "rocker who loves champagne," and to satisfy that craving, she has created her "Bubble" line, with quartz etched with floating bubbles on the underside of the stones. She handles amethyst, smoky topaz, and quartz masterfully and brings the gems to life magically. Her bangles are a steal at $100. (The Caleo PINCH bangles, pictured right, come in many sizes and variations, and range from $275 to $6,250.)
Heimann & Hendrix's line includes some charming stackables, both feminine and delicate, and well-priced. Kacey K's offerings are dainty and fine, with countless variations of jewelry that can be worked with names, monograms, initials, and personal icons. Her line ranges from about $300 to $3,600. Erica Molinari's jewelry is noteworthy for its reversible pendants and charms. She also creates many dangly earrings, worked with a single stone that sparkles and dazzles. A simple, elegant statement. The work from jewelry Anne Sportun is marked by the use of colorful briolettes, sapphire beads, kyanite stones, shaped spinels (that look like lava rocks)and organic-shaped jewels. The line from Mauri Pioppo Fine Jewelry is rife with crystals, pendants, spirituality, symbolism—from love letters to initials, little locket-like charms that have room for a picture. A yogi, she tries to even incorporate healing stones within her work.
The shop will host themed weekly events (last week it was a doggy day, a fundraising event for orphaned pets from Hurricane Sandy), designer appearances, and entertainment, with a live DJ and an array of smart cocktails. Open to all patrons, the week's events will be posted on the front door. Store hours are Tuesday to Sunday, noon to 7:00 pm, closed Mondays. For more information, call 646-861-1180 or email info@popupjewels.com.
Posted on Monday, November 26, 2012 @ 11:12 AM | 0 replies Start the Discussion
---
A Mug to Mug Happily About: Lifetime Brands' Thermal Mug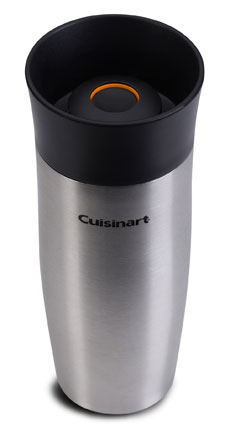 I have tried every single portable coffee mug known to man, or at least I think I have. Every time I find a new one at a trade show, or an editors' event, I try it. I often take a mug outside with me, for when I am walking the doggie and for when we go to the dog park. I have yet to find a mug that doesn't leak. I bend over, the dogs knock the thing over, I shove it into the doggie's carry-all, and so invariably, somehow it leaks and gets coffee all over everything, including me.
So imagine my shock when I tried Lifetime Brands' Cuisinart Easy Clean Thermal Mug. IT WORKS!!! It really works. There is not a tiny leak, making it just acceptable. No, there are no leaks. Turn it upside down, and it doesn't leak. Put it on its side, and it doesn't leak.
Oh, yes, the literature with the mug says it is both spill- and leak-resistant, so I was a little skeptical. Because "resistant" doesn't mean "proof." For my money, they could say it's spill-proof and leak-proof, but I guess they don't want to go out on a legal limb. But, the thing that makes this mug different form all the ones we've tried, is, not surprisingly, the drink spout: It doesn't slide, or flip, or have a lame drink control switch. It has a sort of pop-up button that almost feels like a vacuum kinda' thing. There is a simple center push button that makes it easy to open and close (it clicks so you know it's been activated, or that it's closed), and when it's closed, it's really leak-proof. Plus, you can drink from anywhere on the lid, which is more convenient when traveling, walking, or driving. The body of the mug is made of double-walled stainless steel so hot drinks stay hot and cold drinks stay cold. And the lid has two parts that you can take apart, so you can clean this mug easily and completely; I do it in the dishwasher. Another good thing about it? It's a mere $19.99. Trust me, you'll swear by this mug for your travels.
Posted on Thursday, November 08, 2012 @ 10:41 AM | 0 replies Start the Discussion
---
Hair Today, Frizz Gone Tomorrow: Products to use with Keratin Treatments
Summer has assuredly ended with a bang, and we are now facing fall, celebrating Halloween, turning the clocks back, enjoying the upcoming Marathon, and—before you know it—ushering in the Christmas season. However, before the summer's halo effect entirely evaporates, I must comment on the wonders of having your hair "glamorized" with the Brazilian Keratin treatment. (Yes, I know, there has been some talk about these hair applications, and doing them responsibly, and not constantly...but I gotta say, wonder of wonder, they really work.) And, I must share info with you about some of the absolute best products to use to care for that "new" hair--and also, if you just want to get and keep relaly "good" hair, using products from Keratin Complex.
I got my treatment at Sergio Limpopo and took advantage of a Lifebooker deal. I wasn't sure what to expect and discovered after my treatment (which did not take as long as I thought it would), that I could not wash my hair for three days, and sort of had to sleep standing up, well, not quite. That was the down side, but the upside was that I discovered, much to my delight, that three neighbors barely recognized me (that was good—they thought I looked very red-carpet glam) and all could not stop telling me how wonderful I looked, not quite pinpointing that it was my very straight mane; the downside of their wonder was that tacit in their compliments and approval was the the implied notion that I must have looked bad before!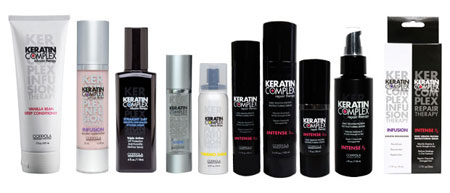 It took a while to adjust to the performance features of my new hair—I wasn't sure just how curly or frizzy it might be, just how much the keratin treatment had removed those tendencies to defy my ministrations for straight hair. I have to say, that through two different on-the-water vacations, through a very humid week in New Orleans, and through a hospital stay (that didn't exactly allow for shampooing, my hair looked GREAT: Straight, manageable, glamorous. But one thing that really mattered and that I had to pay attention to, was using a shampoo that had no sodium chloride; other people I know who have gotten keratin treatments have told me that they were instructed not to use any treatment product that had sulfides, but I was instructed to avoid sodium chloride.
I bought a shampoo and conditioner at the local Duane Reade and found them a little disappointing—expensive and not very bubbly, that is to say, not very foamy or sudsy. Somehow my hair didn't feel clean and slick.
BUT...enter the hair care line from Keratin Complex. These products are simply fabulous, in a word. I road-tested two shampoos and two cream rinses/conditioners: Keratin Color Care Shampoo, the "matching" conditioner, and another pair, the Keratin Care Shampoo and, again, the conditioner from that line. In addition, I tried a few treatment products, the Infusion Therapy, Keratin Complex Intense, Glowtion Potion Styling Oil, and the Instant Keratin Repair pack. They were all terrific, delivering great performance.

Keratin Complex offers a complete, well-balanced range of shampoos and conditioners to keep your hair looking and feeling great day after day–all with natural keratin. These shampoos and conditioners are designed and formulated to complement every hair type and specific need–from maintaining your therapy treatment and hair color to clarifying and re-balancing. Here is rundown on the two shampoos and two conditioners I now swear by:
Keratin Care Shampoo was developed to provide a gentle cleansing that will not diminish the precious nutrients of healthy hair; it is formulated with keratin protein for lasting protection. This sodium chloride-free formula is recommended for dry, chemically over-processed or damaged hair.
Keratin Care Conditioner was developed as a daily use conditioner with specially formulated nutrients and proteins that work in unison with keratin protein to maintain hair's shine and body. Helps detangle, leaving wet hair feeling smooth and slick. Special wheat and soy protein oils provide lasting nourishment while protecting the hair from the heat of blow-drying, hot curlers, and straightening irons.
Keratin Color Care Shampoo was developed to extend the vibrancy of color-treated hair. This sodium chloride- and sulfate-free formula contains mild surfactants that gently remove dirt and buildup without stripping hair of its color. It is formulated with keratin, soy, and wheat proteins for lasting protection.
Keratin Color Care Conditioner was developed to moisturize while protecting hair color. Helps detangle, leaving wet hair feeling smooth and slick. Special Keratin, wheat, and soy proteins provide lasting nourishment while protecting the hair from the heat of blow-drying, hot curlers, and straightening irons. Hair is softer, more manageable and stronger.
Posted on Thursday, November 01, 2012 @ 09:26 AM | 0 replies Start the Discussion
---
THE MET: Live in HD Is Back
It's time! It's time! At 12:55 p.m., this past Saturday afternoon, The Met: Live in HD returned to a theater near you; and of course, if you were in Gotham, then there were many theater choices for you. This is the seventh season that the Metropolitan Opera is bringing us simulcast operas as well as encore presentations—a dozen simulcasts this year, starting with Saturday's exuberant and joyful L'Elisir d'Amore, which starred Anna Netrebko, Matthew Polenzani, Mariusz Kwiecien, and Ambrogio Maestri, who joined forces in a delightful new production helmed by that master of fun and frolic, Bartlett Sher. One could argue that these Live in HD performances (which have won Emmys and Peabody Awards) are the best thing that the Met's General Manager Peter Gelb has brought us at his "new" Met, but then again he himself has set the bar high and has been responsible for so much innovation at the house that it wouldn't be fair to say that it is the absolute best; but for any opera lover in the hinterlands who cannot get to the Met or for a local who is loath to buy an inexpensive nose-bleed seat, then these are assuredly the best thing since sliced bread.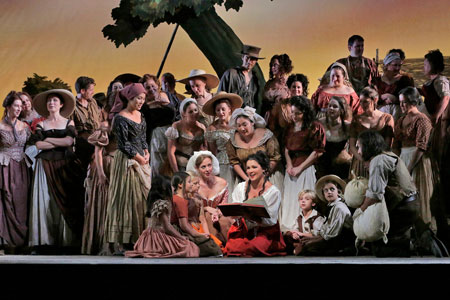 The presentations are brought to the screen by National CineMedia's Fathom Events, NCM's entertainment and events division, which also brings to the screen many other cinematic and cultural performances. (Two weeks ago, Fathom presented the remastered Lawrence of Arabia, in all its glory; and at least locally, in NYC, the house was sold out!) For anyone who missed Saturdays' performance—or, for that matter, cannot attend a live simulcast Saturday afternoon performance—there is always an encore presentation, generally the third Wednesday after the live event, in at least one neighborhood theater, if not more. Noted Gelb: "In addition to bringing grand opera directly from our stage into communities across the nation and around the world, our HD programs energize our performers, who know that a sizeable percentage of the global population of opera fans are watching and listening to them."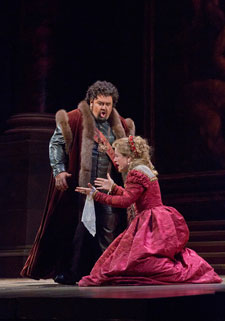 Tickets are available at participating cinema box offices and online at www.FathomEvents.com. (Prices may vary theater to theater, market to market, but are generally around $15 to $20.) The broadcasts will reach 167 U.S. markets in more than 660 select cinemas; the series is also shown in 100 additional independent venues nationwide. The Met: Live in HD is also screened in more than 1,900 cinemas in 60 countries, making the Met the only arts institution with an ongoing global art series of this scale. (The Met: Live in HD series is made possible by a generous grant from The Neubauer Family Foundation; global corporate sponsor of the series is by Bloomberg.)
The schedule for the coming season is below (times are always 12:55 Eastern and 9:55 Pacific, unless otherwise noted, and of course, as you might guess, the programs and the casts are subject to change), but I will report back from time to time so that you do not miss a single must-see performance. Meantime, I just loved, loved, loved the charming L'Elisir SAsturday and look forward to many more winning operas; expect the rest of the season's performances to be wonderful, exhilarating, breathtaking! (For additional info, check out the Met's Web site at www.metopera.org/hdlive)
Saturday, October 13, 2012
L'ELISIR D'AMORE (Donizetti)
Anna Netrebko and Matthew Polenzani star in one of the greatest comic gems in opera, as the fickle Adina and her besotted Nemorino. Bartlett Sher, whose previous productions of Il Barbiere di Siviglia, Le Comte Ory and Les Contes d'Hoffmann have delighted Met audiences, guides this lively staging, where surface charm will meet with real emotion. Mariusz Kwiecien is the blustery sergeant Belcore; Ambrogio Maestri is Dulcamara, the loveable quack and dispenser of the elixir. Maurizio Benini conducts.
OTELLO (Verdi)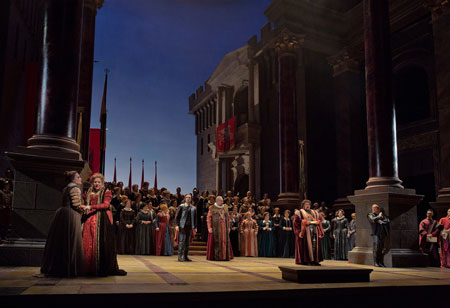 Verdi's Shakespearean masterpiece returns to the Met with Johan Botha as the title role opposite the acclaimed Desdemona of star soprano Renée Fleming, with Falk Struckmann as Iago and Michael Fabiano as the captain Cassio. Acclaimed Russian conductor Semyon Bychkov also makes his cinematic debut.
Saturday, November 10, 2012
THE TEMPEST (Adès) – Met Premiere
British composer Thomas Adès makes his Met debut conducting the first-ever Met performances of his opera, which has been widely praised as a modern masterpiece. Director Robert Lepage recreates the interior of Milan's famous opera house La Scala, including the hidden workings underneath the stage, where Prospero, the banished Duke of Milan, practices his otherworldly arts. The magnetic baritone Simon Keenlyside stars as Prospero, a role he has sung to great acclaim in London.
Saturday, December 1, 2012
LA CLEMENZA DI TITO (Mozart)
The virtuosic Elīna Garanča sings Sesto in Mozart's drama set in ancient Rome. Giuseppe Filianoti is the noble Tito and Barbara Frittoli is Vitellia, in this handsome revival of one of the composer's final masterpieces. Harry Bicket conducts.
Saturday, December 8, 2012
UN BALLO IN MASCHERA (Verdi)
Accompanied by a thrilling score, Verdi's vivid characters grapple with life and love, betrayal and death. Director David Alden's dreamlike setting provides a compelling backdrop for this dramatic story of jealousy and vengeance. Marcelo Álvarez stars as the conflicted king; Sondra Radvanovsky is Amelia, the object of his secret passion; and Dmitri Hvorostovsky is her suspicious husband. Kathleen Kim is the page Oscar, and mezzosoprano powerhouse Stephanie Blythe sings the fortuneteller Ulrica. Fabio Luisi conducts.
Saturday, December 15, 2012
AIDA (Verdi)
The Met's unforgettable production of Verdi's ancient Egyptian drama stars Liudmyla Monastyrska in her Met debut in the title role of the enslaved Ethiopian princess caught in a love triangle with the heroic Radamès, played by Roberto Alagna, and the proud Egyptian princess Amneris, sung by Olga Borodina. Fabio Luisi conducts this revival, which features recent choreography by Alexei Ratmansky.
Saturday, January 5, 2013
LES TROYENS (Berlioz)
The Met offers a rare opportunity to witness Berlioz's vast epic, last performed at the Met in 2003. Deborah Voigt, Susan Graham and Marcello Giordani lead the star cast. Met Principal Conductor Fabio Luisi marshals the large-scale musical forces.
Saturday, January 19, 2013
MARIA STUARDA (Donizetti) – Met Premiere
Fresh from her triumph in the Met's The Enchanted Island, mezzo-soprano Joyce DiDonato, one of the world's most exciting singers, takes on the virtuosic bel canto role of the doomed Mary, Queen of Scots. Having scored a major success with his production of "Anna Bolena," director David McVicar now turns to the second opera of Donizetti's Tudor trilogy, which explores regal characters at fateful moments of their lives. Elza van den Heever sings Elizabeth I, and Maurizio Benini conducts.
Saturday, February 16, 2013
RIGOLETTO (Verdi)
Director Michael Mayer has placed his new production of Verdi's towering tragedy in Las Vegas in 1960—an ideal setting for this eternal conflict of depravity and innocence. In this production, inspired by the antics of the Rat Pack, Piotr Beczala is the womanizing Duke of Mantua, with Zeljko Lucic as his tragic sidekick, Rigoletto. Diana Damrau is Rigoletto's daughter—and their victim. Michele Mariotti conducts.
Saturday, March 2, 2013
PARSIFAL (Wagner)
Director François Girard's timeless new vision for Wagner's final masterpiece explores the many facets of this mystical score, while designer Michael Levine (Eugene Onegin) creates a surreal landscape. Jonas Kaufmann stars in the title role of the innocent who finds wisdom. His fellow Wagnerian luminaries include Katarina Dalayman as the mysterious Kundry, Peter Mattei as the ailing Amfortas and René Pape as the noble knight Gurnemanz. Daniele Gatti conducts.
Saturday, March 16, 2013
FRANCESCA DA RIMINI (Zandonai)
Zandonai's compelling opera, inspired by an episode from Dante's Inferno, returns in the Met's ravishingly beautiful production, last seen in 1986. Dramatic soprano Eva-Maria Westbroek and tenor Marcello Giordani are the doomed lovers. Marco Armiliato conducts.
Saturday, April 27, 2013 – Noon Eastern / 9:00 a.m. Pacific
GIULIO CESARE (Handel)
David McVicar's inventive production of Handel's Baroque classic comes to the Met for the first time, with major stars as Caesar and Cleopatra. The world's leading countertenor, David Daniels, sings the title role of Julius Caesar opposite Natalie Dessay as an irresistibly exotic Cleopatra. Baroque specialist Harry Bicket conducts.
Posted on Monday, October 15, 2012 @ 11:15 AM | 0 replies Start the Discussion
---
Will Wonders Never Cease: C Wonder Opens at the Time Warner Center
C Wonder, the brainchild of Chris Burch, the former husband of Tory Bruch--and we're guessing the star of the marketing team and a good part of the creative genius behind her line--has opened its second store in Manhattan, on the second floor of the Time Warner Center, in The Shops at Columbus Circle. Since it just opened this week, you might want to wait a day or three until the herd thins, as the place was crowded (not unshoppable-crowded, just busy) both times I visited. (And expect a very chripy, cheery hello from the very uber-exuberant staff; these guys are like on uppers.)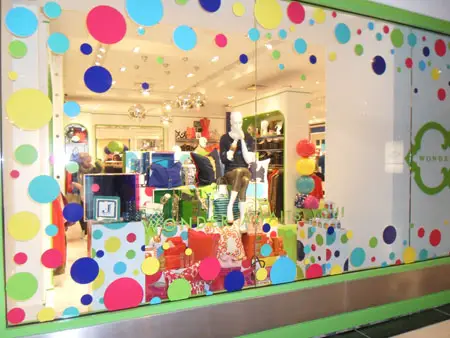 To say the emporium is a Crayola box of color, a symphony of rainbow tones, is an understatement. Clearly, here, more is more is more; the word "less" is assuredly not in Mr. Burch's vocabulary. A charming concept store, it is part Lily Pulitzer, part Newport preppie, part glamazon's lair, and part Britain's Primark, which if you don't know it, is sort of like Zara, H & M, Top Shop, and the old (wonderful) Loehmann's all rolled into one: Fashion with a bang, available for a song.
Here the price tags are not songs, but they are definitely sing-able, i.e., within reach, sort of like the furniture store, Design Within Reach. You won't mind in the least spending $78 for a pair of suede driving mocs (especially when there is an $88 pair of gaily-colored suede loafers in J. Jill's current catalog) in a bold Kelly green or a hot turquoise; but you also won't get an item that is made like the driving mocs from Tod's or from its little-sister shop (no longer open in SoHo), Hogan. The quality of the suede is not top-drawer, but the manufacturing is neat and trim, and definitely not shoddy...and for the price, it's a steal.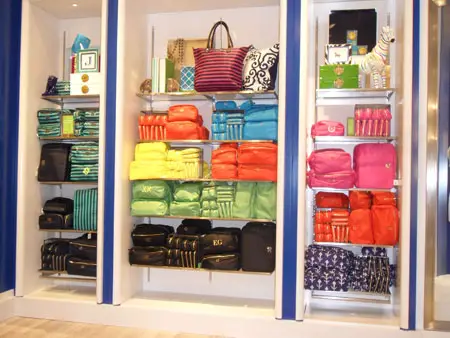 With much of the merch in the store, you also won't mind laying out the moolah for the tariff on the tag: for example, $50 or $75 for a nice wool cardigan or slipover crewneck or a lovely Perry Como-style, vesty sweater, that is a little edgy, but still from the prepsters, 'cause it will get you through this season and next—and you'll still look fashionable, should you keep it in your closet longer. There are very handsomely designed sweaters, a faux fur vest, trench coats, belts, and nice cotton button-down style shirts (without the buttons), with contrasting fabric—like maybe a paisley or a plaid against a blue-and-white striped shirt or a—on the interior of the collar and cuffs....very stylish.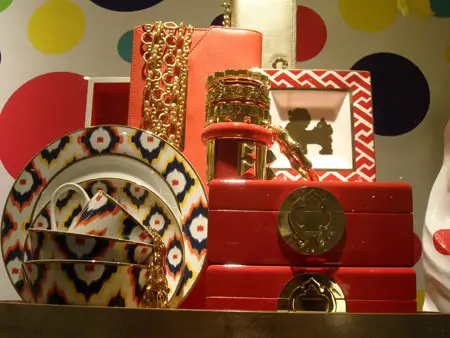 Totes, wallets, little handbags, and purses abound—in every shape, style, size, variety you can imagine, and you'll want to snatch up a few to put inside the big tote you will assuredly end up buying. The boutique's logo "C" is on a few items, as well, but there are many opportunities to put your own initials on something, as monograms are a hot commodity here....whether on dishes, ashtray-like catch-alls, clothing, tchotchkes for strategic placement around the house, or whatever. (There is even a dedicated monogram shop-within-the-shop.)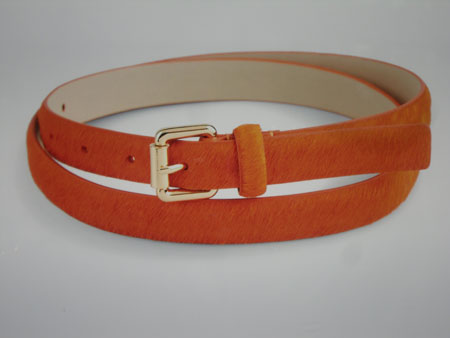 Home furnishings are abundant, as well—pretty pillows, tailored desk accessories, cache pots, smart lacquered trays, frames, mugs, and way more—and it's all in a rich kaleidoscope of saturated tones. And lest we forget the jewelry: Many bangles, some in faux–enamel, many in gold-tone with bamboo deisgns, others in squiggly, organic, stackable forms, and many that are sort of Hermès-like. Not so many earrings, but that is of no import, as there is something for everyone in the little jewelry room.
C Wonder is a wonder and it's no wonder that the company already has half a dozen shops around the States with many more planned. There will be wonder in your neighborhood soon! And if not, you can always visit Columbus Circle or SoHo, to get a glimpse of the jolly-ness and joy that the colorful shop brings to your eyes and your smile. C Wonder is a fun boutique-y concept and a lovely place to fork over your money for something useful, well designed, and fun.
Posted on Saturday, September 29, 2012 @ 09:16 AM | 0 replies Start the Discussion
---
LOOT 2012: Mad About Jewelry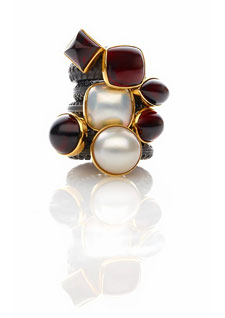 The word "loot" conjures up images of precious (perhaps purloined?) treasures—the spoils and bounty of war, plundered golden artifacts encrusted with diamonds, chalices and goblets dripping with ormolu, tomb-raided objets d'art. You get the idea: Prized, valuable "stuff," objects that can elevate the spirit or enlighten civilization—things meant to be coveted and cherished.
Twelve years ago when the Museum of Arts and Design began its annual LOOT extravaganza-event, it was hoped that the buying public would react that way—and come to purchase the splendorous and valuable jewelry showcased in this pop-up shop/exhibit. Here are riches designed by contemporary studio artists—jewelers you do not find at a typical "jewelry store"—many of whom have never shown in the States. Their works are inventively modern pieces, some created with precious metals and stones, and other jewelry crafted from unexpected materials such as titanium, stainless steel, glass, wood, rubber, fabric, leather, paper, and found objects.
Unlike any other jewelry event in the country, LOOT 2012 gives aficionados and neophytes alike the opportunity to meet some of the most innovative and sought-after jewelers working today...and to buy highly collectible bijoux from these gifted artists. This curated edition of LOOT is the grandest ever and represents an international cavalcade of over 50 fine jewelers. (It will also showcase the work of jewelry students from Gotham's own Fashion Institute of Technology.)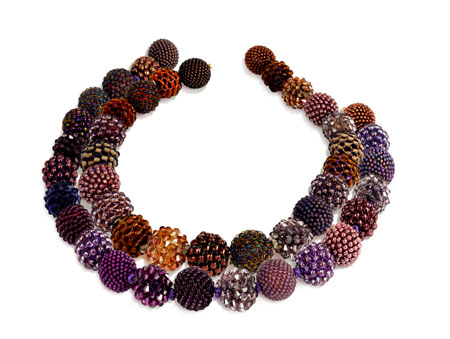 For the first time, LOOT will honor esteemed German jeweler Axel Russmeyer, who will receive the inaugural LOOT Award for Contemporary Art Jewelry. Russmeyer's signature work is constructed from extraordinarily stunning, ethereal, and elegant beaded-beads that he painstakingly creates by hand and then works into the most appealingly seductive earrings, necklaces, and bracelets (such as the one pictured above). Talk about wanting to covet jewelry—he's your man. (Russmeyer's works at the show will range in price mostly from $1,250 to $3,250, although there are highly desirous necklaces that soar up to $12,500.)
The show-sale is being staged September 11 to 15 at the Museum; proceeds benefit the exhibition and education programs of the Museum of Arts and Design. LOOT 2012 is made possible in part through the generosity of the Silver Institute: Silver Promotion Service and MAD's Jewelry Study Day is supported by Van Cleef & Arpels. Additional info: madmuseum.org; madaboutjewelry.tumblr.com
Posted on Tuesday, September 11, 2012 @ 12:45 PM | 0 replies Start the Discussion
---
Don't Cry for Me, Argentina: Treasures from Buenos Aires' Evita Museum Arrive in New York
In commemorating the 60th anniversary of the death of Argentina's beloved Eva Perón, and also marking the 10th anniversary of the founding of the Museo Evita in Buenos Aires, treasures from the South American museum are being exhibited here in New York City for the first time ever. Evita: Passion and Action will be mounted at the Consulate General of Argentina, starting September 7.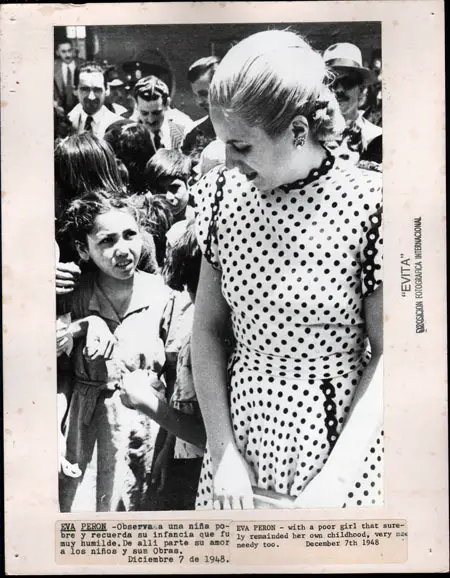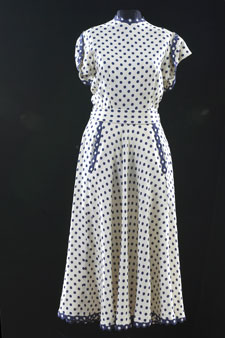 Dedicated to one of Argentina's most celebrated figures and one of the 20th century's cultural and political icons, the exhibition will showcase some 50 works, including paintings and photographs of Evita as well as stunning garments from her personal wardrobe. This is the first time these items have traveled, and short of going to Argentina, this is the only opportunity to see these artifacts. Sponsored by the Ministry of Tourism of Argentina, the Consulate General of Argentina in New York, and the Argentina National Institute of Tourism Promotion, the exhibition will remain open to the public until the 28th of September.
Established 10 years ago in July, 2002, the Museo Evita, or Eva Perón Museum, was created as part of the Instituto Nacional de Investigaciones Históricas Eva Perón (INIHEP) under the auspices of the National Secretariat of Culture. The INIHEP continues the study of Eva Perón's role in Argentine history, functioning as a center for research, an archive for documents and oral histories, and a publication center for investigative studies.
The museum was founded by Evita's great-niece, María Cristina Álvarez Rodríguez, who continues to be closely involved in its operations and is honorary president of the Eva Perón National Institute of Historical Research. The Museo Evita is located in the fashionable Palermo section of Buenos Aires. Housed in the early 20th-century mansion of the Carabassa family, constructed as a single-family residence in Plateresque and Italian Renaissance styles, the building was declared a National Historical Monument in 1999.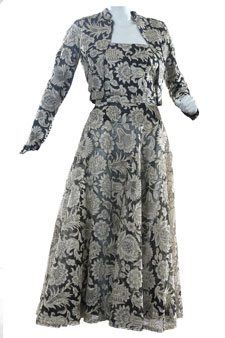 The journey through the museum is presented chronologically from Evita's childhood, and chronicles her family and formative years, and her journey to Buenos Aires from Los Toldos. Her beginnings in show business, followed by her meeting Juan Perón, and ultimately her role as First Lady, are all explored in the museum's diverse exhibits.
The museum's collection contains paintings and photographs; clothing (including some of her remarkable ball gowns and serious "business" suits), shoes, and jewelry; historical documents; and other memorabilia, many loaned by the Álvarez Rodríguez family. The items on display in New York were selected from the main collection by Museo Evita curator Gabriel Miremont, who is a prominent expert on the life and contributions of Eva Perón.
The Consulate General of Argentina is located at 12 West 56th Street (between Fifth and Sixth Avenues). Exhibition hours are 10:00 a.m. to 5:00 p.m., closed Saturday and Sunday except September 22 and 23, when the show will be open from 9:30 a.m. to 5:00 p.m. There is no admission charge.
Additional information: 212-603-0443
Posted on Tuesday, September 04, 2012 @ 05:01 PM | 0 replies Start the Discussion
---
The Metropolitan Opera's LIVE IN HD Presentations Grace the End of Summer
Get out your picnic supplies and your soft, traveling cushion. It is once again time to start thinking about the free (as in it costs no money) ten nights of opera, Met Opera: Live in HD, in the Plaza at Lincoln Center, starting Saturday evening, August 25th (and ending September 3rd, Labor Day). It is one of the greatest gifts that residents of the Big Apple receive--and did I mention, it's free!!?? This is the fourth year that it is being presented to eager Gothamites, as the event annually gathers greater and greater critical mass, it becomes more and more popular, even among people who have never savored opera before. (Last year more than 40,000 people attended; the seating in the Plaza accommodates 3,000, on a first-come, first-served basis.) The Live in HD performances are affecting, intimate, and imminently accessible. Presented in a larger-than-life fashion on the massive screen against the opera house's facade, each opera is fully translated with subtitles , so no need to try to divine what is happening, especially in some of opera's more complicated, convoluted, logic-defying, plot-twisting libretti.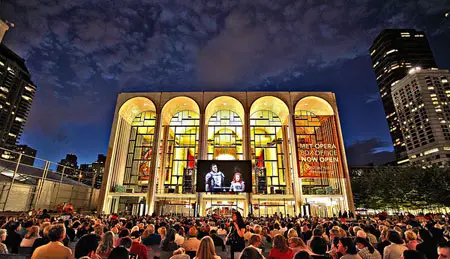 Operatic superstars abound in the ten nights of presentation: David Daniels, Natalie Dessay, Joyce DiDonato, Plácido Domingo, Mariusz Kwiecien, Jonas Kaufmann, Anna Netrebko, Juan Diego Flórez, Karita Mattila, Marina Poplavskaya, Dmitri Hvorostovsky, and Diana Damrau, are but the proverbial tip of the star-studded iceberg. So, come early, bring your dinner, camp out a bit, and make new friends with those around you, and enjoy this fabuloso gift, The Met: Live in HD, that is bestowed upon us, made possible by a generous grant from its founding sponsor, The Neubauer Family Foundation, and with global corporate sponsorship provided by Bloomberg.
Curtain times vary (ranging from 7:30 pm to 8:00 pm), so see the schedule below:
Saturday, August 25, 7:30 PM: THE ENCHANTED ISLAND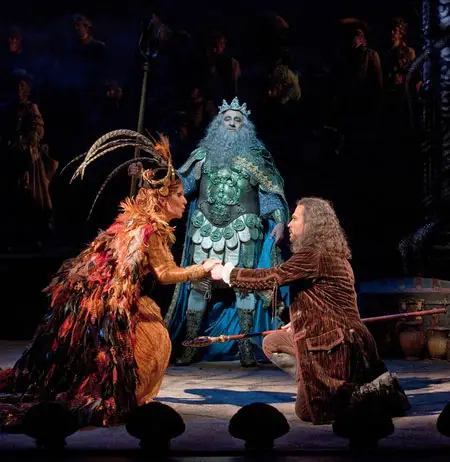 (left to right) Joyce DiDonato as Sycorax, Placido Domingo as Neptune, and David Daniels as Prospero in The Enchanted Island. Photo: Ken Howard/Metropolitan Opera
This world-premiere Baroque fantasy combines music by Handel, Vivaldi, and Rameau with a new libretto inspired by Shakespeare. Conducted by William Christie, directed by Phelim McDermott and Julian Crouch, and starring Danielle de Niese, Lisette Oropesa, Joyce DiDonato, David Daniels, Anthony Roth Costanzo, Plácido Domingo, and Luca Pisaroni. Approximate running time: 180 minutes
Sunday, August 26, 7:30 PM: DON GIOVANNI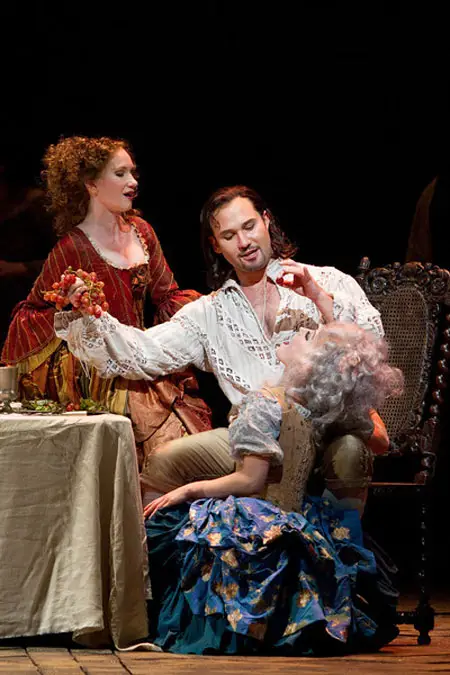 Mariusz Kwiecien (center) in the title role of Mozart's Don Giovanni. Photo: Marty Sohl/Metropolitan Opera. Taken during the rehearsal at the Metropolitan Opera on October 4, 2011.
Michael Grandage's new production of one of opera's supreme masterpieces stars Mariusz Kwiecien in the title role. Principal Conductor Fabio Luisi leads the Met Orchestra and a cast that also includes Marina Rebeka, Barbara Frittoli, Mojca Erdmann, Ramón Vargas, and Luca Pisaroni. Approximate running time: 173 minutes
Monday, August 27, 8:00 PM: LA SONNAMBULA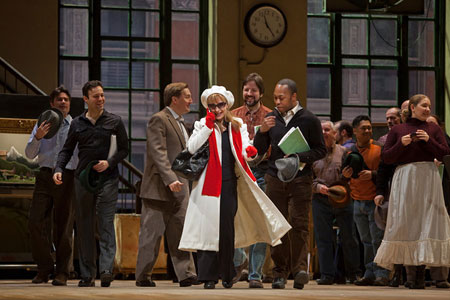 A scene from Bellini's La Sonnambula with Natalie Dessay as Amina. Photo: Ken Howard/Metropolitan Opera. Taken during the rehearsal on February 25, 2009 at the Metropolitan Opera in New York City.
Natalie Dessay and Juan Diego Flórez deliver bel canto fireworks in Mary Zimmerman's inventive production of Bellini's opera, which places the action in a contemporary rehearsal room where a production of La Sonnambula is being prepared. Evelino Pidò conducts. Approximate running time: 137 minutes
Tuesday, August 28, 7:45 PM: SATYAGRAHA
Philip Glass's landmark opera, whose Sanskrit title translates as "truth force," explores Mahatma Gandhi's formative years in South Africa. The visually extravagant production, starring Richard Croft, is directed and designed by Phelim McDermott and Julian Crouch and conducted by Dante Anzolini. Approximate running time: 165 minutes
Wednesday, August 29, 8:00 PM: SALOME
Karita Mattila gives a tour-de-force performance as the title heroine of Strauss's powerful drama, based on Oscar Wilde's play. Juha Uusitalo is Jochanaan in the Met's striking production, conducted by Patrick Summers. Approximate running time: 106 minutes
Thursday, August 30, 7:45 PM: LA CENERENTOLA
Rossini's charming Cinderella story is ideally served by an extraordinary cast, led by Elīna Garanča in the title role, Lawrence Brownlee as her prince, and Alessandro Corbelli as Don Magnifico. Maurizio Benini conducts a production that also stars Simone Alberghini and John Relyea. Approximate running time: 162 minutes
Friday, August 31, 7:30 PM: FAUST
Jonas Kaufmann, Marina Poplavskaya, and René Pape bring Gounod's retelling of the Faust legend to dramatic life in director Des McAnuff's new production, which updates the story to the dawn of the nuclear age. Yannick Nézét-Séguin conducts. Approximate running time: 177 minutes
Saturday, September 1, 8:00 PM: LE COMTE ORY
Bartlett Sher's Met premiere production of Rossini's vocally dazzling comedy features a trio of bel canto stars: Juan Diego Flórez in the title role, Diana Damrau as Countess Adèle, and Joyce DiDonato in the trouser role of the page Isolier. Maurizio Benini conducts. Approximate running time: 141 minutes
Sunday, September 2, 8:00 PM: IL TROVATORE
David McVicar's acclaimed 2009 production stars four extraordinary Verdi singers: Sondra Radvanovsky is Leonora, Marcelo Álvarez is Manrico, Dmitri Hvorostovsky sings Count di Luna, and Dolora Zajick is Azucena. Marco Armiliato conducts. Approximate running time: 142 minutes
Monday, September 3, 7:30 PM: ANNA BOLENA
Anna Netrebko stars as the ill-fated queen in David McVicar's Met premiere production, which opened the 2011–12 season. Ekaterina Gubanova is her rival, Jane Seymour, Ildar Abdrazakov sings Henry VIII, and Stephen Costello is Lord Percy. Marco Armiliato conducts. Approximate running time: 180 minutes
Posted on Thursday, August 23, 2012 @ 11:08 AM | 0 replies Start the Discussion
---
Sizzling Summer Coolers: SodaStream's Latest
Quite some time ago I wrote about SodaStream and Soda Club, the world's largest manufacturer, distributor, and marketer of home carbonation systems, and how useful and practical a SodaStream machine would be in your home for the Xmas holidays. Well, it would be all the more useful in your home, on your patio, on your boat, at your picnic, and so on, in summertime, too—and it still qualifies right now as summertime—when we are all drinking way more liquids and when we are very conscious of hydrating.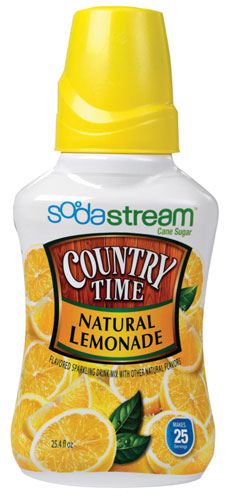 I have been virtually attached to my Soda Stream machine like glue all summer, given that I am (as I may have mentioned) post-op, and supposed to drink plenty of liquids anyhow. My Soda Stream machine is chugging out liter upon liter. And this year, I am soooo happy as two of my favorite brands with wonderful drink flavors have now become part of the Soda Stream family: Crystal Light and Country Time.
Country Time now has a naturally sweetened lemonade as well as its original lemonade, and a combo of iced tea and lemonade called Half & Half, which is really one of my all-time beverages of choice. How great to be able to make it myself with my Soda Stream machine! And to have it fizzy! My other beloved year-round drink is Crystal Light's Peach Iced Tea and that flavor, too, is now available from Soda Stream, as is the new Crystal Light Fruit Punch. (And a few more Crystal Light flavors are coming into the fold down the road.) But I wouldn't want to slight any of the other flavors on the regular menu from Soda Stream, flavors I have favored over the years: the wonderfully exotic ones, like Apple Mango, Black Currant & Pear, and Pink Grapefruit.
If those are not compelling enough reasons to scotch the cans and bottles of sodas and switch to a Soda Steam make-your-own-carbonated-beverages system, consider the following:
**460 billion beverage cans and bottles are manufactured worldwide each year
**Recycling rates hover just under 25% nationwide
**141 billion beverage cans and bottles go to landfill each year
**It takes over 400 years for a plastic bottle to begin decomposing
And dare I remind you, you will save a ton of money, too!
Posted on Monday, August 20, 2012 @ 03:51 PM | 0 replies Start the Discussion
---
Bad Hair Day? HairUWear Can Bring Sunshine and Glamour to a Gloomy Day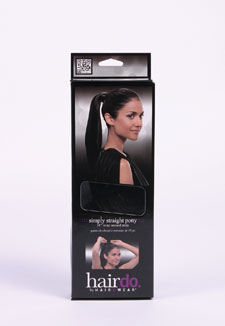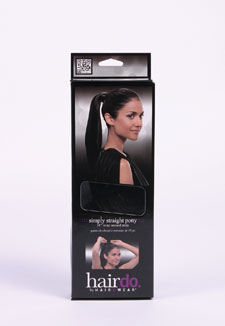 Hear ye, hear ye, ladies: If you have been plagued all summer with the frizzies, with over-chlorinated tresses that refuse to be coaxed into the style you are trying to command, or if you're just having generally and consistently bad hair days, I have found the perfect solution for all these ills: Hair pieces and sundry extensions, demi-wigs, pony tails, and more from the Hairdo Collections of HairUWear.
I stumbled upon a 16" curly extension piece (it's really like a half-wig, in truth), that was easily the answer to one's prayers for perfect summer hair. And the off-the-rack color was pretty darn close to my own, so it meant that I could have perfect hair—effortlessly—all summer. The hottest July on record brought with it the steamiest, most humid month for hair and so it was that I ended up using my Hairdo extension piece.
When I was little—not to date myself—I think we more or less called this sort of half-wig that fits over your crown, a fall; I remember, because my mother had one, and I thought it was very glam and exotic, but it sure didn't look like the stunning (and reasonably priced) model that Los Angeles-based hair stylist Ken Paves has dreamed up. His is a convex cap of mesh netting, about 8" in diameter, and it form-fittingly nestles like a little hat on the crown of your head. If you keep the front part of your hair brushed over it (and if you put your own hair in a barrette extending over it), then it looks just about as natural as can be.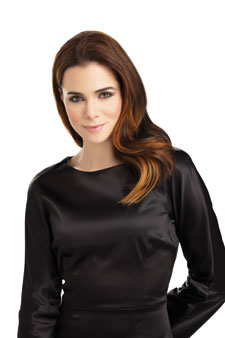 Paves is a celeb stylist and does Red Carpet hair and editorial do's (think: Harper's Bazaar, Vanity Fair, Elle, and Allure) for bold-faced names; his client list includes the likes of Jennifer Lopez, Celine Dion, Eva Longoria, and Jessica Alba. In 2006, he launched his award-winning line of hair extensions, dubbed Hairdo, and a few years later, he began selling many of these really fun (and practical) products on QVC. Today, QVC has well over a dozen different hair fashions (extensions, chignons, braids, pony tails, short and long do's, and so on from the highly versatile Paves.
Newest, just being introduced to the line in the next week or two are: a 16" Ombre Extension ($49); a Texture Wrap ($19), a blend of straight and crimped styles; French Braid Band ($10); Beach Curl Pony ($49): Clip-In Bang ($29); 18" Simply Straight Pony ($49): 16" Fineline Extension ($99): 23" Wavy Extension ($99): 20" Wavy Extension ($99): 22" Straight Extension ($99). Truly, there is something here for your every need...and with luck, the shades will be good for you, also: For example, the 23" Wavy Extension comes in 11 colors—from ebony and chocolate copper to glazed strawberry. Other shades available with some of his line include ginger brown, buttered toast, and chocolate ombre. Guaranteed you'll find something you like and something that flatters your skin tones and eye color; as I said, the one I have been wearing is a pretty good match, considering my hair color seems to change with the sun, anyhow.
The fiber itself is synthetic, and Paves has trademarked it True2Life, as it can be styled and "fooled around with" just as you'd treat your own hair—wash it, dry it with a hair dryer, use a crimper, a straightener, a curling iron, whatever. You will find that it responds to your styling tools the same way your own hair does, and that even adds to the ease of use. The company claims that it manufactures more hair additions than any other firm in the world and that it harnesses cutting-edge technology to create versatile and affordable hair wardrobes. (Prices for the multi-faceted line range from as little as $10 for the French braid—that you could really use as a sort of headband), to $99.00 for the most lavish, longest, and most opulent of near-full wigs. For more information, and to find a retailer besides QVC, visit the company Web site, www.hairuwear.com.
Posted on Tuesday, August 14, 2012 @ 03:58 PM | 0 replies Start the Discussion
---
Perfect Drinkware: Tervis
I have been a house-captive for a while, napping on the sofa and snoozing in bed....the result of having become, a few weeks ago, a bionic woman with a new knee. One thing that is always at my side is my Tervis drinking glass, with its plastic lid (with an easy-slide opening) with just enough room for me to insert a straw for quick access. It is particularly convenient, simple to use, and practical for my purposes—keeps hot things hot and cold things cold, and when sealed shut, I don't have any concern that the lid will leak if I knock it over. And if I am using it with a straw, the opening is still small—so if I do accidentally hit it and it turns over, I'm not worried that there will be a mess on the carpet. (I wouldn't dream of keeping a drinking glass with no lid by my side--I'm pretty sleepy at times, and reach for the glass with a less than radar-targeted vision!--any more than I would keep a glass next to me that is made out of actual, breakable glass.)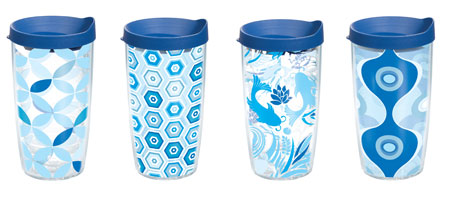 I have used Tervis products for years, but these days I find myself truly relying on them. So I did a little more research on the company and discovered that Tervis drinkware has had been made in America since 1946 by a family-owned and -operated company. (Created by two engineers—one G. Howlett Davis and the other a Frank Cotter—who chose an amalgam of their names for the company title; today that company employs a staff of 700!!) The duo discovered the natural insulating powers of air to create a permanently sealed, double-walled tumbler and the result was Tervis drinkware, manufactured from a high grade of a resin or plastic. It indestructible...not to mention, safe for use near the pool, or for outdoor use at picnics, etc.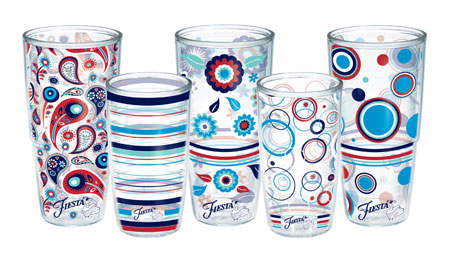 Tervis drinkware comes with a lifetime guarantee, even if you've long thrown out the receipt. If it says Tervis on the bottom, the company will honor the product and replace it if it's disappointed you in its performance. But chances are, it will not disappoint: It's virtually unbreakable, and is freezer- and microwave-safe. Also, the combos of design, color, and size make for countless choices; the company says, in fact, that it sells thousands of designs—and the company also does many specialty, customized items, with corporate logos and proprietary pictures, etc.....so you may well have gotten a Tervis tumbler (and not even realized it), with a giveaway from a corporation—there are licenses with Disney, Star Wars, NASCAR, Hello Kitty, and with just about every professional sports team you can think of, from the NFL and the NBA to the NHL. The sizes are variable (from 10 ounces to 24 ounces), and there are even coffee cups and water bottles, the newest item in the Tervis family.
While you can certainly shop on line, there is also extesnive Tervis inventory at over 5,000 retailers, including biggies like Bed, Bath & Beyond and department stores like Macy's. (Prices can range from about $12.00 to $20.00 for the water bottle.)
Posted on Thursday, August 09, 2012 @ 08:33 PM | 0 replies Start the Discussion
---
Duality Cosmetics' Nail Paks: A Solution in a Bottle
Barbara Lampugnale, a mother of six (yes, six) girls knows a thing or three about cosmetics, it would seem—if only from all the years her daughters have played dress-up. A problem-solver since she was a kid herself, at age six she produced a wardrobe of Barbie clothes out of old socks. Throughout her adolescence, she continued to dabble in the creative—crafting clothing, jewelry, candles, and what-nots for friends. It's no wonder she ended up in the creative field, building a successful interior design firm.
In April, she gave birth to her latest creation (not another daughter)—Duality Cosmetics' Nail Pak. Ever the inventor, she felt that women could use an entire manicure kit (well, more or less) in a single bottle, and thus Duality was born. The Nail Pak is a three-in-one nail-care kit. The simple bottle of polish actually houses a small nail file and 40 pre-soaked and -treated (no acetone, yeah!) nail polish remover pads. Unscrew the polish bottle from the base and the rest of the magic becomes visible.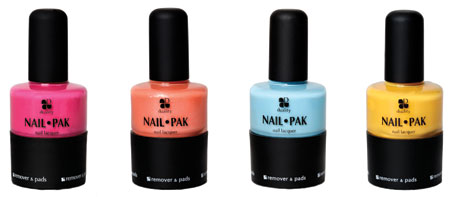 Florence, the first product in the Nail Rescue Collection is formulated to soothe and rebuild nails; it's a base and top coat combo, engineered to fight off UV damage, yellowing, stains, discolorations, and chipping. There are six fashion colors in that first collection (My Girls), and that premiere collection was quickly followed by Hope Springs Eternal, the second collection, with another six colors, all peppy and just-right for summer. They retail for $15.00.
Posted on Friday, August 03, 2012 @ 10:07 AM | 0 replies Start the Discussion
---
The Eyes Have It! IT Cosmetics' Magical Brow Power
Tweezing my eyebrows and getting the just-right shape has never been one of my beauty-regime issues. While all my contemporaries have to run to the eyebrow-threading salons weekly (and years ago it was the eyebrow-tweezing temples of beauty), I have never had to deal with any plucking or tweezing: I have skimpy eyebrows—and always have had anemic brows. I tried eyebrow pencils galore over the years to try to create some life in my brow line and I have used mascara on my brows, to darken what hairs there are—all aimed to make my brows look more shaped, fuller. Nothing was terribly successful.
But then I met Jamie Kern Lima, co-founder of IT Cosmetics, at a beauty extravaganza. She took one look at my brows and couldn't wait to get her hands on my face!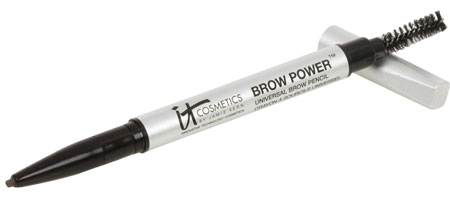 Although IT Cosmetics (which stands for Innovative Technology) sells blushers, lip colors and stains, eye liners, and so on—more or less a complete range of helpful beauty products—it is her Brow Power that is the number-one seller. (QVC is her main outlet and she has garnered awards there and within the beauty community for this product.) Amazingly, the Brow Power product comes in one color, and one color only...and unlike Henry Ford's auto, it is not black! And despite the single shade, it seems to adjust to your personal color by virtue of the pressure you use on the pencil-like stick when applying it. It seems like magic to me.
Jamie worked her sleight of hand on my brows, applying short, light, quick strokes, and then she used the other end of the Brow Power pencil—a little brush—to sort of brush my brows to accept the powdery color, to sort of claim that color as its own. Whatever is in it (and here are a few of the ingredients, all meant to be gentle and kind of your skin—biotin, nettle extract, green tea, Vitamins A, C, and E), makes the color adhere to your skin, looking like real hairs. It is magical, truly. And it lasts for the day. At a mere $32.00 (plus shipping and handling), it is a steal.
Lima has created this product with plastic surgeons, and has worked with doctors in creating the bulk of her line—so that everything she produces is a problem-solver. Additionally, IT Cosmetics has partnered with the American Cancer Society's Look Good, Feel Better program and for every Brow Power pencil sold, one is donated to the LGFB initiative, to help women face the effects of cancer with confidence. Brava, Jamie!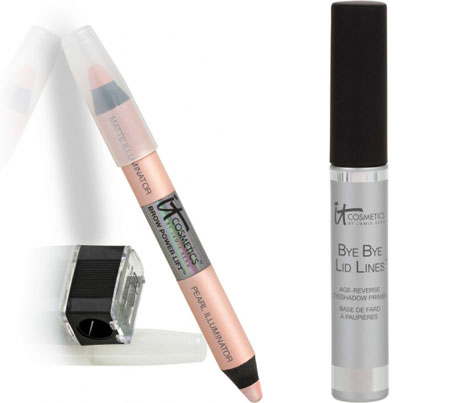 And lest I forget: You may also want to try IT's Brow Power Lift Illuminating Anti-Aging Pencil of Light; it's got micronized pigments in it that instantly add light and lift to the area where it is applied. It's a wonderful partner for the Brow Power. Another perfect product for the eyes is the Bye Bye Lid Lines Anti-Aging Eyeshadow Primer Duo, which functions to lock any eye shadow in place so that it doesn't crease or "migrate" elsewhere on the lid. Bye Bye Lid Lines also helps to reduce the appearance of fine lines and is laced with hydrolyzed collagen, green tea, grapeseed, and Vitamins A, C, and E. Another winner and the third for an Eye Trifecta!
Posted on Monday, July 23, 2012 @ 04:45 PM | 0 replies Start the Discussion
---
Ironing the Kinks (Well, Wrinkles) Out of Clothes With the BEST Iron: Rowenta to the Rescue
Although the calendar said that summer officially came in late June, the unofficial beginning of the sweltering season is now, right after July Fourth. And that to me signals the time to take out the linens and cottons, the gorgeous lightweight summer clothing that, sadly, needs ironing. No way around it. BUT, there is a way to make it easy and professional: The Rowenta Company has been making irons for over 100 years and they know a thing or three about crafting a really good iron. The company's R & D is not sidetracked by manufacturing countless categories of other home appliances: Irons are their business, and in essence, their only business. (They do make floor care cleaners and vacs, but in truth, some of their floor-care cleaning products employ technology used in developing steam irons.) So, unlike other companies that produce irons and small appliances, like mixers, toasters, meat slicers, and so on, Rowenta subdivides its company's product divisions into categories of irons—professional irons/steamers, travel irons, and the like.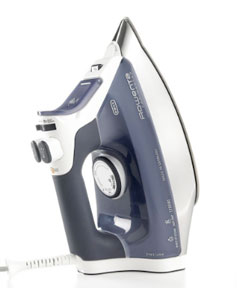 The well designed model DW-8080 (pictured here) is my new favorite. It is a powerful 1700-watt model, professional in all ways, and short of being attached to a continuous steam tank and more sophisticated machinery, it is as professional as you can get for a home model that does the job efficiently and easily. It has a stainless soleplate with a precision tip for advanced steam distribution, and the holes on the bottom assure the same. The burst of steam is long-lasting, and the spray nozzle really covers a lot of ground, so you can dampen a pesky linen shirt over half its front, with one big burst of steam. And I have noticed that I do not have to go over the same area again and again...it delivers perfect ironing with the first (and only) glide.
The iron is substantial, but not heavy-feeling in the hand, particularly because of the ergonomic handle and the smooth glide of the soleplate. It has a good-size water tank (over 12 ounces), with a closure that is secure. It heats up quickly and has an auto shut-off if it isn't moved in 8 minutes when in the vertical position, and after 30 seconds, if it is tipped over, an excellent safety feature. Additionally unlike most irons, it can be used in the vertical position as a steamer, a real plus. Lastly—another selling point—it is self-cleaning, with anti-drip and anti-calc systems, so it produces long-lasting, continuous clean steam. (It also comes with a 10 ounce water fill cup and has a one-year warranty.) The iron retails for approximately $125, although I've found it on the Internet for less; but regardless, it's worth it as the one (and last) iron you will buy!
Posted on Thursday, July 05, 2012 @ 11:20 AM | 0 replies Start the Discussion
---