MyTrendyDoll Birthday Parties
917-971-6025

Great Neck, NY
mytrendydoll.com

Welcome to www.mytrendydoll.com


Our goal is to bring you affordable, high quality, trendy doll clothing and accessories for your American Girl®, Our Generation, Journey Girls, Springfield Dolls and Corolle® dolls. All of our styles will fit 18 inch sized dolls.

Our Story – A Girl, Her Dolls & A Big Business Plan

Dolls have played an important role in my relationship with my daughter, Maia. They have proven to be profound teaching tools, allowing me to instill certain values and teach important life lessons while we are "playing" and just having fun. I am a single mom, completely raising my daughter on my own and without much help. The dolls have proven to be fabulous allies when it comes to communicating with my little girl. You can address some pretty complex life themes in a fun, engaging way!

One day, Maia and I were playing dolls and started talking about the importance of being educated, independent, and having a career. While we "played," and explored the idea of self-sufficiency, I proposed we come up with an idea and turn it into a business. That's when we decided the business would involve dolls... it just made sense!

Maia picked the name, helped with the website design, and is one of my chief stylists! Maia has a passion for fashion, and loves to dress her dolls in similar styles as the ones she chooses for herself. She's a natural business woman too! She recently helped me find a new vendor and is also coming up with display ideas for a fundraiser in support of breast cancer research. I couldn't be more proud of my daughter, or the wonderful company that – with the help of a few fabulous dolls – has come to be. This website was developed as a labor of love between me and my daughter.

If there are items you would like us to find for you, send us a note. We will always search for new fun and trendy items to share with you.

We will share some of our favorite activities along the way via video and blogs. And we welcome your feedback and comments. Have fun shopping our site.

Trendy Dolls is not affiliated with American Girl® , Registered Trademark American Girl, LLC. Dolls not included.

Who we are: An American Mother and Real American Girl Team

Trendy Dolls is an online retailer selling American Girl Doll Clothes and Accessories. It is owned by a native New York fashionista with an extensive buying background for Bloomingdales and other Manhattan fashion giants. Her exquisite taste and fashion gene was passed down to her adorable daughter, Maia, and together they run the business, hand selecting only the best doll clothing to fit 18 inch dolls. They work together to find the trendiest styles and hippest designs to impress even the most fashionable little girls. The clothes available are clothes your little girl would absolutely love to wear, and definitely want on her American Girl or other favorite 18 inch doll.

Our extensive online inventory of high fashion doll clothes and accessories for 18 inch dolls is a great retreat for anyone looking to give their little girl something to talk about. Our unique and stylish doll clothing would be the perfect gift for any young girl with a doll in your life. Whether she is your niece, your daughter, or your daughter's friend, she is sure to light up when her 18" best friend hits the runway in her new get up.

Our Mission: To Bring Our Customers High Quality Styles at Value Prices

Our online store offers an enormous selection of affordable 18 inch doll shoes and accessories sized to fit the American Girl Doll. We are continually updating our discounted doll clothing to help our customers build their doll wardrobe. And, if you register for newsletters, you will receive coupons and promotions to save on doll clothes.

Browse our online store to find the trendiest American Girl Doll fashions and accessories for 2013. Our sportswear line features adorable doll swimsuits and coverups for the upcoming summer. Or, if your doll is into horseback riding, check out our equestrian outfit for your 18 inch doll. If your equestrian doll would love a pair of coordinating riding boots to compliment her 18 inch doll horseback riding outfit, we have just the pair!

Why Buy from Trendy Dolls? We Care What You Think , Our Customers are Important!

The people behind Trendy Dolls spend hours of time and effort sorting through endless piles of clothes for 18inch dolls, and handpicking only the very best styles and fashions that they can find. Utilizing the high fashion Manhattan buying background, as well as getting the perspective of the little girls who will be playing with them brings a very unique line of doll clothing to the site. Your little girl, whoever she may be, will definitely be happy with any of the fashions we have available. The site and inventory is constantly being updated with the season's latest fashions so you can feel confident the outfits for your 18 inch doll are cutting edge. As an added bonus, when you order $50 of products or more, you get free shipping. Also, if you purchase the Doll Outfit of the Week, you will receive a free gift with your order

Long Island American Girl Doll Birthday Parties!
American Girl Doll Birthday Party Package!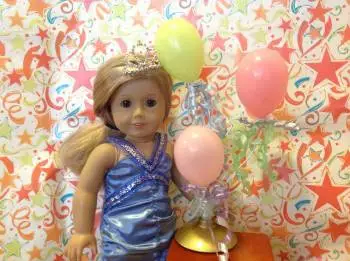 www.mytrendydoll.com/birthday_party-a/253.htm
What girl doesn't love their doll?
Why not celebrate your daughter's birthday by throwing a Trendy American Girl Doll Birthday themed party? Invite each friend to bring their favorite 18" doll to the party. We bring a suitcase of trendy doll outfits and accessories.
Party Includes:
*A dress-up fashion show for the dolls. 1/2 Hour
*Make a craft for the girls to take home. 1/2 Hour
*Choice of a game for the girls to play. 1/2 Hour
You supply the food, we supply the fun.
$400 for a 1 1/2 Hour Party, 12 Kids
$15 extra per additional child.
Call: 917-971-6025 for details.
Want something special? Just ask. We can accommodate requests.
Crafts: Game:
Make a matching doll and girl bracelet American Girl Bingo
Make a ring for the doll
Decorate a doll t-shirt
Make a doll headband
Make a doll purse
Optional Favors: $5 Per Child
Small girly purse plus choice of one: Doll iPhone, Doll Glitter Brush, Doll iPad, Doll Laptop, Doll Sunglasses