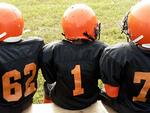 To Play or Not to Play: How to Help Boys Who Don't Play Sports
by Janet Sasson Edgette, Psy. D. with Beth Margolie Rupp, MA - September 18, 2012

What happens when you are raising a boy who has no interest in sports? Society has deemed that raising boys to play sports is the norm, and often times as a result, these boys become the targets of bullying. Written by a psychologist and an educational consultant, "The Last Boys Picked" shows parents how to help their child build resilience and a healthy self-esteem.