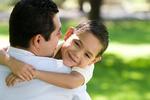 How To Share A Diagnosis With Your Child
by Elizabeth Verdick and Elizabeth Reeve, M.D. - October 04, 2012

Sharing a diagnosis with your child is one of the scariest things a special needs parent faces—and all sorts of questions arise. Where? When? How? Here's how to get the conversation started, and remain positive in the process.