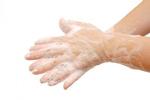 Ask The Expert: What Should Parents Know About Staph Infections?
by Doug Campbell - October 29, 2012

Staph, short for Staphylococcus aureus, is a bacteria common in our environment, often found on the skin, in the bowels, and in the nose of healthy people. Once the bacteria finds its way where it does not belong, it can cause an infection. We talked to Anatoly Belilovsky, M.D., a New York-based pediatrician about staph infections, the difference between staph and MRSA, and how to minimize the risk of a staph infection.