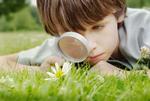 Encourage Your Kids To Be Creative and Curious
by Diane Rosen - October 18, 2012

Don't relegate creativity to the art classroom. Encourage your kids to explore, tap into their curiosity, and open themselves to a world of possibilities in every facet of their lives. Our expert tells you how to encourage kids to be creative and curious, and offers activities and exercises to strengthen the creativity muscle.