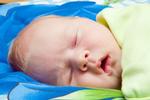 Ask the Expert: What are the Different Sleep Training Methods?
by Brooke Nalle - January 11, 2013

Sleeping and falling back asleep after waking up in the middle of the night are skills that babies need to learn. To help, pediatric sleep consultant Brooke Nalle of Sleepy On Hudson details the various sleep training methods and encourages parents to choose the one that fits their lifestyle the best.