Where to see "The Nutcracker" ballet in NYC, including 11 kid-friendly performances in Manhattan, Brooklyn, and Queens, from classic shows at Lincoln Center and Florence Gould Hall in Manhattan to other versions in Fort Greene, Greenpoint, and Midwood, Brooklyn, as well as Flushing, Queens.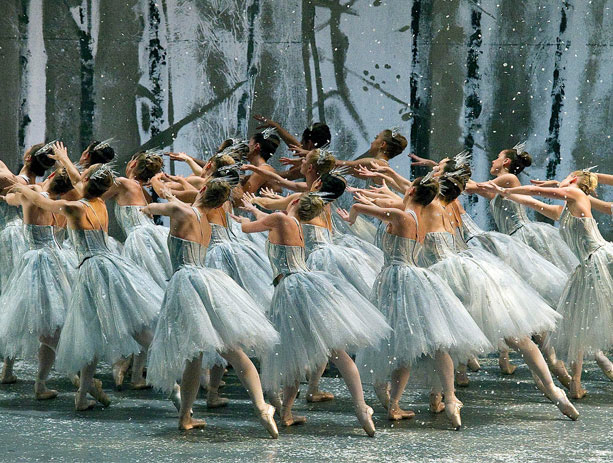 It seems like there are more productions of The Nutcracker around New York City this holiday season than there are walnuts to crack open. The classic ballet has been a holiday fixture since the mid-20th century, and its arrival each year signals the reality that you better start shopping…now!
Here are our top 11 performance picks for the 2012 season:
Brooklyn
American Ballet Theatre's The Nutcracker
Brooklyn Academy of Music, Fort Greene
Dec. 7-16
One of the region's very best productions comes via Brooklyn Academy of Music, which hosts ABT's prima ballerinas twirling to a full orchestra before larger-than-life sets and scenes.
Polish Slavic Center, Greenpoint
Dec. 8
Long Island City School of Ballet presents a performance of the tale featuring its students.
Brooklyn Center for the Performing Arts, Midwood
Dec. 16
The Dance Theater of Westchester sets the story in colonial Yorktown. This production is narrated, making it ideal for young audiences. For families with preschool-aged children, this show will make an excellent introduction to a yearly holiday tradition.
Manhattan
George Balanchine's The Nutcracker
Lincoln Center, Upper West Side
Nov. 23 – Dec. 30
Another famous performance is brought to life by the New York City Ballet, which performs choreographer George Balanchine's legendary interpretation. This one is a full-tilt, over-the-top affair.
Rebecca Kelly Ballet's Nutcracker Highlights
Rebecca Kelly Ballet, SoHo
Nov. 30 – Dec. 2
Each 45-minute event features Rebecca Kelly Ballet soloists who appear as guest artists in regional productions of "The Nutcracker." Each event includes a reception where guests mingle with the artists and share refreshments.
The Kaye Playhouse at Hunter College, Upper East Side
Dec. 6-9
Dances Patrelle presents the 17th annual production of choreographer Francis Patrelle's unique rendition of Peter Ilyich Tchaikovsky's holiday classic. Set in 1895, it takes the audience on an action-packed tour of Olde New York. Lavish sets and costumes, enchanting music, and beautiful dancers from ages 5-65 complete this thrilling production, with New York City Ballet principals Jenifer Ringer and Jared Angle as the Sugar Plum Fairy and her Cavalier. In addition, Amaker Smith, who is currently appearing in the hit TV show "SMASH," and Therese Wendler, who most recently danced Aurora in Sleeping Beauty with the Connecticut Ballet, will portray the Snow King and Queen.
New York Theatre Ballet's The Nutcracker
Florence Gould Hall, Upper East Side
Dec. 7-9, 15-16, 22
NYTB returns for a second season of Keith Michael's "Nutcracker," an enchanting one-hour ballet that is perfect for children ages 3-10. This classic retelling of the ballet begins on Christmas Eve with toymaker Drosselmeyer's arrival carrying an endearing nutcracker doll, and includes a lively mouse queen with a 18-foot-tail, a journey through the Land of Snow and, of course, a sweet romance between a young woman and her nutcracker prince. The ballet is set in Art Nouveau style circa 1907 featuring innovative choreography by long-time NYTB choreographer, Keith Michael, set design by Gillian Bradshaw-Smith, and costumes by Resident Costume Designer of the Metropolitan Opera, Sylvia Nolan.
Symphony Space, Upper West Side
Dec. 8
Valentina Kozlova, former principal dancer with the Bolshoi Ballet and New York City Ballet, presents her company of professional and student dancers in the full-length Tchaikovsky "Nutcracker," with guest Alexandre Hammoudi of American Ballet Theatre.
Manhattan Movement & Arts Center, Upper West Side
Dec. 12-16
This new holiday classic has been brought to the stage by Rose Caiola with the Manhattan Youth Ballet. Based on the jocular story by artist Elliott Arkin, this original ballet is a timely tale of American values and folklore with New York City at the center of attention.
Queens
Brighton Ballet Theatre Company's The Nutcracker
Kupferberg Center for the Arts at Queens College, Flushing
Dec. 26
The perfect introduction to the perennial holiday favorite. Russian-American Ballet's original version, featuring dazzling Russian-trained dancers, exquisite costumes, and the beloved music by Tchaikovsky, has been created and priced especially for family audiences.
The Nutcracker: A Christmas Celebration
Flushing Town Hall, Flushing
Dec. 22
Tchaikovsky's classic music comes to life and introduces children to the story of Clara's nutcracker. Visit the Enchanted Forest with its magical dancing snowflakes and the wondrously beautiful Sugarplum Fairy in the Kingdom of the Sweets.
More Fun
Top 10 Holiday Shows in NYC for Families
Search for more fun family activities in NYC and beyond in our full calendar of events