Our roundup of kid-friendly NYC holiday shows for the 2012 season includes Broadway and Off-Broadway must-sees, from classic performances such as the Radio City Christmas Spectacular and The Nutcracker to new musicals like A Christmas Story and Dr. Seuss' How the Grinch Stole Christmas. Get all the details on these family-friendly performances here.
Repeat Treats
Of all the holiday shows starring grumpy old Ebenezer Scrooge, this is the big one. The Off-Broadway musical, presented by Literally Alive children's theater company, translates the classic Dickens tale into a live production featuring all the usual suspects. Even if you know the story by heart (which surely most of us do), this lively adaptation is still sure to jump-start your holiday spirit.
Where: Players Theatre, 115 MacDougal St., Greenwich Village
When: Nov. 25–Dec. 30 Thursday-Sunday, show times vary (no show Dec. 2; additional show Dec. 27)
Running Time: Approximately 1 hour (does not include pre-show workshop)
Ages: Recommended for ages 3 and older
Tickets: $25-$45; 212-352-3101 or scroogeinthevillage.com
FYI: An interactive arts workshop (included in ticket price) precedes the 11am show on Saturdays and Sundays.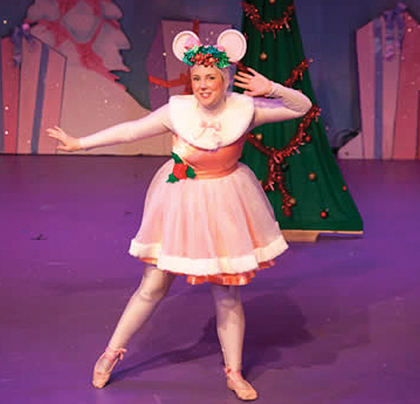 Angelina Ballerina: The Very Merry Holiday Musical
Angelina, the dance-loving little mouse from the popular children's book series, works together with her friends to save Mouseland's holiday pageant from disaster. In the process (and in the midst of lots of singing and dancing), the characters learn that the holidays are not about what you receive, but the holiday cheer you share.
Where: Vital Theatre Company's McGinn/Cazale Theatre, 2162 Broadway (at 76th Street), 4th Floor, Upper West Side
When: Currently playing through Jan. 13, 2013; Saturdays and Sundays at 11am and 1pm (additional shows Nov. 23; Dec. 5, 24-27, and 31; and Jan. 1)
Running Time: Approximately 1 hour
Ages: Best for kids ages 3-10
Tickets: $29.50-$49.50; 212-579-0528 or vitaltheatre.org
FYI: Based on the Angelina Ballerina books created by Katharine Holabird and illustrated by Helen Craig as well as the CG-animated series Angelina Ballerina: The Next Steps on PBS KIDS, this musical returns for a second year.
A highly decorated cast and crew, including Tony Award-winning director/choreographer Casey Nicholaw (The Book of Mormon) and Wayne Knight (Seinfeld's Newman) as Santa, bring the hit film to the Broadway stage. This musical comedy stars Buddy, an orphan boy raised as one of Santa's elves who journeys from the North Pole to New York City in search of his birth father and true identity. The score is undeniably upbeat, including hummable numbers such as "World's Greatest Dad," "There Is a Santa Claus," and "Sparklejollytwinklejingley." But the sugary-sweet parts are balanced by the snappy jokes sprinkled throughout. And yes, you will hear all your favorite lines from the movie, from "Buddy the Elf, what's your favorite color?" to "I just like smiling, smiling's my favorite!"
Where: Al Hirschfeld Theatre, 302 W. 45th St. (between Eighth and Ninth avenues)
When: Currently running through Jan. 6, 2013
Running Time: Approximately 2 hours and 15 minutes, including one 15-minute intermission
Ages: Children younger than 4 are not permitted in the theater
Tickets: $49-$160; 212-239-6200 or elfmusical.com
FYI: Groups of 10 or more receive a discount on tickets. Assisted listening devices are available; call 212-582-7678 to reserve one.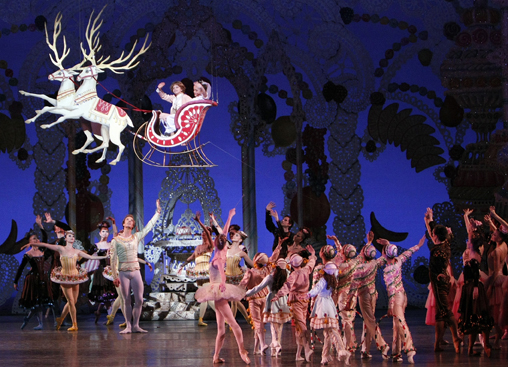 George Balanchine's The Nutcracker
The New York City Ballet takes center stage in this classic show set to Tschaikovsky's famous score. In a holiday dreamland, little Marie looks on as her beloved Nutcracker battles the Mouse King and transforms into a prince, then brings her to meet the Sugarplum Fairy in the Land of Sweets. The show ends as the children soar off in a sleigh pulled by flying reindeer.
Where: David H. Koch Theater at Lincoln Center, Broadway (at 64th Street)
When: Currently running through Dec. 30
Running Time: 2 hours
Ages: All ages
Tickets: $29-$225; 212-870-5570 or nycballet.com
FYI: VIP "Sweet Seats" include premium seating, souvenir book, and a 15-percent discount at the gift shop. Plus, for every two VIP tickets purchased, you'll receive a voucher good for one complimentary keepsake photo with a character from the show.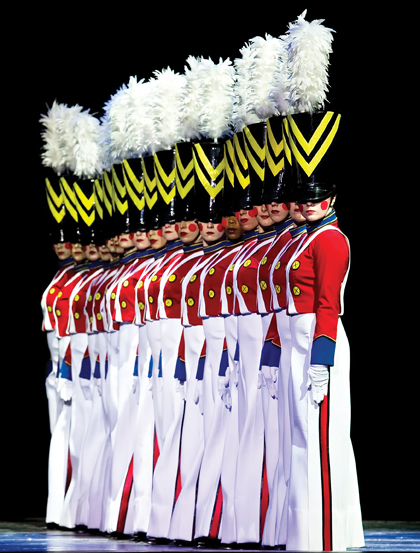 Radio City Christmas Spectacular
This year's Spectacular celebrates 85 years of the Radio City Rockettes in New York. As always, the show features dazzling dance numbers (the ever-popular kick line) and beloved favorites (The Nutcracker scene), along with a more recent tradition: breathtaking special effects. New this year is a costume retrospective featuring the most interesting and unique Rockettes costumes throughout the decades.
Where: Radio City Music Hall, 1260 Sixth Ave. (between 50th and 51st streets)
When: Currently running multiple shows daily through Dec. 30
Running Time: 90 minutes
Ages: All ages; tots younger than 2 do not need a ticket but must sit on a parent or guardian's lap
Tickets: $39-$299; 866-858-0007 or radiocitychristmas.com/newyork
FYI: There will be seven alternative-format shows offered (tickets are $42). Sign language-interpreted shows are offered Nov. 7-8 and Dec. 12 (for tickets: 212-740-3087, TTY 711 Relay, or info@handson.org). Open-captioned performances are offered on Dec. 12 and 13 (for tickets: 212-912-9770 x381 or x382, TTY 212-719-4537, or tdf.org). An audio description performance is offered Dec. 20 (for tickets: 212-575-7676 or hospaud.org).
Fresh Takes on Familiar Tales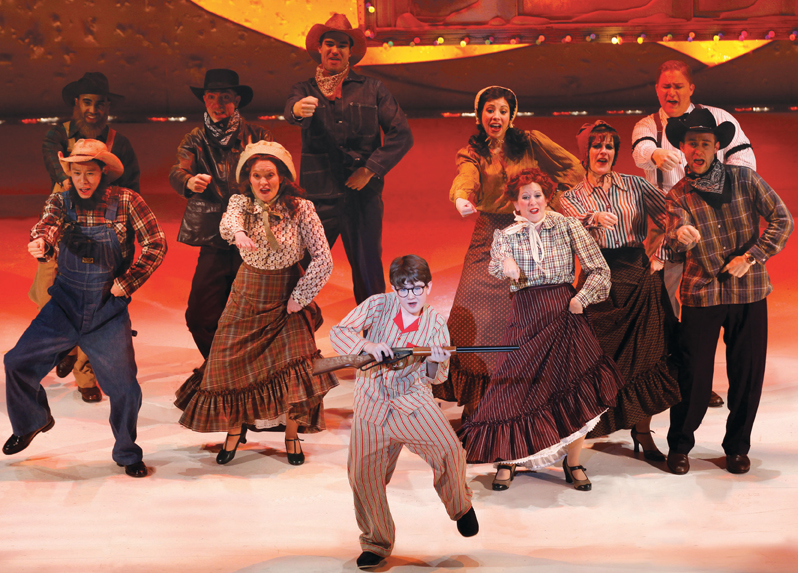 A Christmas Story, The Musical
This new Broadway musical, directed by Tony-winner John Rando, is based on the classic 1983 film in which 9-year-old Ralphie Parker embarks on a desperate quest to ensure that the most perfect present, the Official Red Ryder Carbine-Action 200-shot Range Model Air Rifle, ends up under his tree on Christmas morning. Watch for numbers such as "Ralphie to the Rescue," in which little Ralphie presents a creative if improbable case for his beloved BB gun; "When You're a Wimp," which tackles bullying; and the feel-good "A Kid at Christmas." Produced by Peter Billingsley, the film's original Ralphie, the musical features Dan Lauria (who played the dad on The Wonder Years) as onstage narrator Jean Shepherd.
Where: Lunt-Fontanne Theatre, 205 W. 46th St. (between Broadway and Eighth Avenue)
When: Currently running through Dec. 30
Running Time: Not available at press time
Ages: Children younger than 4 are not permitted in the theater.
Tickets: $49-$125; 877-250-2929 or achristmasstorythemusical.com
FYI: Receive a discount up to 60 percent when you buy group tickets (12 or more tickets). Download a free educational study guide, featuring trivia, BB gun safety quiz, crossword puzzle, and word search about the show, at achristmasstorythemusical.com/tickets.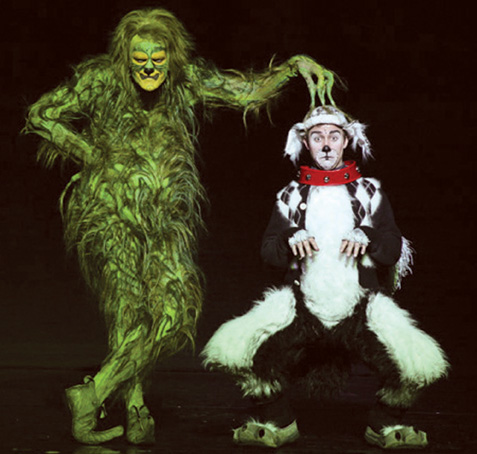 Dr. Seuss' How the Grinch Stole Christmas The Musical
Dr. Seuss' heart-warming holiday tale tells the story of the grouchy Grinch who discovers the true meaning of Christmas thanks to a tiny Who named Cindy Lou. This staged version is narrated by the Grinch's pet, Max the Dog, and features songs from the classic animated version, including "You're a Mean One, Mr. Grinch" and "Welcome Christmas."
Where: The Theater at Madison Square Garden, 4 Pennsylvania Plaza (Seventh Avenue and 32nd Street)
When: Dec. 13-30 (no shows Dec. 17-18 and 25)
Running Time: 90 minutes with no intermission
Ages: All ages
Tickets: $40-$149; 212-465-6741 or theateratmsg.com/grinch
FYI: Download coloring pages, a custom e-card, and other Grinch-themed extras at grinchmusical.com/fun-stuff. This marks the first Off-Broadway production of the stage musical that debuted on Broadway in November 2006 and returned in November 2007.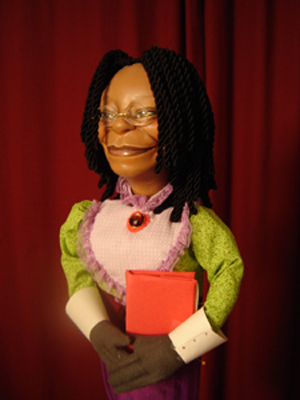 Yes, Virginia, There Is a Santa Claus
This original musical is based on 8-year-old Virginia O'Hanlan's 1897 letter to the editor of The Sun newspaper, in which she asks whether Santa Claus is real, and the editor's response, which assured Virginia that Santa Claus does indeed exist, "as certainly as love and devotion and generosity exist." This marionette version of the tale features Whoopi Goldberg's voice and puppet likeness as the Librarian.
Where: Macy's Puppet Theatre, Macy's Herald Square, 151 W. 34th St., 8th Floor (elevator at 35th Street and Broadway)
When: Nov. 23–Dec. 24, weekends only; shows start at 9:30am and run throughout the day
Running Time: 25-30 minutes
Ages: All ages
Tickets: $5, available at the box office only
FYI: $2.50 per person for groups of 10 or more; call 212-494-1917 Monday-Friday 1-4pm or visit puppetworks.org
Hanukkah & Kwanzaa: One-Night Wonders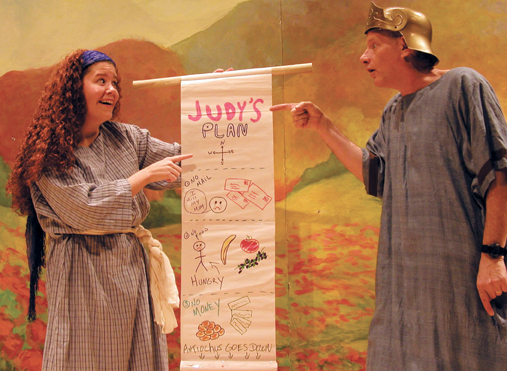 Poppy Seed Players' Judy and the Macabees
Celebrate Hanukkah (which begins Dec. 8) with this reimagining of the ancient story that stars feisty Judy and her journey to help the Maccabees in their fight against King Antiochus. At first, the leader of the Maccabees dismisses Judy and assigns her menial tasks, but she ends up coming up with the plan that helps them win the war and return to Jerusalem. In the final scene, the characters experience the miracle of the Temple Menorah.
Where: Merkin Concert Hall at Kaufman Center, Goodman House, 129 W. 67th St.
When: Dec. 9 at 11am
Running Time: Approximately 1 hour
Ages: All ages
Tickets: $20; 212-501-3330, boxoffice@kaufman-center.org, or tickets.kaufman-center.org
FYI: A $50 package includes tickets to this show as well as the Poppy Seed Players' A Poppy Seed Purim (Feb. 17) and Young Moses (March 24)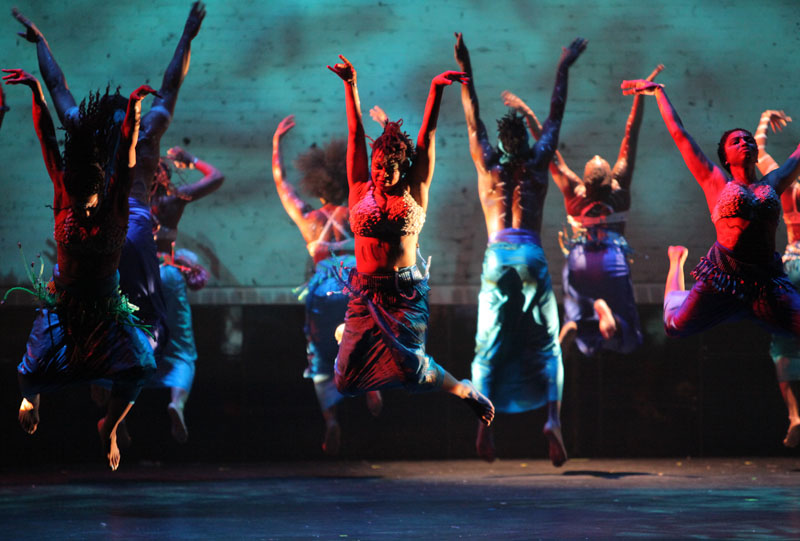 Kwanzaa Celebration: Regeneration Night
The Apollo Theater celebrates Kwanzaa (begins Dec. 26) with its annual pull-out-all-the-stops evening of dance and music honoring the principles of the holiday: family, community, and culture. Hosted by radio personality Imhotep Gary Byrd, the show features Abdel Salaam's Forces of Nature Dance Theatre, members of the Harlem Children's Zone/Forces of Nature's Youth Academy, and guest performances by the Songhai Djeli, Flute Visions, and QueenGodIs.
Where: The Apollo Theatre, 253 W. 125th St., Harlem
When: Dec. 28 at 7:30pm
Running Time: Approximately 2 hours
Ages: All ages
Tickets: $16; 800-745-3000. Families or groups of five or more: $13; 212-531-5355 or apollotheater.org
FYI: Other special Apollo holiday performances include Coca-Cola Holiday Special on Dec. 15, 3-7pm (free to all; includes a Santa appearance, giveaways, and choir performances); Amateur Night Holiday Special on Dec. 15 at 7:30pm (entertainment by young musicians, singers, and dancers ranging in age from 11-18); and Sweet Honey in the Rock on Dec. 20 at 8pm (the renowned female a capella group celebrates holiday spirit from Christmas to Kwanzaa).