Related: food, birthday, party, kids, children, child, parents, tips, advice, how to, caterer, allergies, picky eater, lactose intolerance, experts, birthday party venues,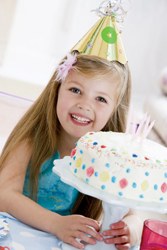 Food at parties seems to be an increasingly challenging issue. Some parents have gone organic, while more kids are diagnosed with allergies and lactose intolerances, and then there is the old-fashioned picky eater. Click on a link below to see what advice the experts in your area had for parents about serving the right food at your child's birthday party:
---
Will your child be our next cover model?
Enter the 2013 Cover Contest!
---
More ASK THE EXPERTS Articles
Ask the Expert: Should I Enroll My Shy Child in Musical Theater Classes?
Ask the Expert: Why Should My Child Learn to Ride a Balance Bike?
Ask the Expert: What Should I Do if My Teen is Missing a Tooth?
Ask the Expert: What is Childhood Apraxia of Speech?
Ask the Expert: My Child Is 2 and Only Says a Few Words, Should I Be Concerned?

Be a good fellow parent and share this with a friend who would be interested
Local ASK THE EXPERTS Sponsors
See Our ASK THE EXPERTS Directory