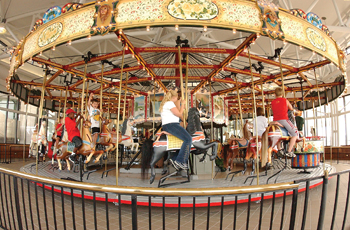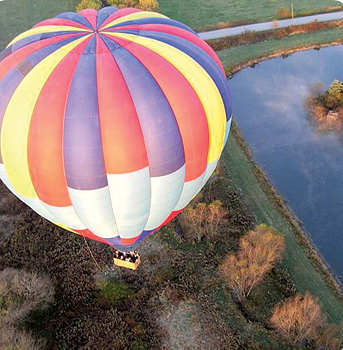 Some say you never know what you'll find in your own backyard. The saying holds true for the New York metro area's proverbial backyard, where there is much to explore and discover with the family. In honor of summer, we've put together a list of some worthy attractions just outside your local radius, with no location more than 150 miles away. Indoors and out, from museums and parks to festivals and beaches, this list has something for everyone. Without having to go too far, you're bound to discover something new and share experiences you won't soon forget.
NEW YORK

Bailiwick Ranch & Discovery Zoo
118 Castle Road, Catskill
518-678-5665; www.bailiwickranch.com
Trail Rides: 10am-5pm daily, ages 7 and up; check the Web site for prices
Zoo: 10am-6pm daily through October 1
Paintball: Open daily, $45 per person including rental
Located refreshingly far from civilization, Bailiwick Ranch & Discovery Zoo offers guided scenic trail rides on horseback for every level of experience. Rides of different durations are offered, including the all-day ride, an 8-hour trip to the top of the mountain for breathtaking views of the Hudson Valley. You can also take a stroll through the Discovery Zoo and see exotic and farm animals, or try your hand at paintball in the five-acre playing field.
Baseball Hall of Fame
25 Main Street, Cooperstown
1-888-HALL-OF-FAME; www.baseballhalloffame.org
Admission: $16.50, $11 seniors, $6 children ages 7-12, free children 6 and under
Hours: Open 9am-9pm Memorial Day Weekend through Labor Day
Spend the dog days of summer admiring the boys of summer at this mecca for fans of the great American pastime. Walk through the Baseball Hall of Fame and relive the history of Babe Ruth, Hank Aaron, and women in baseball, and take in the new collection of historic baseball cards now on display. Kids can visit the Sandlot Kids' Clubhouse, an interactive educational area devoted to Little Leaguers who want to learn about the big leagues, complete with real baseball artifacts. There are also special events throughout the summer, especially around Father's Day.
Howe Caverns
255 Discovery Drive, Cobleskill
518-296-8900; www.howecaverns.com
Traditional Tour (an 80-minute walking tour with boat ride): $21, $17 children ages 12-15, $11 children ages 5-11.
Lantern Tour (a two-hour tour with lanterns on Friday and Saturday evenings for ages 16 and up): $30 per person; reservations required.
Adventure Tour (a two-hour spelunking tour for ages 12 and up): $100 per person; reservations required.
Above ground activities include the Cave House Museum, gemstone mining, hiking, and the nearby Gobbler's Knob Family Fun Park. Stop by June 20 for the Cavalcade of Cars/Father's Day Brunch & Barbecue, a day of antique automobiles and Dad's favorite food. Visitors can turn the day trip into a weekend away thanks to the Howe Caverns Motel on the premises.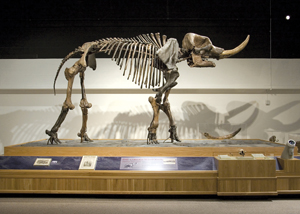 New York State Museum
Cultural Education Center,
Empire State Plaza, Albany
518-474-5877; www.nysm.nysed.gov
Suggested admission: $2 per person or $5 per family
Hours: 9:30am-5pm daily
The museum displays the history, scenery, and artistry of New York with exhibits on everything from the Adirondack wilderness to the Harlem Renaissance. It features Discovery Place, a place for kids to learn interactively, and also offers Family Fun Weekends on the third Saturday of each month from June through September, with games, crafts, and activities for families based on a special theme.
Secret Caverns
5 miles east of Cobleskill, off Route 7 (35 miles west of Albany)
518-296-8558; www.secretcaverns.com
Admission: $16, $8 children ages 6-15, free children 5 and under
Hours: Call for hours
Visitors can experience an hour-long guided tour of the caverns. The walking tour descends 103 steps to the concrete walkway, and gives an intimate view of ancient calcite formations, prehistoric fossils, and the spectacular 100-foot underground waterfall.
Yogi Bear's Jellystone Park at Lazy River
Just off NY-44/55, Gardiner
845-255-5193; www.lazyriverny.com
Pitch a tent, park an RV, or rent a cabin along the peaceful Walkill River and enjoy the wide variety of activities available for the whole family. The park offers fishing, kayaking, and biking along the river, as well as swimming, mini-golf, basketball, and other recreational activities. Check the Web site for special themed weekends, plus an entire week of county fair fun in early August.
LONG ISLAND
Atlantis Marine World Aquarium
431 East Main Street, Riverhead
631-208-9200; www.atlantismarineworld.com
Admission: $21.50, $18.50 seniors and children ages 3-17, free children 2 and under
Hours: Open 10am-5pm daily
The aquarium's indoor attractions include the Amazon Rainforest, Africa's Lake Malawi, and Long Island Coast. Outdoor attractions include Ancient Ruins, Tropical Lagoon, and Shores of South Africa. The aquarium has a new baby penguin, as well as seals, sharks, fish, sea lions, touch tanks, and an interactive salt marsh
Deep Hollow Ranch
8 Old Montauk Highway, Montauk
631-668-2744; www.deephollowranch.com
Families can ride horseback along a trail or on the beach, take a living history tour, throw a Pony Party, or participate in the many other group events offered. Call for reservations and rates.
Long Island Game Farm Wildlife & Children's Zoo
638 Chapman Boulevard, Manorville
631-878-6644; www.longislandgamefarm.com
Hours: Open weekdays 10am-4:30pm, and weekends 10am-5:30pm through October 11
Admission: $17.45, $15.45 children ages 3-11 and seniors, $9.95 handicapped, free children 2 and under.
Bring the family to experience life on a farm. Attractions include an 18-foot giraffe, petting zoo, carnival rides, a carousel, pony rides, and daily shows and animal activities.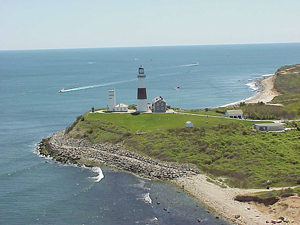 Montauk Lighthouse Museum
2000 Montauk Highway Montauk
631-668-2544; www.montauklighthouse.com
Admission: $9, $7 seniors $7, $4 children.
Hours: Open 10:30am-5:30pm daily, June 14 through September 3
The oldest lighthouse in New York State, the Montauk Light House was authorized under President George Washington and is still active today. Visit the museum and see the original lighthouse keeper's bedroom along with drawings and photographs of the lighthouse dating from 1791. Lighthouse Weekend, with colonial toys and games, face painting, arts and crafts, and presentations, takes place August 21-22.
North Fork
Summer activities include the 56th Annual Mattituck Strawberry Festival, June 18-20, which has rides, games, booths, and a special ceremony where the Queen of Strawberry is named. Check the Web site for times.
• Greenport Village; 631-477-2200
The antique carousel is open 10am-9pm in summer. Located in Mitchell Park, on Front Street.
• North Fork Wine Tours
300 Main Street, Greenport
631-723-0505
Enjoy personalized and guided tours of vineyards. Visit up to five wineries with a behind-the-scenes tour. Tours open to individuals and large groups.
• Peconic County Miniature Train
The train runs between the southern end of Middleton Road and the western end of Webb Street in Greenport. Open 1-4pm on Sundays, May through September.
• Watch Hill, Fire Island
631-597-3109; www.watchhillfi.com; www.fireisland.com
West Avenue (across from Patchogue Railroad Station), Patchogue
Admission: Beach access is free; camping is $20 per night with a two-night minimum
Ferry service begins May 15.
This is a fun place to swim, surf, and collect shells with the family. Take a swim in the ocean or enjoy backcountry hiking, bird watching, and camping. You can also visit the Watch Hill Visitor Center, which offers programs for children and families throughout the summer, plus exhibits on various natural history topics and a fish tank hosting marine life of the Great South Bay. Guided canoe tours and other programs are also offered, and a variety of restaurants are located nearby for family dining.
NEW JERSEY
Cape May
Cape May Point State Park
www.state.nj.us
The town of Cape May is a National Historic Landmark that features beautiful Victorian architecture (over 600 buildings), plus a lighthouse, beaches, whale watching, and a ferry to Lewes, Delaware. Families can enjoy a Family Explorers program, surf fishing, nature trails, picnicking, guided bird walks, and a World War II bunker. For kids, the area offers free programs during the summer, such as bird walks, Critters Live Animal Show, Tank Time Animal Show, Turtlerama, nature walks, and a beach scavenger hunt.
CONNECTICUT
Barnum Museum
820 Main Street, Bridgeport
203-331-1104; www.barnum-museum.org
Hours: Open 10am-4:30pm Tuesday-Saturday, 12pm-4:30pm Sunday; last admission at 3:45pm
Admission: $8, $6 seniors and college students, $5 children, free kids 3 and under
If a trip to the circus just isn't enough, visit The Barnum Museum, named for the great American showman and founder of the Greatest Show on Earth. See how you would measure up to a baby elephant or get a bird's eye view with the spectacular 1,000-square-foot scale model of the circus. On July 5, celebrate Barnum's 200th birthday in style at the museum with a fun filled extravaganza.
Dinosaur Park
400 West Street, Rocky Hill
860-529-8423; www.dinosaurstatepark.org
Hours: Park grounds open 9am-4:30pm daily; exhibit open 9am-4:30pm Tuesday-Sunday
Admission for Exhibit Center: $6, $2 children ages 6-12, free kids 5 and under
Pack your sunscreen for a day of outdoor adventure at Dinosaur State Park. For a small fee, visitors can mine for gems and fossils or make their own cast of a dinosaur footprint. Check the Web site for a list of necessary materials.
Discovery Museum & Planetarium
4450 Park Avenue, Bridgeport
203-372-3521; www.discoverymuseum.org
Hours: Open 10am-5pm Tuesday-Saturday, 12pm-5pm Sunday
Admission: $8.50, $7 seniors and students 5-17, free kids 4 and under
The Discovery Museum & Planetarium includes The Henry B. DuPont Planetarium, Challenger Learning Center, Hands-on Science Galleries, and educational programs. With three floors of interactive activities, it's a great spot for budding scientists and space explorers. The museum boasts the state's only Challenger Learning Center, where visitors become part of the Mission to Mars with state-of-the-art simulators complete with Space Station and Mission Control.
Mystic Aquarium & Institute for Exploration
55 Coogan Boulevard, Mystic
860-572-5955; www.mysticaquarium.org
Hours: Open 9am-6pm daily through October 1
Admission: $26, $23 seniors, $19 children, free children under 3; ticket good for three consecutive days. Deep Sea 3-D Motion Ride costs an additional $3 per person; must be at least 40 inches to ride.
Get up close to beluga whales, watch African penguins flap their wings, or touch a manta ray as it swims by. Enjoy feeding time or watch the sea lion shows, held throughout the day. For a taste of adventure, hop on the Deep Sea 3-D Motion Ride and experience the thrill of encounters with a giant squid and underwater volcanoes.
Mystic Seaport
75 Greenmanville Avenue, Mystic
860-572-5315 or 888-973-2767; www.mysticseaport.org
Hours: Open 9am-5pm daily; ticket good for two days within a week
Admission: $24, $22 seniors and college students, $15 children, free kids 5 and under
Travel back in time to the heyday of American sailing at Mystic Seaport, the nation's leading maritime museum. Explore the recreated 19th century village and swap seafaring stories with historical role-players. Check the Web site for special events throughout the summer, including the 31st Annual Sea Music Festival in June and the authentic 1876-style Independence Day Celebration in July.
Wadsworth Falls State Park
721 Wadsworth Street, Middletown
860-344-2950; www.ct.gov/dep/cwp/view.asp?a=2716&q=325274
Hours: Open daily, sunrise to sunset
Admission for residents: $6 weekdays, $9 weekends/holidays
Admission for nonresidents: $10 weekdays, $15 weekends/holidays
Close to Dinosaur Park, this park's grassy fields and shady trails are available for picnicking, hiking, swimming, and stream fishing. Summer visitors can also cool off in the mist of the waterfall that gives this area its name.
MASSACHUSETTS
The Basketball Hall of Fame
1000 West Columbus Avenue, Springfield; www.hoophall.com
Admission: $16.99, $13.99 seniors, $11.99 children ages 5-15, free children 4 and under
Hours: Open 10am-4pm Sunday and Friday, 10am-5pm Saturday, closed August 12-13
From lifelong basketball fans to the littlest of hoopsters, everyone is bound to enjoy a visit to the Basketball Hall of Fame. Immerse yourself in the exhilarating history of one of the world's most popular sports and participate in interactive exhibits. The three-level museum includes displays ranging from the original handwritten rules of play to a pair of Michael Jordan's shoes.
Springfield Museums
21 Edwards Street, Springfield
800-625-7738; www.springfieldmuseums.org
Admission: $12.50, $6.50 children
Hours: Vary by museum; check Web site for details.
Here you'll find five top-notch museums in close proximity. Visit the planetarium or Dinosaur Hall at the Science Museum or hop over to the Museum of Springfield History. And don't miss the Dr. Seuss Memorial Sculpture Garden, with beautiful bronze sculptures of some of the author's most beloved characters, including a 14-foot tall Horton the Elephant.
RHODE ISLAND
Block Island
800-383-2474; www.blockislandinfo.com
Nature Conservancy: 401-466-2129
With 17 miles of spectacular beaches, Block Island offers limitless possibilities for families looking for some outdoor fun. Rent a bike or moped, cast a line in the Old Harbor, charter a sailboat, or simply play in the sand and surf. The Nature Conservancy offers programs for kids, including scavenger hunts and muck rucks. Island residents pride themselves on being free from big commercial chains, so while there, you won't find any McDonald's on the island, but its mom-and-pop ice cream shops, historic lighthouses, magnificent bluffs, and winding trails offer a truly relaxing experience
Care Fusion Newport Jazz
Festival: August 6-8; purchase tickets online or by phone at 800-745-3000. $15-$100, free for children under 3.
www.newportjazzfestival.net
Castle Hill Lighthouse: Located at Castle Hill Point, at the east side entrance to Narragansett Bay
www.uscg.mil/history/weblighthouses/LHRI.asp
For world-class live music, look no further than Newport. Bop to the beat of the Newport Folk Festival or groove to the tunes of the Newport Jazz Festival. Both events take place at Fort Adams State Park, which boasts panoramic views of the Newport Harbor and the East Passage. For more sweeping views of the bay, climb the steps of Rose Island Lighthouse or Castle Hill Lighthouse.

Easton's Beach
175 Memorial Boulevard, Newport
Hours: Open 9am-6pm daily, Memorial Day through Labor Day
Along with free access to Newport's largest public beach, visitors can enjoy a beach bounce, carousel (10am-6pm, $1 per person), bumper boat rides, and public facilities such as restrooms, indoor and outdoor showers, playground, picnic and grill areas, and food concessions. On Tuesdays and Thursdays the beach blows up an inflatable water slide. The beach also hosts free concerts on Tuesday evenings and children's shows on Thursday evenings in the summer months.
George Wein's Newport Folk Festival: July 30-August 1;
purchase tickets online or by phone at 800-745-3000. $15-75, free for children under 3.
www.newportfolkfest.net
Rose Island Lighthouse:
July and August, 10am-4pm, Newport Harbor. $16.50 ferry to island; admission: $4, $3 children and seniors. Tour guides and picnic space available. 401-847-4242;
www.roseislandlighthouse.org
DELAWARE
Rehoboth Beach
Rehoboth Avenue, Rehoboth Beach
302-227-2772; www.rehomain.com
Admission: Free
Hours: Open year-round
The downtown area offers a boardwalk, a variety of local restaurants, band concerts, an assortment of mom-and-pop shops, an Art League, and the Rehoboth Museum at the Ice House. Summer season highlights include the Fourth of July fireworks display and Restaurant Week.
PENNSYLVANIA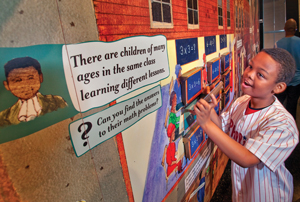 The African American Museum
701 Arch Street, Philadelphia
215-574-0380; www.aampmuseum.org
Admission: $10; $8 seniors, students, and children ages 4-12
Hours: 10am-5pm Tuesday-Saturday, 12pm-5pm Sunday
The museum offers Saturday Family Fun Days every Saturday in June, when a different family activity is featured each time. The museum's rotating and permanent exhibitions teach visitors all about African American history.
The Betsy Ross House
239 Arch Street, Philadelphia
215-686-1252; www.betsyrosshouse.org
Suggested admission: $3, $2 students and children under 12
Hours: 10am-5pm daily
This historic location, just around the corner from Independence Hall and the Liberty Bell, brings visitors back to colonial Philadelphia. After you tour the house and gallery, don't miss the opportunity to "meet" Betsy Ross in the new upholstery shop (10am-3pm Tuesday-Sunday) and hear how she came to sew our nation's first flag. The courtyard features free family programming daily.
The Crayola Factory
30 Centre Square, Easton
610-515-8000; www.crayola.com/factory
Admission: $9.75, $9.25 seniors, free children 2 and under
Hours: 9:30am-5pm Monday-Saturday, 11am-5pm Sunday
Kids test out the newest Crayola products and use them in group projects. Kids can also see crayons being made and then melt them down themselves. There are also several interactive, educational exhibits like Inside Out, where kids can color the walls, and Cool Moves, where kids can move their bodies to create colorful artwork.
The Franklin Institute
222 North 20th Street, Philadelphia
215-448-1200; www.fi.edu
Admission: $14.75 $13.75 seniors and students, $12 children, free children under 4. Additional fees for IMAX Theater and/Franklin Theater.
Hours: Open 9:30am-5pm daily
With a history dating back to 1824, the institute strives to "inspire an understanding of and passion for science and technology learning," based on the ideals of Benjamin Franklin. Programs include interactive demonstrations and live science shows, and educational shows in the IMAX and Franklin Theaters. A highlight is the Giant (walk-through) Heart. New this summer is the Cleopatra exhibit, organized by National Geographic, opening June 5.
Hot Air Balloon Rides
2737 Old Philadelphia Pike
Bird-in-Hand
1-800-763-5987; www.ushotairballoon.com
Admission: Prices vary
Hours: Hours vary.
This is the base of the United States Hot Air Balloon Team, which leads two hot air balloon flights per day over southern Pennsylvania, one at sunrise and one at sunset. Flights run approximately 2.5 hours.
Independence National Historical Park
Liberty Bell Center, Independence Hall, Market Street between 5th and 6th Streets, Philadelphia
215-965-2305; www.nps.gov/inde
Admission: Prices vary
Hours: Open year-round; hours vary by season
Tours of Independence Hall and the Liberty Bell are available. Learn about the Liberty Bell, including its history, the message of the bell, how it cracked, and how much it weighs.
Longwood Gardens
1001 Longwood Road, Kennett Square
610-388-1000; www.longwoodgardens.org
Admission: $16, $14 seniors, $6 children ages 5-18, free children 4 and under
Hours: 9am-6pm Monday-Wednesday and Sunday, 9am-10pm Saturday
Longwood features beautiful gardens and summer entertainment. BBQs along with the Firework & Fountain shows are scheduled for July 4, 10, 24; August 14; and September 5. Family Firefly Night is June 25, when families learn about bugs and catch and release fireflies. Daily activities are available for kids of all ages.
Pennsylvania Dutch Country
Lancaster, PA
1-800-PA-DUTCH; www.padutchcountry.com
This area, also known as Amish country, is home to several festivals and events over the summer, including the 17th Annual International Children's Festival, Berry Festival, Sock Hop and Bubble Gum Blowing Contest, Young Villagers Word-Shop, and Renaissance Fairs.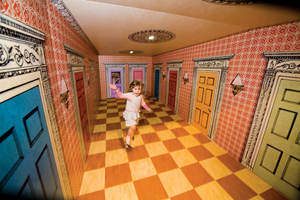 Please Touch Museum
Memorial Hall in Fairmount Park, 4231 Avenue of the Republic, Philadelphia
215-581-3181; www.pleasetouchmuseum.org
Admission: $15; $8 parking with admission
Hours: 9am-5pm Monday-Saturday, 11am-5pm Sunday
The museum offers six interactive exhibit zones including Exploring Trees, Flight Fantasy, River Adventures, and the Playhouse Theater. The museum encourages touching the exhibits as a means of learning and playing. Most days include story time, poet's corner, and sing-a-longs, and the Pinch Bear show (she's so cute, kids can't help but pinch her cheeks).