The Hugo Boss Prize 2012 - Solomon R. Guggenheim Museum
Date: March 15, 2013 through May 27, 2013
Hours: Closed Thurs.
Ages: All Ages
Address:
1071 Fifth Ave.
New York, NY 10128

Phone: 212-423-3500
Website: www.guggenheim.org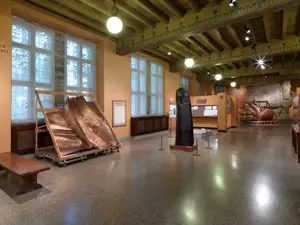 The Hugo Boss Prize is a biennial award founded in 1996 to honor significant achievement in contemporary art. From a group of six finalists selected by an international jury of curators, Danh Vo was announced as the winner of the ninth prize on November 1, 2012. A solo exhibition of his work will be presented at the Guggenheim in spring 2013. Previous winners include Matthew Barney (1996), Douglas Gordon (1998), Marjetica Potrč (2000), Pierre Huyghe (2002), Rirkrit Tiravanija (2004), Tacita Dean (2006), Emily Jacir (2008), and Hans-Peter Feldmann (2010). The Hugo Boss Prize 2012 is organized by Katherine Brinson, Associate Curator, Solomon R. Guggenheim Museum and is made possible by HUGO BOSS.
Pictured: Danh Vo, We the People (detail), 2010-13. Copper, plastic, metal, wooden crates, and packing material, dimensions variable. Installation view: Oriental Institute, University of Chicago, for Danh Vo: Uterus, The Renaissance Society at the University of Chicago, September 23–December 16, 2012. Photo: Tom Van Eynde, courtesy the artist and Galerie Chantal Crousel, Paris
Upcoming Events at Solomon R. Guggenheim Museum:
Please let them know you saw this event
in NY Metro Parents!
GET MORE INFO ON THIS LISTING
Be a good fellow parent and share this with a friend who would be interested