Tokyo 1955-1970: A New Avant-Garde - Museum of Modern Art (MoMA)
This event has already taken place. Click here for the latest events.
Date: November 18, 2012 through February 25, 2013
Ages: All Ages
Address:
11 W. 53rd St.
New York, NY 10019

Phone: 212-708-9400
Website: moma.org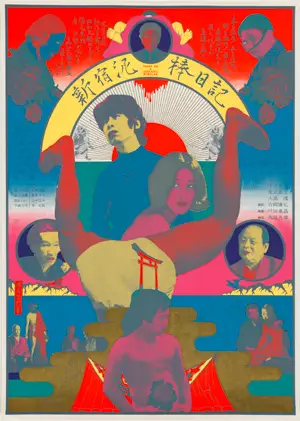 Tokyo 1955-1970: A New Avant-Garde brings together some of the most iconic works from the period as well as works recently discovered or reevaluated by new scholarship. A significant number are already part of MoMA's collection, while others are on loan from important public collections in Japan and the United States. Artists in the exhibition include artist collectives such as Jikken Kobo (Experimental Workshop), Hi Red Center (Takamatsu Jiro, Akasegawa Genpei, Nakanishi Natsuyuki), and Group Ongaku (Group Music); critical artistic figures such as Okamoto Taro, Nakamura Hiroshi, Ay-O, Yoko Ono, Shiomi Mieko, and Tetsumi Kudo; photographers Moriyama Daido, Hosoe Eikoh, and Tomatsu Shomei; illustrators and graphic designers Yokoo Tadanori, Sugiura Kohei, and Awazu Kiyoshi; and architects Tange Kenzo, Isozaki Arata, and Kurokawa Kisho, among others.
Pictured: Yokoo Tadanori. Diary of a Shinjuku Thief (Sōzōsha) (Shinjuku dorobō nikki [Sōzōsha]). 1968. Screenprint. 39 1/4 x 28″ (99.7 x 71.1 cm). The Museum of Modern Art, New York. Gift of the designer. © 2012 Yokoo Tadanori
Venue Description: The Museum of Modern Art, also known as MoMA, offers a rich and panoramic view into modern art in the world. Founded in 1929, it has grown to include more than 135,000 paintings, prints, photographs, drawings, sculptures, films, and design objects. MoMA seeks to create an environment that is responsive to the issues of modern and contemporary art, while being accessible to a public that ranges from scholars to young children.
MoMA has three restaurants on the premises: Café 2 is the museum?s sophisticated cafeteria; Terrace 5 is a full-service café; and The Modern offers the original, Alsatian-inspired cuisine of Chef Gabriel Kreuther, recently awarded three stars by The New York Times.
Museum hours: 10:30am?5:30pm daily; Friday 10:30am?8pm; closed Tuesday.
Admission: $25; $18 seniors; $14 students; free for children younger than 16. Tickets may be purchased online for a discounted price.
Upcoming Events at Museum of Modern Art (MoMA):
This event has already taken place. Click here for the latest events.
Please let them know you saw this event
in NY Metro Parents!
GET MORE INFO ON THIS LISTING
Be a good fellow parent and share this with a friend who would be interested